August 2, 2012
Good NEWS - Fonda's on Board
by Barry Monush
Opening its first episode with an all-too-painfully accurate rant on what's wrong with America (not unlike the more comical one that Sacha Baron Cohen concluded The Dictator with), HBO's new series The Newsroom had me instantly hooked. Thanks to the dependably sharp writing of creator Aaron Sorkin it kept me engrossed the following week as well and then did something even better with episode three: it added Jane Fonda to the cast. Of course I'd read in advance that the two-time Oscar winner would be dropping by on occasion to play what is referred to in series-speak as "a recurring character." Although I was surprised that a movie star of her stature was going to be dabbling in weekly television, no matter if her box office appeal had cooled down years ago, I felt pretty certain she'd be hitching her wagon to something of stature.
Portraying the imperious CEO of the network's parent company, Fonda was introduced in a most intriguing manner, hovering silently in the background of several shots as Sam Waterston tried to defend the increasingly outspoken behavior of his star newscaster, Jeff Daniels, to Chris Messina (playing Fonda's offspring) and other board members. This scene was intercut with other action going on in the storyline, so it became deliberately 'tense' as far as when, and if, Fonda was going to speak. Rather than go for the more obvious 'star entrance' (say, an executive chair revolving towards the camera for the money shot) the whole thing became more intriguing because you couldn't help but be distracted by her presence even though other performers were talking. This was Jane Fonda, after all. Her star looms large; she has that magnetism that instantly dominates a scene,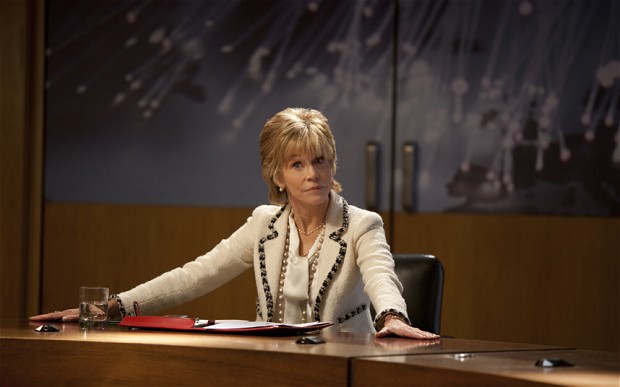 as was the intention in casting her. And when she finally did speak, she delivered the goods, playing the "villain" in this instance, the cold-hearted bureaucrat who thinks nothing of putting money ahead of integrity. Even if this wasn't intended to be an 'award caliber moment,' it was thrilling to behold. Or maybe it's just me. As far as I'm concerned Jane Fonda is one of our national acting treasures. She's held me in her grip ever since she put Robert Redford on the spot by purring goodbye to him with nothing on but his dress shirt, in front of an elevator full of hotel guests in Barefoot in the Park.
Once I became aware of just who this woman was (not just Henry Fonda's daughter, but an important figure in her own right), she was never out of the news, always in the public eye, making every moment count, adding immeasurably to the cultural scene. But like so many of the mightiest movie stars, she didn't bother to do very much acting on television. Not that she was a snob about the medium. On the contrary, she was always ready to drop by on a talk show, certainly once she started become more vocally involved in such issues as the mistreatment of Native Americans, the war in Vietnam, and equality for women. (And just for the record she even did a week on Hollywood Squares not too long ago).
Some people thought she was a troublemaker, but I could sense, even early on, that she wasn't just a star parading for a cause in order to gain herself more attention. She was level-headed, well-versed on the issues, seemed genuinely concerned, and was absolutely fascinating. I saw her speak in person when I was at college, and I can say from up-close experience that she was nothing less than a riveting orator. Oh, and her second husband, Tom Hayden, was there too, but, experienced agitator though he was, he couldn't compete with his spouse.
The Newsroom now brings Jane's total acting roles on television up to a meager four. (Discounting her cameo reprising her Nine to Five role of Judy Bernly on one of Lily Tomlin's specials). Most famously, she portrayed an unappreciated and uprooted backwoods Appalachian housewife and mother who finds personal value through her prowess at wood carving in the TV movie The Dollmaker. According to a recent interview at the Paley Center, this, much to my surprise, is her favorite of her roles. Certainly she was 100% committed to the part, as you'd expect, but because she instantly projects a keen intelligence and sophistication it was a bit of a challenge accepting her as an authentic "hillbilly," unlike Levon Helm who portrayed her husband. Although the late Helm was something of a stiff as an actor, he always came across as the real deal. As a further challenge, Jane shared a few moments with Geraldine Page, who was always so good at getting under the skin of these kinds of down-to-earth country women. Nevertheless, Fonda held the screen triumphantly and ended up with an Emmy Award for her work. That was 1984, two years after Jane had shown up briefly on an episode of the ABC series spun from Nine to Five, on which she served as a producer. Because the response to the first few episodes was less than ecstatic, Jane dropped by for a guest appearance when the series returned to the schedule in the fall of 1982 as a show of support, portraying a security guard. Since this series has pretty much slipped into obscurity, nobody has bothered to release it on DVD, thereby leaving Jane's performance left to speculation.
Similarly, Jane's very first acting job on TV has also fallen through the cracks. On February 7, 1961, she appeared on an NBC special, a one-hour presentation of the Somerset Maugham story A String of Beads, which was listed in that night's TV Guide under the heading "Story of Love." This tale had already been adapted no less than three times on television by that point (one version starring Angela Lansbury), so it wasn't exactly fresh material that demanded a fourth visit. In fact, Variety dismissed it as a "weak, pointless, one-hour soap opera," but added that the whole endeavor was made worthwhile by Fonda, whom they called "vivacious," declaring that she "lit up the screen." Seems like Jane might have easily conquered television, but at that stage the movies were calling, constantly, and she bypassed the small screen in order to become one of the top attractions in film.
She couldn't have made a wiser choice than to sign on for The Newsroom, even if there's been too little of her on the show so far. Because all three of the theatrical features she's done recently have been inferior entertainment, to put it mildly, it's extremely satisfying to see her doing something worthy of her talents. You almost feel like it's the Jane Fonda of the good old days, back in the late 1970s-early 1980s, when she was appearing in films of importance, making an impact, and showing us what outstanding acting is all about. Here, she adds quality to what is already quality stuff. Beyond its considerable attributes, The Newsroom will always have the distinction of being "that show Jane Fonda appeared on."
Explore Jane Fonda's work in the Paley Center's Collection.
Watch Pat Mitchell's At the Paley Center interview with Fonda from February 2012.
About
Barry Monush
Assistant Curator
Qualified only to do jobs that require watching television during working hours, Barry Monush joined the Paley Center in 1996. He is the editor of Screen World and author of The Encyclopedia of Hollywood Screen Actors and the newly released Everybody's Talkin': The Top Films of 1965-1969.
Interests:
Movies, Motion Pictures, and Films, in that order. Can also be counted on for trivia pertaining to television, theater, and musicals.
Most Recent Comments
Now you have me thinking...were any of George Melies ricks recreated digitall...
Read More
I'm totally in agreement with what Barry Monush has written except for one ve...
Read More
So happy I saw the "Carol" mash up Saturday Dec.15 on the Paley Center's big ...
Read More
Archives