January 18, 2012
CBS This Morning and Today: New Kid vs. 60-Year-Old Whiz Kid
by Rebecca Paller
Okay, okay. I admit it. I grew up watching the Today Show in the 1960s and 1970s, and—since old habits die hard—it's still the first thing I turn on in the morning. I actually turn on Today before I make the coffee or get into the shower.
It's simply a habit I can't shake. I can still rattle off the interviews that I enjoyed as a kid: Hugh Downs talking to Toscanini's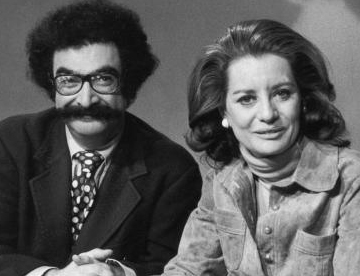 grandson, Walfredo, on the occasion of the legendary maestro's hundredth birthday in 1967. Barbara Walters (pictured right with Gene Shalit) chatting with Colleen Dewhurst in 1974, around the time the actress won a Tony Award for A Moon for the Misbegotten. (I can still hear Ms. Dewhurst's hearty, infectious laugh in my mind's ear.) There was also an entire two-hour program devoted to Noël Coward. Coward in the morning—it would never happen today.
Don't get me wrong—I have gripes aplenty about Today. Ann Curry, nice as she seems, does not have the charisma of her illustrious predecessors. (I cringe when she gets that "sad sympathy" tone in her voice, like she did when she talked about Elizabeth Taylor several months after the star's death.) "The Professionals" segment with Star Jones, Dr. Nancy Snyderman, and Donny Deutsch annoys the hell out of me. (Donny Deutsch giving dating advice?!) And I hate when the whole Today gang gathers around the stove during a cooking segment to taste and comment on the finished product.
But still, like most Today Show devotees, I would never think of changing the channel—even when Willard Scott is bungling the names of hundred-year-old people or Al Roker is cooing to yet another beautiful baby being held aloft by a doting parent in the crowd outside Rockefeller Center.
Nevertheless since last Monday my curiosity has gotten the better of me, and I must confess that I've been switching the TV back and forth between Today and CBS This Morning.
It's easy to be coy about the new team on CBS. Charlie Rose has been wearing ties that match Gayle King's dresses—royal blue one day, coral another. Ms. King's interview with Michelle Obama was stretched out for several days—and would have been more effective if it was shown on a single morning. There have been way too many interviews with CBS primetime stars (Julianna Margulies, Simon Baker, Marg Helgenberger). And the third coanchor (Erica Hill, a holdover from the previous incarnation of CBS This Morning) seems to get the cast-off interviews that Charlie and Gayle don't want.
But then again the 90-second news summary that opens the show at 7 a.m. is informative, offbeat, and entertaining—and Tuesday's story on Stephen Colbert's Super PAC was a real hoot (with Rose adding a bit of gravitas at the end of the story as he put Colbert's political high jinks into perspective: "If you are part of the conversation, you're having impact").
And if Wynton Marsalis's beautifully produced segment on Martin Luther King on Monday didn't pack quite the wallop of the more informal segment airing opposite on Today—Al Roker interviewing Octavia Spencer, who won a Golden Globe the previous night for her role as a maid who gets delicious revenge in The Help—it wasn't the fault of CBS.
It's simply that Today, which celebrated its 60th birthday in glorious fashion last Friday (the only day I did not sneak a peek at CBS This Morning), created and has mastered the formula for morning news entertainment shows. And for a host of reasons, people keep tuning in.
About
Rebecca Paller
Associate Curator
Before joining the Paley Center in 2000, Rebecca Paller was associate editor of Where Magazine in New York and Northern Ohio Live in Cleveland. She has written about the arts for publications including Opera News, American Theatre, Vogue, and Playbill.
Interests:
Performing Arts
Most Recent Comments
My love for Julie Harris was solidifed forever when I was in my 20s and saw h...
Read More
Truly awful to read of Rex Reed's ugly comments about Melissa McCarthy (and h...
Read More
Archives