December 7, 2011
Hallmark Hall of Fame: When They Cared Enough to Televise the Very Best
by Rebecca Paller
It's hard to believe that Hallmark Hall of Fame will turn 60 this month. It was at 9:30 pm on Christmas Eve, 1951, that the landmark series began with a flourish: the world premiere of Gian Carlo Menotti's touching one-act opera Amahl and the Night Visitors, which was broadcast live and seen by five million viewers (a huge number for that time, when most households still did not own television sets)—and reviewed on the front page of the New York Times the following morning.
The story of how Amahl came to be broadcast under the banner of Hallmark Hall of Fame is an interesting one. Although NBC had commissioned the opera, they needed money for the broadcast—the price to sponsor the hour-long telecast was $150,000. Joyce Hall, the founder and president of Hallmark, thought that Menotti's musical drama would be a lovely way to thank all of the people who had already sent out Hallmark Christmas cards. (And for those who had sent out another brand of holiday cards, Merry Christmas anyway!)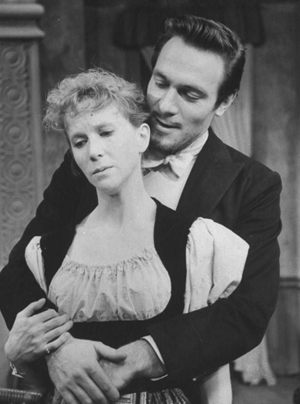 Though the series began with an opera—and Amahl became an annual tradition, telecast annually throughout the 1950s—within a few years HHOF became known for its presentations of classic dramas. Many Americans (this writer included) received their introduction to the plays of Shakespeare, Shaw, and Ibsen on Hallmark Hall of Fame. The list of triumphs is endless: Hamlet with Maurice Evans (and later with Richard Chamberlain); A Doll's House starring Julie Harris, Christopher Plummer, Jason Robards, Jr., and Hume Cronyn (watch the final scene of A Doll's House); All the Way Home with Joanne Woodward, Richard Kiley, and James Woods…
(Click here to learn about our upcoming PALEYAFTERDARK NY event with Christopher Plummer.)
My personal HHOF favorites when I was a kid were Cyrano de Bergerac with the peerless Christopher Plummer, Anastasia with Julie Harris, Abe Lincoln in Illinois with Jason Robards, and The Magnificent Yankee with the Lunts. I have no doubt that it was these high-quality telecasts (directed by George Schaefer) that first made me want to move to New York (where I would be able to see all of these charismatic actors perform live on Broadway).
Hallmark Hall of Fame was still going strong in the seventies (when Peter Ustinov gave an incredibly moving performance as a Jewish deli owner grieving for his long-dead son in Rod Serling's drama A Storm in Summer and George C. Scott, Colleen Dewhurst, Barry Sullivan, and David Burns each "knocked it out of the ball park" in Arthur Miller's The Price) and the eighties (when controversial social issues were tackled in such superb dramas as Gideon's Trumpet with Henry Fonda and Promise with James Garner, James Woods and Piper Laurie).
In the nineties, the Sarah Plain and Tall
trilogy, starring Glenn Close and Christopher Walken, turned out to be the last gasp of glory for Hallmark Hall of Fame. Though CBS, which had picked up the storied HHOF franchise from NBC in 1980, continued to air Hallmark Hall of Fame dramas (mostly of the "warm-your-heart" family variety—Shakespeare and Shaw were long gone from network TV) on an irregular basis, earlier this year the network dropped Hallmark Hall of Fame from its lineup. Last Sunday night ABC became the new home of Hallmark Hall of Fame, airing an adaptation of Mitch Albom's book Have a Little Faith, starring Laurence Fishburne, Bradley Witford, and Martin Landau. The ratings were quite low, and one can only wonder what will happen to the series.
About
Rebecca Paller
Associate Curator
Before joining the Paley Center in 2000, Rebecca Paller was associate editor of Where Magazine in New York and Northern Ohio Live in Cleveland. She has written about the arts for publications including Opera News, American Theatre, Vogue, and Playbill.
Interests:
Performing Arts
Most Recent Comments
My love for Julie Harris was solidifed forever when I was in my 20s and saw h...
Read More
Truly awful to read of Rex Reed's ugly comments about Melissa McCarthy (and h...
Read More
Archives