April 11, 2012
Mike Wallace as Mentor
by Rebecca Paller
Since the death this past weekend of the extraordinary television journalist Mike Wallace, everyone has been reflecting on the hard-hitting interviews he did over the years for 60 Minutes along with the less-than-stellar moments (Westmoreland, checkbook journalism, tobacco giant Brown & Williamson…).

Yesterday I received the following recollection from an old friend of the Paley Center, Al Fisher—an Emmy-winning producer, director, and writer who recalled the advice that he, as a high school student eager to enter the world of broadcasting, received more than half a century ago from Mike Wallace.
---
On December 1, 1958, I was a 17-year-old junior in high school in New Orleans. I had just begun my television career at WWL-TV as host of a show to teach science to teenagers which aired on Saturday afternoons.
One of my favorite shows was on a fledgling new TV network called ABC. It was
The Mike Wallace Interview
. When I heard that Wallace was going to be the guest speaker at the Lyceum-Tulane Association in New Orleans, I immediately bought a ticket (fifty cents at that time). I went to the auditorium an hour early just so I could get a front row seat to be up close to this new TV icon.
He spoke for about an hour talking about the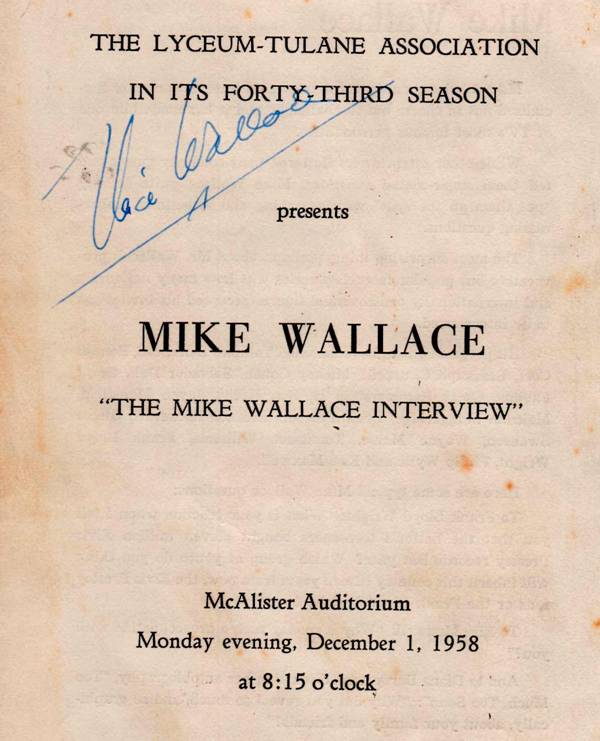 early days of television and his interviews (long before
60 Minutes
on CBS was even a concept) with people such as Salvador Dali, Eleanor Roosevelt, Gloria Swanson, Frank Lloyd Wright, etc.
At the end of his talk, he opened up the forum to questions and answers from the audience. This was my big chance! After a few audience questions, he took notice of the kid in the front row waving his hand like a student who knows the answer to a question from his teacher. He pointed to me and I mentioned that I was in high school but just starting out in television and I asked him if he had any pointers for a budding broadcaster. He replied: "Ask questions that you think the viewer at home would want to ask if they were talking to the person you are interviewing." He then added: "Always answer a question with a question. For instance, ask me a question you think people would want to know about me." I responded: "Do you like putting people on the spot?" His response was short, to the point, and demonstrated his 'question with a question' philosophy perfectly: "No. Do you?"
The audience broke out in applause to his quick wit and I was given a lesson that I have tried to apply in all of my broadcast career. Mike Wallace is a true television "legend" who will be missed.
Here's a photo of the program from that night that I asked Mike Wallace to sign for me. I have kept it all of these 54+ years!
-Al Fisher
---
Explore Wallace's legendary 1950s program The Mike Wallace Interview in the Paley Center Collection.
About
Rebecca Paller
Associate Curator
Before joining the Paley Center in 2000, Rebecca Paller was associate editor of Where Magazine in New York and Northern Ohio Live in Cleveland. She has written about the arts for publications including Opera News, American Theatre, Vogue, and Playbill.
Interests:
Performing Arts
Most Recent Comments
My love for Julie Harris was solidifed forever when I was in my 20s and saw h...
Read More
Truly awful to read of Rex Reed's ugly comments about Melissa McCarthy (and h...
Read More
Archives