April 5, 2012
Why I'm Hooked on Fashion Star
by Rebecca Paller
For years I've resisted watching fashion reality shows like Project Runway. I used to pride myself in saying, "I don't waste time watching fashion reality shows."
Well, as the old saying goes, Never say never.
I'm now hooked on NBC's Fashion Star. The premise: a group of designers of varying ages and backgrounds are asked to design an outfit each week, with the guidance of celebrity mentors Jessica Simpson, Nicole Richie, and John Varvatos. The outfits are shown, "fashion show runaway style," to a panel of three buyers—one each from H&M, Saks, and Macy's—and the buyers are given the option to buy (or not to buy) the outfits to sell in their store. The bids are usually somewhere in the $20,000 to $60,000 range, and if multiple buyers happen to place bids of the same amount (say, $50,000), a fast-paced "bidding war" ensues between the buyers, with bids sometimes going into the six figures.
After the show ends at 11:00 p.m., the winning items are available for purchase online. The following morning, they are also sold at the stores that bought them—Saks, Macy's, or H&M. The series was taped last fall, which means there has been plenty of time to manufacture said items. Nevertheless I have a recurring fantasy: Wouldn't it be great if Fashion Star was broadcast live, and a group of seamstresses worked all night—like Santa's elves—to make the clothes, which would then be transported (magically, of course!) to the stores by 10 a.m. the following day?
The main reason I like Fashion Star is simple: Every morning, as I tread my usual path from Grand Central Station to the Paley Center, I have to walk by the windows at Saks and H&M where the clothes are on display.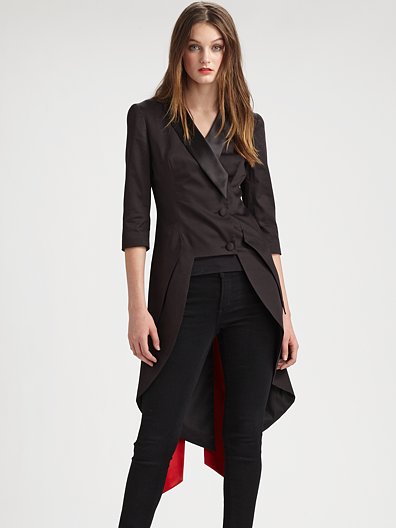 (Fortunately Macy's is on the other side of town, or I would be faced with a triple dose of temptation.) This morning, for example, I got an up-close look at Kara Laricks's long tailcoat jacket ($395)—a jazzy riff on the classic tuxedo jacket (pictured right); and Luciana Scarabello's mauve beaded-and-pleated flirty silk dress ($225) at Saks. (Fortunately the jacket was out of my price range and the dress was a bit "too youthful," as my mother would have said.) A few minutes later I arrived at H&M, where a trio of lesser-priced clothes beckoned: Sarah Parrott's two sleeveless, v-neck dresses—one an appealing shade of red, knee-length, and fitted ($24.95); the other off-white with an asymmetrical skirt (i.e. the left side was several inches shorter than the right), plus Nikki Poulos's psychedelic print long-sleeved dress, tied at the waist with a black silk ribbon (which looked like something Cher would have worn in the Seventies).
At this point it's anyone's guess which of the remaining contestants will win the multimillion dollar contract. Kara, a former school teacher who has a strange but beguiling hairstyle (like a poodle that has just been shorn), is a definite frontrunner (with the buyer from Saks singing her praises each week). But I'm personally rooting for the fiftysomething Barbara Bates, who last night sold a pair of halter dresses to Macy's.
The optimist in me wants to believe that anybody at any age can have the career of his or her dreams.
Meanwhile, I'm enjoying my weekly window-shopping spree at Saks and H&M. I'm also a teeny bit scared that one day soon I will finally give in to temptation and purchase a Fashion Star dress on my way to the office. Yikes.
---
Watch a clip of the Paley Center's Project Runway All Stars panel from January.
About
Rebecca Paller
Associate Curator
Before joining the Paley Center in 2000, Rebecca Paller was associate editor of Where Magazine in New York and Northern Ohio Live in Cleveland. She has written about the arts for publications including Opera News, American Theatre, Vogue, and Playbill.
Interests:
Performing Arts
Most Recent Comments
My love for Julie Harris was solidifed forever when I was in my 20s and saw h...
Read More
Truly awful to read of Rex Reed's ugly comments about Melissa McCarthy (and h...
Read More
Archives