October 26, 2011
Best New Show: OWS
by Ron Simon
Occupy Wall Street began just as the networks were debuting their fall shows. More than one month into this new season, OWS has proven to be more innovative and interactive as a media show than anything that the network programmers dreamed up in their one per cent executive suites.
The OWS movement has been able to meld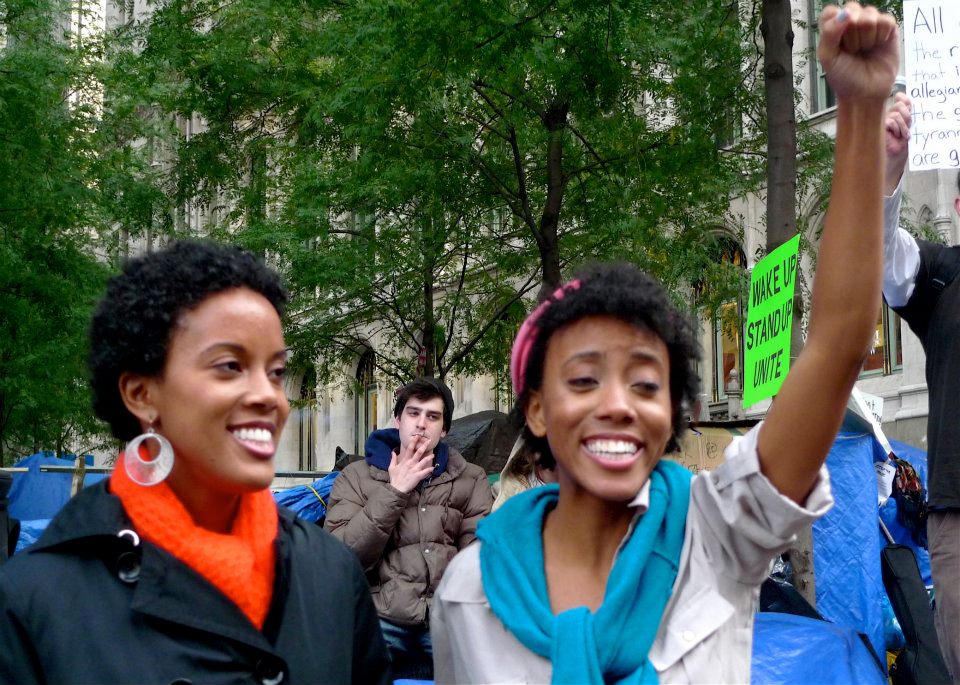 the message of economic disparity with an participatory narrative that exploits a wide spectrum of media. Reports from Zuccotti Park have infiltrated many genres of traditional television, from news to comedy, nightly. Part social protest, part reality show, OWS is an ongoing serial that engages viewers on multiple levels. Like every series it has a signature line that defines its universe: "We Are the 99 Percent." As former Wall Street analyst Henry Blogdet has demonstrated, the economic charts have pointed to the worst inequality in American life since the Great Depression. But it took that catchphrase to bring the data to dramatic life for national discussion.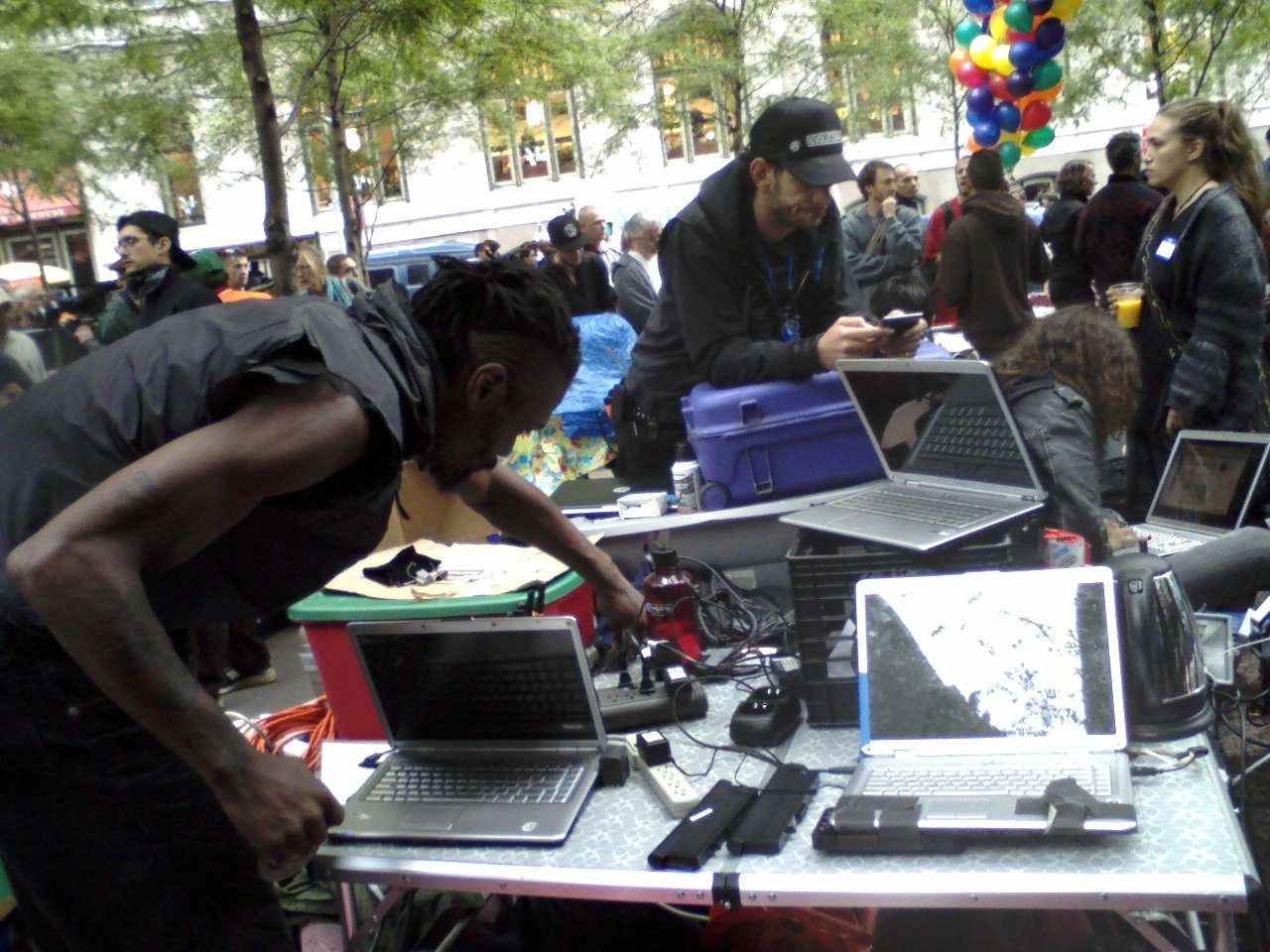 The protesters have played off an array of fictional and historical stories. Think how they brilliantly inverted the Robinson Crusoe/Survivor formula. They are castaways adrift in this country's most crowded and competitive metropolis. They have forsaken home and safety to live outdoors on a not-so-isolated island. Their forays into the urban jungle and confrontation with the financial cannibals sustain this open-ended story. To maintain media interest and keep its message in the headlines, OWS must multitask daily: uphold a workable community, devise new adventures, and continue to build a foundation of supporters. This enterprise takes unscripted to a whole new level.
But OWS is a movement and a physical space,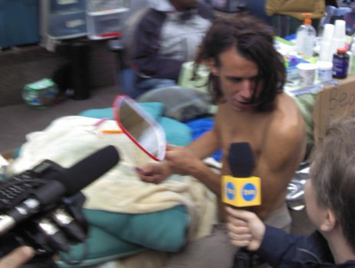 which is transmedia friendly. Most corporate and political decisions are made behind closed doors. The OWS does everything out in the open, encouraging visitors to document and upload its activities. Even the act of shaving becomes a cause for a camera, showing how the city castaways cope with daily necessities. In its first month, OWS has generated more 123,000 videos on YouTube, creating what Advertising Age calls "an incredibly powerful and extensible brand, " which has gone viral and worldwide.
Critics complain that the occupiers do not have a single coherent cause. But they are missing the point to this free-form, improvisatory community. Visitors to the park are confronted with a multiplicity of political and cultural messages. Information and opinions are being exchanged everywhere. The OWS has literally created a public forum that raises questions about every aspect of American life. I saw a lone individual reciting Allen Ginsberg's Howl, perhaps the touchstone for many protesters. Like Ginsberg and the Beats, this digital generation is trying to reclaim "an awareness of world." I am not sure what the concise message of the Beat movement was, but their inclusiveness has had a long cultural shelf life.
Like Marvin Gaye in the seventies, everyone wants to know what's going on. You hear historical parallels to such events as Tahrir Square, Woodstock, the Free Speech movement, and even the Bonus Marchers of the Depression. But Occupy Wall Street has created an original protest movement for the social media era. Consensus outweighs charismatic leaders, with no endpoint in sight. With OWS off to a successful start, we will learn the sustainability of a crowdsourced narrative and how it can further impact national conversation.
Text and video by Ron Simon. Photos by Kirk Simon and Ron Simon.
About
Ron Simon
Curator, Television and Radio
Ron Simon has been a curator at The Paley Center for Media since the early 1980s. He is also an adjunct associate professor at Columbia University, New York University, and Hunter College, where he teaches courses on the history of media. Simon has written for many publications, including The Encyclopedia of Television and Thinking Outside of the Box, as well as serving as host and creative consultant of the CD-ROM Total Television. A member of the editorial board of Television Quarterly, and a judge on the George Foster Peabody committee, Simon has lectured at museums and educational institutions throughout the world. Among the numerous exhibitions he has curated are The Television of Dennis Potter; Witness to History; Jack Benny: The Television and Radio Work; and Worlds Without End: The Art and History of the Soap Opera. He also discovered such lost programs as the live Honeymooners and the only video performance of the Rat Pack.
Interests:
Anybody and everything that can be transformed into a pixel.
Most Recent Comments
Terrific piece, Ron, and terrific videos. I agree with the analysis that you ...
Read More
I am sorry to hear about your loss Rich. It was good though that Leslie McCa...
Read More
In fact, this Emmy Awards program was sad for yours truly as my sister in law...
Read More
Archives