August 12, 2013
Meeting the Young Jon Stewart and Louis C.K.
by Ron Simon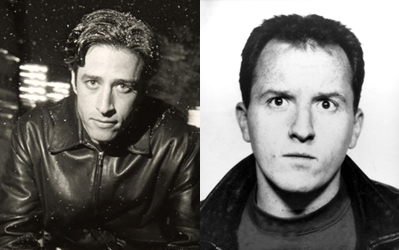 How early on can you spot comic genius? I was thinking that intriguing question as I recently reviewed seminars that I moderated with the very green Jon Stewart and Louis C.K. Both comedians were years away from their major breakthroughs, so I was looking for glimpses of the comic visionaries they would become during these discussions from the early nineties. Jon and Louis are so dominant in their comedy genres now that we easily forget their years struggling for self-definition and searching for the best format to express their talents.
I suspect that our events were the first time that Jon and Louis met an audience in a museum setting. They hadn't been asked publicly much about the craft of comedy so it is refreshing to hear their candid answers. Looking back, I am impressed how deeply both thought about their professions, even at this formative stage.
I interviewed Jon Stewart and his writing staff on March 15, 1995, during his time as host of a syndicated talk series from Paramount. His previous interview show on MTV had failed, and you hear jokes about his current limited ratings. Jon was alternately engaging and tense; during the session he nervously played with an unlit cigarette. As you can hear, the thirty-two-year old Jon was acutely aware of the type of television he wanted to create. He liked things improvisatory and cheap, understanding how a TV show engenders the logic of its own universe. Jon made no political jokes; he was four years away from taking the satirical reins of The Daily Show and achieving national prominence.

I talked with Louis C. K. on January 13, 1994, when he was part of Conan O'Brien's Late Night writing staff. He had come to New York in 1989 and after several years of performing at comedy clubs landed his first regular gig as Conan's monologue writer. You can see how much he had thought about the rules of the monologue, with desire to subvert them. Clearly, head Rob Smigel and the rest of the writers recognize his aptitude for the punch line. Louis self-consciously admits that he delivers the jokes, but is not a writer trained in comic structure. The twenty-six year-old Louis is very concerned with how to establish a comic voice.

In many ways, Jon and Louis are implicitly posing questions in the early nineties that their future selves will have to answer. Jon is very much interested the overall comic design of the show. He will inherit the Daily Show format, but make substantial changes as he develops his political attitude. Louis intuitively grasps how to forge a persona, but will learn how to invent comic scenarios, first working with Chris Rock and later on his own. I get a sense that both these comedians realize what they don't know about comedy and will continually seek out greater knowledge from others.
In moderating these events I certainly recognized their emerging comic abilities, but could not envision that Jon and Louis would become transformative performers, setting the standard for those that follow. I have interviewed equally impressive young talent whose careers did not quite pan out. I am very curious what you think, seeing these early examples of Jon and Louis. Were early Jon Stewart and Louis C.K. destined for some type of comic greatness?
Thanks to Allison Diamond, Jamila Huxtable, Samantha Williams, Eden Gauteron, and Anthony Gargiulo for all their help with this blog.
About
Ron Simon
Curator, Television and Radio
Ron Simon has been a curator at The Paley Center for Media since the early 1980s. He is also an adjunct associate professor at Columbia University, New York University, and Hunter College, where he teaches courses on the history of media. Simon has written for many publications, including The Encyclopedia of Television and Thinking Outside of the Box, as well as serving as host and creative consultant of the CD-ROM Total Television. A member of the editorial board of Television Quarterly, and a judge on the George Foster Peabody committee, Simon has lectured at museums and educational institutions throughout the world. Among the numerous exhibitions he has curated are The Television of Dennis Potter; Witness to History; Jack Benny: The Television and Radio Work; and Worlds Without End: The Art and History of the Soap Opera. He also discovered such lost programs as the live Honeymooners and the only video performance of the Rat Pack.
Interests:
Anybody and everything that can be transformed into a pixel.
Most Recent Comments
Terrific piece, Ron, and terrific videos. I agree with the analysis that you ...
Read More
I am sorry to hear about your loss Rich. It was good though that Leslie McCa...
Read More
In fact, this Emmy Awards program was sad for yours truly as my sister in law...
Read More
Archives