June 23, 2011
Behind the scenes with the always open and honest, Jane Fonda
by Pat Mitchell
I knew I was in the new world of mediastes when one of my oldest and dearest friends, Jane Fonda, replied to an email in which I asked her how she was doing and where she was in this way: Why aren't you reading my blog? I went to Jane's highly popular blog and found out that she was at the Cannes Film Festival. It was not only on her blog, but everywhere else on the internet—Jane looking stunning, doing her remarkable stint as a L'Oreal ambassador.

It was a moment of realization for me: if I'm really wanting to know what many of my friends are doing, what they're thinking, where they are, I have to read the communications that they're taking the time to share with me and millions of others.

Realization #2? Jane is fast. This morning,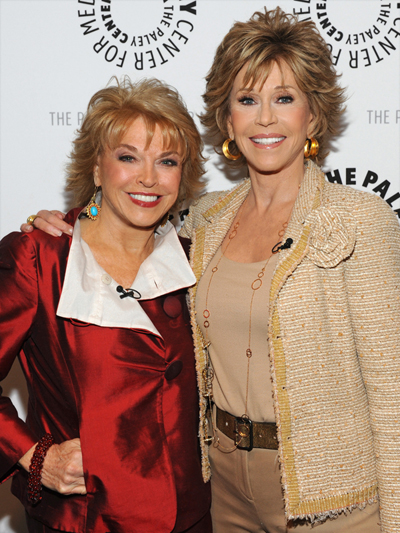 I decided that I would write about Jane and my recent evening together at The Paley Center in Los Angeles as part of our She's Making Media series, only to discover that she had already written about it on her blog. She is so much more experienced at this than I am, having done it for two or three years. I'm just getting my "blog legs."

Here is an excerpt of Jane's take on her fabulous blog:
Pat and I had a grand old time during the interview. She is a terrific interviewer, really does her homework. AND, she managed to find footage of me that I had never seen… Like a Lux Soap commercial I did in the late 1950s! I would never even have recognized myself, especially my voice, all high and weird. There was also a snippet from an interview with Charles Collingwood. When the interview was over, I read from my new book. The feedback I am getting from people who were in the audience has shown me that it was a success.

As I was interviewing Jane, I found myself occasionally thinking, "Is that a question I would ask if I didn't know her so well?" That's the challenge with interviewing close friends. The upside is that, because I know her well and have known her for a long time, I'm able to bring things forward that people don't know, but should. Our audience from that evening now knows another side of Jane.

Jane has always been, as you can tell from her blog, one of the most open people in the world. I think that's one of the reasons that people are so fascinated by her. She's always been so outspoken, direct, and honest about what's going on in her own life—the good and the bad.

That's why, in so many ways, new media is perfect for Jane. She can put it all out there. And it's real. She's as honest and tough on herself as other people often are, and she's also as resilient and courageous and risk taking as her life would indicate. She really is the person she represents herself to be on her blog and frequent tweets.

If you wanted to see the vulnerable, insecure, high-voiced Jane, we showed that Jane in some early television work. But we also showed the amazing Jane who at 73 years old is still making exercise DVDs, still writing books, still taking the stage. Fortunately, her last book was titled My Life So Far because she's got a lot of life left to live and blog about. And her newest book is called Prime Time. She is, indeed, in her absolute prime.
If you're in the New York-area, don't miss our next She's Making Media event next Monday with none other than Glenn Close. Info here.
About
Pat Connects
Pat Mitchell, President & CEO, The Paley Center for Media
Since assuming her current role as president and chief executive officer of The Paley Center for Media (formerly The Museum of Television & Radio) in March 2006, Pat Mitchell has guided the thirty-four-year old institution through an exciting rebranding effort and strengthened its public and industry programs by analyzing and interpreting the immense changes in the media landscape. Under her leadership, the Paley Center has become a major convener for media leaders and enthusiasts, continuing to offer its unrivaled collection of radio, television, and advertising content as a lens for exploring the powerful impact of media on our lives, culture, and society. Pat Mitchell was named to Newsweek's 2011 list of 150 Women Who Shake the World.
Most Recent Comments
Thank you for your thoughtful blog post.  I wanted to mention that "CEO's" i...
Read More
Thank you for your thoughtful blog post.  I wanted to mention that "CEO's" i...
Read More
Pat thank you for all your contributions, your talent and the light you have...
Read More
Archives