June 9, 2011
Behind the scenes with the infinitely trustworthy, Marlo Thomas
by Pat Mitchell
I had a memorable experience with someone I have known and admired for a long time, Marlo Thomas, last Monday in the launch of our new Paley Center series, She's Making Media.

Before we even got to the actual interview, I got some go-girl empowerment. Marlo, dressed in a well-fitting hot pink dress, suggested that I take my black suit jacket off and appear on stage in the short sleeve, red dress, I was sporting underneath. I protested, worried about my arms (and what woman over fifty doesn't?), but Marlo would not back down. "Don't be silly," she said. "Nothing is wrong with your arms."

Granted, mine don't look like hers, honed from all the workouts she admits to being addicted to doing, but I went for it. Before long, she strongly suggested I get rid of the panty hose and go barelegged, too. This was really pushing my comfort level, but I did it. Marlo, as always, is very persuasive. Besides, we're old friends and, as such, I trust her.

In fact, it occurs to me that what made the interview so interesting, and further, what makes Marlo's life and work so interesting is that she manages to earn people's trust.

She does it through humor; Marlo is truly funny. As she weaves a good yarn, she captivates the audience. The book she wrote about her childhood, Growing up Laughing, says it all. She did grow up laughing and she has been finding the funny side of life ever since. She shared a lot of funny stories about her dad, Danny Thomas, but probably none more surprising than the story about what he did the night she won her first Emmy. You'll have to watch the whole interview to see that and many more moments from Marlo's career and life.




As we reviewed some of the big moments in her TV career, from That Girl to Free to Be You and Me, a theme emerged: she was an independent woman. Marlo vowed never to get married. She wanted to prove that she could have a happy-ever-after-ending as an independent woman. She bought her own house. Picked out her own China. She had a life of her own…but then she met Phil Donahue. Of course they fell in love and got married, and Marlo found herself living in suburban Illinois with four teenage boys. She read a chapter from the book about that experience and had everyone in the theatre in stitches…again.

We also showed the clip of the first time Phil and Marlo met when she was a guest on his show. It was so funny watching her turn from an independent feminist, who had declared never to get married, into a giggly ingénue, shamelessly flirting on national TV with a man she would later ask out and marry.

Given how relatable and funny Marlo is, it's easy to understand why women of all ages feel free to ask her anything. Everywhere she goes, women ask her questions about everything from divorce to finance to raising children. In a sense, she's like the funny, wise confidant every woman wishes they had, which is part of why the new marlothomas.com website is doing so well. One issue that is very close to her heart is the problem of teenage bullying: "Just how many dead teenagers, driven to end their own lives, is it going to take for adults to stand up and say, What the hell is going on?" You can read the whole important piece on Marlo's site.

Thanks for a great night, Marlo.
A Note from Marlo Thomas
If you have never been to a Paley Center "She's Making Media" event, mark your calendar for the next one because they are interesting and fun. I have been to a number of them and just had the honor of being the one on the stage being interviewed by the fabulous Pat Mitchell. Her questions were insightful and led me down many paths. We're pals so she knew way too much about me!

You know how great the curators at the Paley Center are at digging up great old clips and boy did they find some old ones of mine…playing a Chinese girl on Bonanza. Can you imagine the pickets at the networks if a Caucasian played a Chinese girl today! And I was very touched to see the clip from my Dad's show The Practice when I guest starred on his series. I had not seen that episode in many years. It brought tears to my eyes. Pat, the work you do at the Paley Center is so truly important. You are preserving the history of our culture and bringing new context to it every day.

Before our talk, I loved being in "the Board Room" upstairs and seeing all the old CBS microphones, especially the one used by Edward R Murrow. It reminds us all of the rich legacy of television and broadcasting and the important role it plays in shaping our society.

I am so proud of my long relationship with the Paley Center. And I tip my hat to you, Pat, for the amazing energy and brilliance you bring to your work every day.

Love to you
Marlo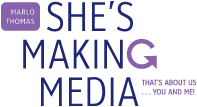 About
Pat Connects
Pat Mitchell, President & CEO, The Paley Center for Media
Since assuming her current role as president and chief executive officer of The Paley Center for Media (formerly The Museum of Television & Radio) in March 2006, Pat Mitchell has guided the thirty-four-year old institution through an exciting rebranding effort and strengthened its public and industry programs by analyzing and interpreting the immense changes in the media landscape. Under her leadership, the Paley Center has become a major convener for media leaders and enthusiasts, continuing to offer its unrivaled collection of radio, television, and advertising content as a lens for exploring the powerful impact of media on our lives, culture, and society. Pat Mitchell was named to Newsweek's 2011 list of 150 Women Who Shake the World.
Most Recent Comments
Thank you for your thoughtful blog post.  I wanted to mention that "CEO's" i...
Read More
Thank you for your thoughtful blog post.  I wanted to mention that "CEO's" i...
Read More
Pat thank you for all your contributions, your talent and the light you have...
Read More
Archives