An Invitation to
Corporate Membership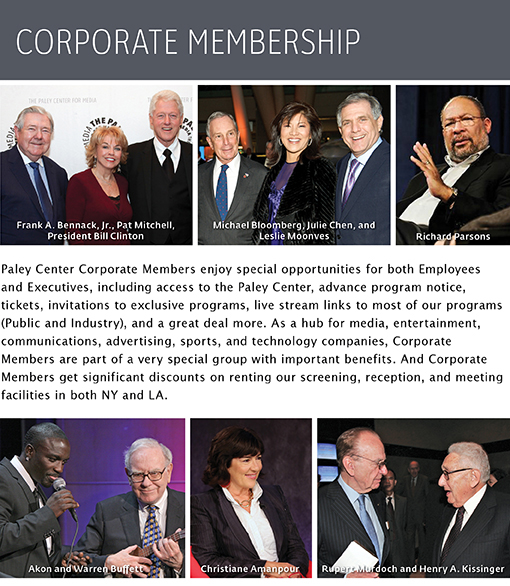 CORPORATE PARTNER
$10,000
▸ Free admission to The Paley Center for Media in New York and Los Angeles for all employees and their families
▸ Two complimentary tickets to four
PALEY
LIVE public programs in New York and Los Angeles, including celebrity panel discussions and screenings
▸ Two complimentary tickets to two private Patron Circle receptions or dinners with Paley program participants
▸ Two complimentary tickets to the Annual Corporate Member Reception
▸ A complimentary rental of Grant A. Tinker Board of Trustees Room at The Paley Center for Media in New York or Los Angeles
▸ Special Members-Only discount to
rent The Paley Center for Media
in New York and Los Angeles for private events
▸ Access to streaming of the
PALEY
MEDIA
COUNCIL
programs
▸ Listing on website and in Annual Report
INTERNATIONAL MEMBER
$10,000
▸ One complimentary ticket to all PALEYMEDIACOUNCIL programs
▸ One complimentary ticket to the exclusive
PALEY
INTERNATIONAL
COUNCIL
SUMMIT
▸ Two complimentary tickets to the Annual Corporate Member Reception
▸ Free admission to The Paley Center for Media in New York and Los Angeles for all employees and their families
▸ A complimentary rental of Grant A. Tinker Board of Trustees Room at The Paley Center for Media in New York or Los Angeles
▸ Special Members-Only discount to
rent The Paley Center for Media
in New York and Los Angeles for private events
▸ Access to streaming of the
PALEY
MEDIA
COUNCIL
programs
▸ Listing on website and in Annual Report
CUSTOMIZED CORPORATE PARTNER packages available from $25,000
For more information, contact Gwendolyn Pointer at 212.621.6732 or email gpointer@paleycenter.org
▸ PALEYLIVE – Events, screenings, panels, and special discussions with television casts, creators, and special guests.
▸ Patron Circle Receptions – Pre- or post-program events with celebrities, panelists, and other participants.
▸ President's Circle Events – Intimate and unique events on- and off-site with the most important names (and experiences) in media.
▸ PALEYMEDIACOUNCIL – Highest level events for the media community that explore the evolving ways to create, consume, and connect through media and technology.
▸ PALEYINTERNATIONALCOUNCILSUMMIT – An acclaimed annual event that fosters community and advances an exchange of ideas on critical issues and their impact on society.
The Paley Center is a 501(c)3 not-for-profit organization and depends on your generosity.

Sponsorship Opportunities
The broad range of events and programs at the Paley Center may fit the goals of your brand. Please contact Sarene Sandler at 212.621.6651 or ssandler@paleycenter.org.
Corporate Members
The Paley Center for Media acknowledges the following Corporate Members for their generous support.
$25,000+
---

$10,000—$24,999
---
City National Bank
Gabelli Funds
Havas Media NA
Hearst Television Inc.
Roc Nation
Simulmedia
TiVo Inc.
TBWA\Worldwide
Turner Broadcasting System, Inc.
Tweedy, Browne Company
Wikia
Y & R
The Paley Center for Media also acknowledges with gratitude additional corporate support from the following:
BMI
Colgate-Palmolive Company
The Friars Foundation
Hubbard Broadcasting, Inc.
Morgan Stanley

Scripps Howard Foundation