Poll Results: Inner Light Will Screen at Paley Center NY in September
Believe it or not, Star Trek: The Next Generation first beamed into our homes a quarter-century ago, on September 28, 1987, with "Encounter at Farpoint," introducing us to not only a new ship and crew, but also an unforgettably endearing villain, the impossibly arrogant superbeing Q.

To celebrate that momentous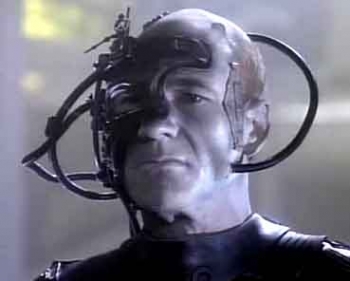 occasion, the Paley Center in New York is devoting one of its TV Mixtapes screenings to "Dueling Star Treks," in which we compare The Next Generation to the original series, illustrating our points through a deft selection of clips featuring memorable moments from both shows.
Inner Light: Poll Winner to Screen with "Dueling Star Trek" #TVMixtapes
The people have spoken, choosing "The Inner Light" as the best episode ever of Star Trek: The Next Generation. We have just one thing to say about that: good choice.
The 1992 episode—named after a George Harrison-penned Beatles song (the B-side to "Lady Madonna")—is a Picard (Patrick Stewart)–centric story in which the captain is rendered unconscious by a primitive probe emitting a nucleonic beam, and awakens on a non-Federation planet called Kataan, where he finds himself living with a wife in a community that knows him as Kamin. Stewart called this episode his greatest acting challenge during the seven-season run of the series.
The episode will screen at the Paley Center as part of the Dueling Star Treks TV Mixtape on Thursdays, Saturdays, and Sundays throughout September.

As you are watching it, we ask you to remember just one thing: "Put your shoes away."



The Measure of a Man
(February 13, 1989)
A man who has devoted his life to the study of robotics is determined to disassemble Data to create a race of androids just like him, and it's up to Picard to prove that Data has a right to choose his own destiny.
Vote for this episode




Q Who
(May 8, 1989)
Q decides to teach the Enterprise crew a lesson in humility, forcing them into a deadly confrontation with the Borg.
Vote for this episode




Yesterday's Enterprise
(February 19, 1990)
A Federation ship from twenty-two years in the past – which turns out to be an earlier iteration of the Enterprise – is pulled through a temporal rift and into the future, altering history and nudging Picard and crew into an alternate time line. Only the intuitive lounge hostess Guinan senses that something is amiss.
Vote for this episode




The Best of Both Worlds, Part II
(September 24, 1990)
The crew attempt to rescue Picard, who has been transformed into the malevolent Locutus, and prevent the Borg from destroying planet Earth.
Vote for this episode




Darmok
(September 30, 1991)
Stranded together on the planet El-Adrel, Picard and an alien captain must transcend their language differences to fend off a predatory creature.
Vote for this episode




Unification II
(November 9, 1991)
Spock's rogue effort to unite the Vulcans and Romulans in peace is thwarted by a double agent, and by Commander Sela, the half-Romulan daughter of an alternate-timeline Tasha Yar.
Vote for this episode




Cause and Effect
(March 23, 1992)
The Enterprise becomes trapped in a causality loop that repeatedly leads to an explosion and the death of everyone on board.
Vote for this episode




The Inner Light
(June 1, 1992)
Picard, rendered unconscious by a primitive probe emitting a nucleonic beam, awakens on Kataan, a non-Federation planet, where he finds himself living with a wife in community that knows him as Kamin.
Vote for this episode




Relics
(October 12, 1992)
Picard and crew encounter a crashed ship that has been missing for seventy-five years, and inside find onetime Enterprise engineer Montgomery "Scotty" Scott.
Vote for this episode




Tapestry
(February 15, 1993)
Mortally wounded during an accident, Picard encounters Q in the afterlife, and is given a chance to go back in time and undo the one decision he most regrets.
Vote for this episode