PaleyFest: Fall TV Preview Parties in LA
Reserve Your Free Tickets Now!
Parties begin at 6:00 pm (unless noted).
Preview panels with network stars in person at 7:00 pm (unless noted); Screenings follow. Admission is free but RSVPs are required. Seating is limited and on a first-come, first-served basis. Programs subject to change.
Share with Us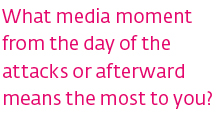 The 9/11 attacks and their aftermath produced an overwhelming amount of TV & internet programming. Is there one moment that stands out to you: the Concert for New York? When Letterman came back on air? A documentary about the building of the towers? Tell us which media moments means the most to you and why.