April 26, 2011
Are We Finally Ready for An American Family?
by Ron Simon
The Louds have never been able to catch a break. When the PBS series that documented their daily lives, An American Family, debuted in 1973, many critics saw them as the debasement of our national ideals, "affluent zombies" without a clue about community. Now, almost forty years later, with the premiere of the HBO docudrama based on the compromised making of the series, Cinema Verite, the Louds are seen as the spiritual parents of Snooki and the Situation, the harbingers of our incessant desire to expose our private life to everyone.
The Louds have always been perceived as a metaphor for something else, never as the well-rounded, sometimes messy, characters that were captured in a novelistic documentary miniseries. Now that the twelve-part An American Family is in circulation again (screenings in NY & LA), I am amazed how resonant and dramatically satisfying every episode is. You experience a very real family in transformation, with each member struggling with his or her identity. As the wife Pat grapples with her feminist awakening, husband Bill falls back on the Hugh Hefner fantasies that has sustained his idea of masculinity. As in any good drama, tension and conflict result from two characters going in different directions.
I would argue that An American Family in concept and accomplishment is the documentary equivalent of another searing seventies miniseries that also investigated the pains and occasional pleasures of contemporary marriage, Ingmar's Bergman's fictional six-part Scenes from a Marriage.
Like American Family, Bergman used 16mm equipment and a small crew to chronicle the emotional upheavals of two successful professionals, Marianne (Liv Ullmann) and Johan (Erland Josephson), whose ostensible perfect marriage crumbles into bitterness and divorce. Both Scenes and the Louds had a raw reality that connected emotionally with a television audience. After each Bergman episode, Scandinavian couples reassessed their own relationships; in fact divorce rates in Denmark actually rose as the unremitting examination of marital unhappiness cut to the bone. Pat Loud's probing book documents a similar response from an American audience to her series; viewers used the Louds as a catalyst to scrutinize their own happiness. In both cases, most critics missed the immediacy of the weekly experience, making their judgment after seeing a few episodes.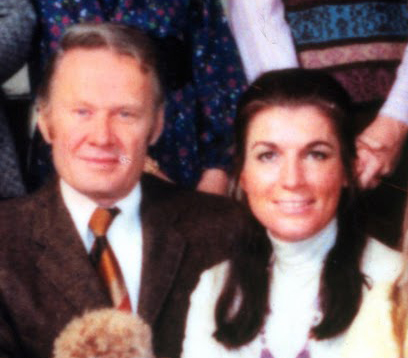 But American Family never attained the cultural status of a Bergman work. It was produced from the stuff of real life, with recriminations and suspicions from all those involved getting in the way. It was painful for Liv Ullmann to dredge up feelings of hurt and insecurity, but she walked away from that role; the Louds never could. The devastating original reception from the critics has always shaped their memories of the project. For the past forty years there has been friction between the Louds, producer Craig Gilbert, and filmmakers Alan and Susan Raymond. That tension was certainly evident in a seminar that we hosted in 1988, the last event in which all parties engaged each other.

The HBO movie, Cinema Verite, deftly incorporates images from An American Family. I hope that these real fragments will encourage a new audience to watch the original, free from any preconceptions. After years of neglect and actually destroying the outtakes, WNET has embraced the series, creating a website for it. The Paley Center will be screening the entire series in four hour packages over three weekend days: April 30, May 1, and May 7 in NY and LA. This pioneering documentary series deserves its own special place in the media pantheon. And maybe the Louds can be finally appreciated for their courage in revealing their and ours innermost secrets.
About
Ron Simon
Curator, Television and Radio
Ron Simon has been a curator at The Paley Center for Media since the early 1980s. He is also an adjunct associate professor at Columbia University, New York University, and Hunter College, where he teaches courses on the history of media. Simon has written for many publications, including The Encyclopedia of Television and Thinking Outside of the Box, as well as serving as host and creative consultant of the CD-ROM Total Television. A member of the editorial board of Television Quarterly, and a judge on the George Foster Peabody committee, Simon has lectured at museums and educational institutions throughout the world. Among the numerous exhibitions he has curated are The Television of Dennis Potter; Witness to History; Jack Benny: The Television and Radio Work; and Worlds Without End: The Art and History of the Soap Opera. He also discovered such lost programs as the live Honeymooners and the only video performance of the Rat Pack.
Interests:
Anybody and everything that can be transformed into a pixel.
Most Recent Comments
Thanks for your question KathyTV. Many people think that the ending of Mad M...
Read More
How do you think it will end? Can Don Draper find happiness? Or maybe he will...
Read More
Why hasn't anyone heard about this? It's fascinating.
Read More
Archives