March 21, 2011
It's Finally Time for Ernie
by Ron Simon
Ernie Kovacs is one of those thoroughly original and daring comic masters whose name should be firmly secure in our cultural memory. For too long the spirit of Kovacs has been maintained by a small, yet influential cult, never breaking into general public discussion. But now seems that time that Kovacs will have his major breakthrough, almost fifty years after he died in a tragic car accident in 1962.
Throughout the fifties Kovacs created his own off-kilter and often perverse universe on network television. He used the small screen as his personal comic canvas, employing every electronic trick to sustain a parallel video universe. Kovacs was a unique combination of cerebral, surreal and silly; he was high art, lowbrow, and everything in between, constantly challenging the medium's early assumptions and conventions. He implicitly understood that he lived in a black and white box, forever calling attention to the fact that he was just a series of pixels on your screen.
Few popular entertainers have exhibited such artistic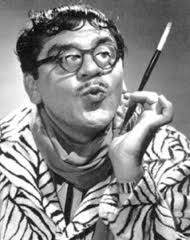 growth over a short time. His increasing self-consciousness about his art anticipated the creative journeys of the Beatles and George Carlin. He began in 1950 as an improbable Philadelphia variety host, creating a zany atmosphere of ad-libbing with colleagues and directly addressing his viewers. He embraced the DIY cheapness of local TV, improvising with lamest of props. A pair of plastic glasses thrown to him inspired the creation of his beloved character, the lisping poet Percy Dovetonsils (pictured right).
By the end of the decade Kovacs became a comic minimalist, generating laughter in the most economical fashion with quick blackouts confounding expectation set to a German soundtrack (see video below). He became a special effects wizard, expressing his dark humor with superimposition, matting, reverse polarity and asynchronous sound. Desiring to take "sound to sight," Kovacs pioneered the music video, as he conjured up moody, dreamlike imagery to accompany Tchaikovsky's 1812 Overture and Bartok's Concerto for Orchestra. No one lived in videospace like Ernie; his show was all TV.
After his death, his legacy was kept alive with a series of retrospectives, tying his vision to the most adventurous developments in contemporary television. A 1968 special showed Kovacs as the inspiration for the number one show in the country, Rowan & Martin's Laugh-in. A PBS series in 1977 generated articles about how Kovacs anticipated Sesame Street, Monty Python, and Saturday Night Live. A 1986 retrospective at our previous incarnation, The Museum of Broadcasting, cited Kovacs as a force behind such diverse enterprises as MTV and video art. As Comedy Central ran his programs in the nineties, Kovacs's aesthetic was seen in such cheapo experiments as Pee-wee's Playhouse and Mystery Science Theater 3000. Insiders recognized his art, but Kovacs remained outside the pantheon of our cultural heroes.
Hopefully that will change soon. Next month Shout! Factory is releasing the most comprehensive record of Kovacs's improbable odyssey. This illuminating multi-DVD set, The Ernie Kovacs Collection, documents how this singular comedian changed the language of TV communication by creating his illusory, illogical world. At the same time I have been hearing how small performance collectives around the city, like Kevin Geeks Out and Cinebeasts, have been studying and referencing Kovacs. On April 12 the Paley Center will examine why Kovacs is still very much with us in the 21st century (Read more about this panel w/ Robert Smigel, Joel Hodgson, more). My deepest hope is that "Kovacsian" will become part of our vernacular. How could anyone resist the Nairobi Trio?
About
Ron Simon
Curator, Television and Radio
Ron Simon has been a curator at The Paley Center for Media since the early 1980s. He is also an adjunct associate professor at Columbia University, New York University, and Hunter College, where he teaches courses on the history of media. Simon has written for many publications, including The Encyclopedia of Television and Thinking Outside of the Box, as well as serving as host and creative consultant of the CD-ROM Total Television. A member of the editorial board of Television Quarterly, and a judge on the George Foster Peabody committee, Simon has lectured at museums and educational institutions throughout the world. Among the numerous exhibitions he has curated are The Television of Dennis Potter; Witness to History; Jack Benny: The Television and Radio Work; and Worlds Without End: The Art and History of the Soap Opera. He also discovered such lost programs as the live Honeymooners and the only video performance of the Rat Pack.
Interests:
Anybody and everything that can be transformed into a pixel.
Most Recent Comments
Terrific piece, Ron, and terrific videos. I agree with the analysis that you ...
Read More
I am sorry to hear about your loss Rich. It was good though that Leslie McCa...
Read More
In fact, this Emmy Awards program was sad for yours truly as my sister in law...
Read More
Archives