May 18, 2011
My Favorite Episode: Freaks and Geeks: "Dead Dogs and Gym Teachers"
by Arthur Smith
We all have our favorite series, but what about favorite episodes of those series? Is there a "best" SCTV outing, a perfect Mad Men installment, a particularly thought-provoking twenty-two minutes of Small Wonder that occupies a special place in your heart?
In the absence of a better idea, it occurred to me to identify and describe some of my favorite episodes of my favorite shows, hopefully inviting debate from all of you notional readers out there. I'm leading off with the transcendent Freaks and Geeks episode "Dead Dogs and Gym Teachers," and I will say that those stumping for "I'm With the Band" or "Discos and Dragons" won't get much argument from me, but please chime in.
PS: The bestest ever Small Wonder episode is "The Robot Nappers," obviously.
Freaks and Geeks plumbed the depths of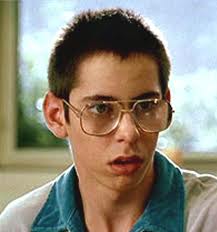 adolescent misery with more humor, heart, and intelligence than any other "teen" show before or since. This episode concerns Bill's (the geekiest and most endearing of the titular social misfits) struggle to come to terms with his single mother's relationship with his dreaded gym coach.
This premise sounds like a groaner, a cheap set-up for obvious friction between the awkward, dreamy boy and alpha male jock, but F&G, helmed by bawdy/sweet humor specialists Paul Feig and Judd Apatow, invested its characters with such a fully developed sense of humanity that the story instead develops into the poignant struggle of two well-intentioned and misunderstood guys to come to an accommodation, if not an understanding, for the benefit of the woman they both love. The coach is a bit of a meathead, but his sincere desire and faltering attempts to connect with his worst pupil are equal parts touching and mortifyingly funny—a F&G signature.
Pitch-perfect dialogue was arguably the program's strongest suit, but this episode's heartbreaking wordless sequence (awesomely scored to the Who's anthemic "Love Reign O'Er Me"), in which Bill confronts the horrible reality of his mother's sex life, is a stunner and a series high point.



The writing and performances are wonderful, but it is F&G's rigorous authenticity and attention to detail that make this episode indelible. The facts of Bill's life—he's a latchkey kid, with an exhausted but loving mother struggling to make ends meet as a waitress (there are references to her past as a "dancer") and an indifferent, absent father—are not dwelt upon, but subtly provided by an offhand remark, the look of the realistically shabby furniture, the weary, embattled camaraderie of mother and son. F&G's lived-in realness intensifies its emotional impact to sometimes unbearable degree, and it's the quality most cherished by the show's cultishly devout fans.
A gem from a series that never faltered and ended far too soon.
What say you? Any fans prefer Neil's ventriloquist routine at his parents' dinner party? Because I can totally see that.
---
Watch clips from our Freaks and Geeks Reunion from PaleyFest2011!
About
Arthur Smith
Assistant Curator
Arthur Smith worked in a film archive and failed to earn a living as a professional musician before joining the Paley Center in 1997. He's not bitter, but has unhealthy fixations on tweedy clothing and Marvel comics.
Interests:
60s Pop Music, Comedy, Comic Books, Great and/or Terrible Movies, and Exotic Brunettes
Most Recent Comments
I loved the show Sisters when I was a kid and still do whenever I am able to...
Read More
Eightball has already been adapted to film, twice and by the same director! T...
Read More
Remember when people used only original music to sell their product or point ...
Read More
Archives