The Paley Center in New York City is located at 25 West 52 Street (between Fifth & Sixth Avenues), New York, NY 10019.

Learn about hours, admission, and other information to help you plan a visit to the New York Paley Center.

Read More | Interactive Floorplan

The Paley Center in Los Angeles is located at 465 North Beverly Drive (S. Santa Monica Blvd.), Beverly Hills, CA 90210.

Learn about hours, admission, and other information to help you plan a visit to the Los Angeles Paley Center.

Read More | Virtual Tour
Paley Center Hours
Wednesdays to Sundays 12:00 to 6:00 pm, 12:00 to 8:00 pm on Thursdays; closed Mondays and Tuesdays
Wednesdays to Sundays 12:00 to 5:00 pm; closed Mondays and Tuesdays
Please Note: any change from these regular hours will be noted on the Visit NY and Visit LA pages.
Paley Overview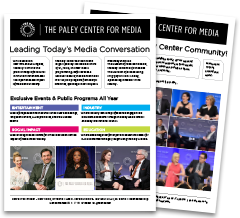 Closed Captioning
Approximately 1,500 titles within our collection have been closed captioned, and those may be viewed in our library. Ask the Visitor Services staff for assistance.
Please note that our events and screenings are NOT closed captioned.
Host an Event
Our locations in New York and Los Angeles offer a number of elegant spaces for entertaining and hosting events.