Inside the Writers Room: Modern Family
Monday, July 19, 2010
7:00 pm PT
The Writers Guild Theater
In Person
Steve Levitan, Cocreator/Executive Producer
Bill Wrubel, Coexecutive Producer
Danny Zuker, Coexecutive Producer
Brad Walsh, Coexecutive Producer
Dan O'Shannon, Coexecutive Producer
Paul Corrigan, Coexecutive Producer

The show's cocreators and executive producers Steve Levitan and Christopher Lloyd talk about the genesis and story lines of their hit show about a chaotic extended family whose individual members are both familiar and exotic. The patriarch is a middle-aged Everyman (Ed O'Neill) who has a sexy second wife (Sofia Vergara), an open, unaffected stepson (Rico Rodriguez), and two grown children: a once-wild but now buttoned-down daughter (Julie Bowen), whose nerdy husband (Ty Burrell) tries—without success—to be hip with their three kids and a worrywart gay son (Jesse Tyler Ferguson), who has adopted a Vietnamese baby with his exuberant, plus-size spouse (Eric Stonestreet). "Crazier than the Huxtables and sweeter than the Bluths, the Modern Family clan is reinventing the family comedy—and viewers can totally relate," raves Entertainment Weekly.
Please note that this event will be held at:
The Writers Guild Theater
135 South Doheny Drive
Beverly Hills, CA 90210
A limited number of free tickets to this event are available for members of WGA, ATAS, SAG, AFTRA, DGA, and PGA. You must show your membership card at the door for admission to the event.
Become a Member
Paley Overview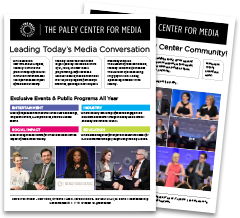 Plan Your LA Visit
Get address, directions, hours of operation, and other information about the Paley Center in Los Angeles to help you plan your visit.