Special Screening & Costume Contest
Digitally Remastered Doctor Who Screenings: The Caves of Androzani
Saturday, June 29, 2013
1:00 pm ET
New York
FREE for Paley Center Members
Included with general admission
Become a Member! Join us online or contact Membership at 212.621.6780.

---
Screening: Doctor Who: "The Caves of Androzani"
(1984; 99 minutes)
On the cave-riddled world of Androzani Minor, the Fifth Doctor (Peter Davison) and Peri inadvertently find themselves enmeshed in a war between the ruthless General Chellak and the sinister Sharaz Jek and his army of androids. The duplicitous politician Morgus wants Chellak to execute the time travelers as spies, while the disfigured Jek seeks to keep Peri forever hostage within his stronghold. But the Doctor soon realizes an even more gruesome fate awaits them—they have been infected with fatal spectrox toxemia, and there is no cure. Hunted by both factions and with death just hours away, how far must the Doctor go in order to save his friend's life?
Our thanks to BBC Home Entertainment for making this series of Doctor Who screenings possible.
Doctor Who Costume Contest
Presented in association with BBC Home Entertainment and New York Comic Con

Before we take a trip with the Fifth Doctor to the Caves of Androzani, the Paley Center—along with our friends at BBC Home Entertainment and New York Comic Con—encourages all our attendees to channel their inner Doctor (or Dalek, Cyberman, or Companion) for our first-ever Doctor Who costume contest. Up for grabs? Fame, glory, and two exciting prizes...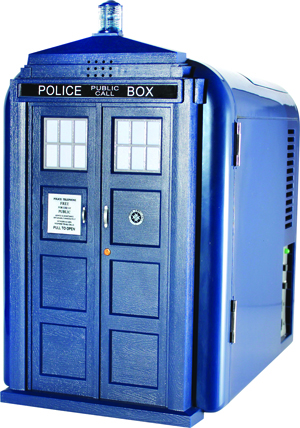 TARDIS Mini Fridge—It may not be bigger on the inside, but it certainly is colder on the inside. This functioning refrigerator features a flashing lantern light and thirty seconds of TARDIS sound effects, as a little VWOOP VWOOP makes any trip to the fridge better.

New York Comic Con Four-Day Tickets—We must have taken a trip in the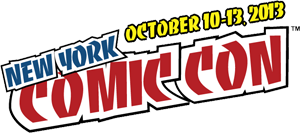 TARDIS to score these, as we're giving away a pair of sold out Four-Day tickets to this year's New York Comic Con. You can't get these anywhere other than at Paley!

Excited by the prizes? Of course you are, but how do you win? Come to Paley Center between noon and 12:30 pm on Saturday, June 29, and visit the costume contest check-in table in the lobby. The first twenty fans (or groups of fans) to enter will get a spot in the costume contest.

At 1:00 pm, prior to the start of the screening of (SPOILER!) Peter Davison's swan song, Paley Center's Doctor Who costume contest will take place in the Bennack Theater. Each group will receive a prize for participating, the NYCC tickets will be given away based on audience applause, and the contest's three judges will award the TARDIS Mini Fridge to their favorite.

Best of luck, Geronimo, and Allons-y!
Judges
Tori Preston, Publicist, BBC Home Entertainment
Peter Tatara, Content Director, New York Comic Con & Nerd York City
Meredith Woerner, Senior Reporter, io9