Costumes and Artifacts from the Extraordinary Life and Career of Marilyn Monroe
August 18 to September 30, 2018
FREE Exhibit in Los Angeles
Wednesdays to Sundays 12:00 to 5:00 pm 
Closed Mondays and Tuesdays.
The mere mention of her name conjures up a million dazzling images—flickers of light that capture the incandescent glamour of arguably Hollywood's greatest icon. The legend of Marilyn Monroe continues to fascinate us decades after she first entranced audiences.
The Paley Center for Media in Los Angeles
465 N. Beverly Drive, at S. Santa Monica Blvd.
More information about visiting the Paley Center in Los Angeles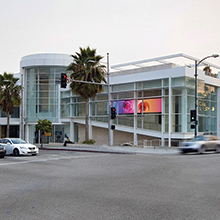 The Paley Center for Media in LA
465 N. Beverly Dr. 
(S. Santa Monica Blvd.)
More info about visiting.
RSVP for Opening Weekend!
Entrance to the exhibit is free, but RSVPs are recommended for the opening weekend.
Paley Members will enjoy priority entrance.
 
Saturday RSVP
Sunday RSVP
In celebration of her enduring artistic legacy, the Paley Center is proud to showcase a new exhibit, presented by Profiles in History, featuring an extraordinary private archive of Monroe treasures including signature costumes from her films Gentlemen Prefer Blondes, The Prince and the Showgirl, and How to Marry a Millionaire, personal artifacts such as her heavily hand-annotated script from 1955's The Seven Year Itch (providing a unique window into her artistic process), wardrobe pieces, and much more. The exhibit is framed by beautiful large-format photographs of Monroe captured by her friend, famed fashion and celebrity photographer Milton H. Greene, and unique historic video from the Paley Archive chronicling the icon's contributions to television.



Live Painting to Salute "Classic Hollywood"
Saturday, August 18; 5:00 to 8:00 pm
FREE Admission
To coincide with the opening of Essentially Marilyn: The Exhibit and as part of BOLD Summer events, Alexa Meade—whose unique artistic approach can be seen in Ariana Grande's "God Is a Woman" video—will present a live painting art installation that evokes the glamour of Classic Hollywood.

What is live painting you ask? Meade applies paint to the human body and the surrounding scene, creating a living painting where three-dimensions and two-dimensions become one.

Once Meade's art is in place with her models, YOU can enter that dreamscape using props to create your own tableaux on the red carpet and share on social.
#BOLDBH #PaleyLive.