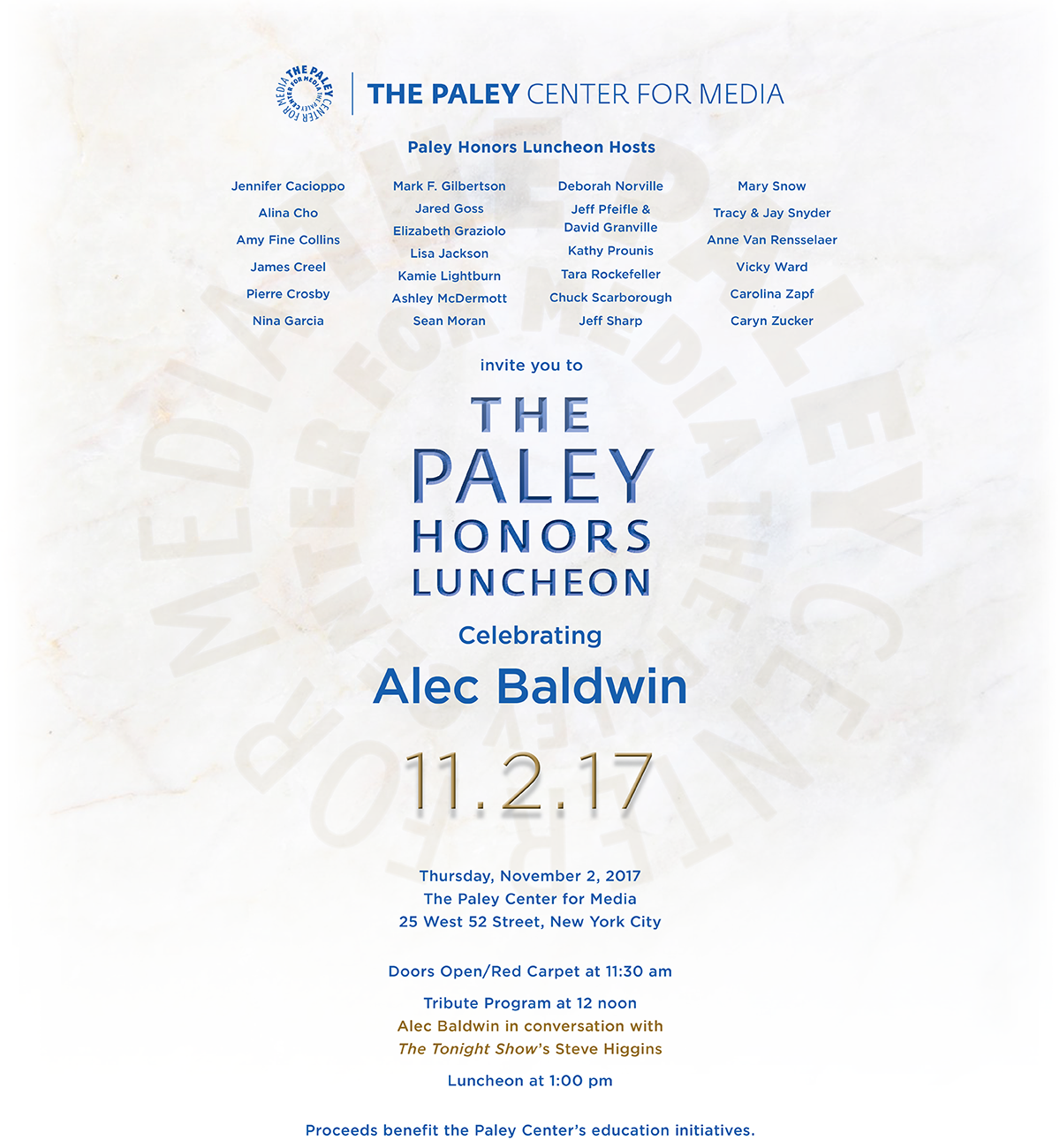 To purchase tables or tickets, call Katy Karr at 212.621.6818 or click below:



THE PALEY CENTER FOR MEDIA BOARD OF TRUSTEES

Chairman

Frank A. Bennack, Jr.

President & CEO

Maureen J. Reidy

Vice Chairs

Gustave M. Hauser

Mel Karmazin

Trustees

Judy Hart Angelo

Alfonso de Angoitia

Mitch Barns

Gary B. Bettman

Andy Bird, CBE

Yannick Bolloré

Aryeh B. Bourkoff

Brandon Burgess

Juan Luis Cebrián

Adriana Cisneros

Cesar Conde

Arzuhan Doğan Yalçindağ

Nancy Dubuc

Tami Erwin

David Eun

Randy Falco

Cristiana Falcone

Mike Fries

Dexter Goei

Robert A. Iger

Peggy Johnson

John H. Josephson

Jeffrey Katzenberg

Henry A. Kissinger

Debra Lee

Ken Lowe

Robert D. Manfred, Jr.

Joe Marchese

John Martin

Julie Menin

Jonathan Miller

Leslie Moonves

Daniel L. Mosley

James Murdoch

Katherine Oliver

William C. Paley

Jay Penske

Richard Plepler

Shari Redstone

Dan Rose

Michael I. Roth

Geoffrey K. Sands

Josh Sapan

Robert B. Schumer

Stanley S. Shuman

Edward Skyler

Evan Spiegel

David J. Stern

Jeff Weiner

Devin Wenig

Dick Wolf

David Zaslav

List current as of October 2017
ABOUT THE PALEY CENTER

With locations in New York and Los Angeles, the Paley Center is the premier nonprofit cultural institution that showcases the importance and impact of media on our society.

The Paley Center has the nation's largest publicly accessible archive of TV, radio, and new media programming. Referred to as a national treasure, the collection holds over 160,000 programs from over 70 countries, spanning almost 100 years.

Previously known as The Museum of Television & Radio, the Paley Center was founded as The Museum of Broadcasting in 1975 by William S. Paley, a pioneering innovator in the industry.

Exclusive Events & Public Programs All Year:

Entertainment: Where fans peek behind the curtain at exclusive screenings, unique exhibitions, A-List premieres, and star-studded events.

Industry: Where industry icons and professionals engage in live discussion and debate through the Paley Media Council and Paley International Council.

Social Impact: Where thought leaders come for critical discussions on the impact of media on our society.

Education: Where students gather for important education classes for K–12 and member colleges, taught using the Paley Archive.
© 2017 The Paley Center for Media