Paley Center TV Show
At the Paley Center Season Two: She's Making Media
Thursday, January 19, 2012
PBS (check local listings)
The Paley Center for Media and WNET bring legendary voices and footage to New York metro area public television viewers in the second season of the interview series At the Paley Center, which premiered January 19 at 8:30 pm on THIRTEEN.
Broadcast Schedule on WNET THIRTEEN
Thursdays at 8:30pm

Glenn Close (January 19)—Click here to watch
Marlo Thomas (January 26)—Click here to watch
Jane Fonda (February 2)—Click here to watch
Arianna Huffington (February 9)—Click here to watch
Eve Ensler (February 16)—Click here to watch
Maria Elena Salinas (February 23)—Click here to watch
Rebroadcasts beginning January 24 on:
WLIW21 Tuesdays at 10:30pm
NJTV Tuesdays at 10:00pm
For this second season, the Paley Center and WNET are launching a special initiative called "She's Making Media," a new series of programs that puts a slightly different lens on the subject of women's role in media. At the Paley Center will celebrate women who are making media—media with a purpose. Hosted by Pat Mitchell, president and CEO of The Paley Center for Media, each half-hour episode of the new six-part series concentrates on a woman who has used media in new and innovative ways.
In each unique and compelling half-hour episode, the guest's life-story is intertwined with numerous examples of her work, taking advantage of the Paley Center's Collection. Mitchell also speaks with each guest about the enormous impact of the media on women. A unique, signature element of At The Paley Center is a short performance, reading, or monologue selected and performed by the guest: for example, Marlo Thomas reads an excerpt from her autobiography about her marriage to Phil Donahue; Jane Fonda reads an excerpt from her book about her decision to end her marriage to Ted Turner; Eve Ensler performs a short monologue; and Glenn Close sings an a cappella rendition of a lullaby she coauthored for her recent film, Albert Nobbs. This very personal coda to the show is selected by each guest.
Episodes of At the Paley Center season two will stream online (above) after each week's premiere.

Watch the first season of At the Paley Center here.
At the Paley Center is a production of The Paley Center for Media and a presentation of Creative News Group in association with WNET.ORG. Executive Producers for The Paley Center for Media are Pat Mitchell, Diane Lewis, John Wolters, and Susan Lester for LesterMedia. For Creative News Group Mary Lockhart is Executive Producer and Stephen Segaller and Neal Shapiro are Executives in Charge. The series is funded by Rosalind P. Walter.
Paley Overview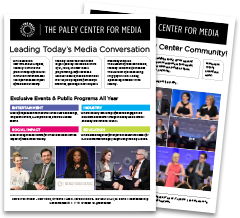 Become a Member