Exhibit, Screenings, & Family Activities in NY & LA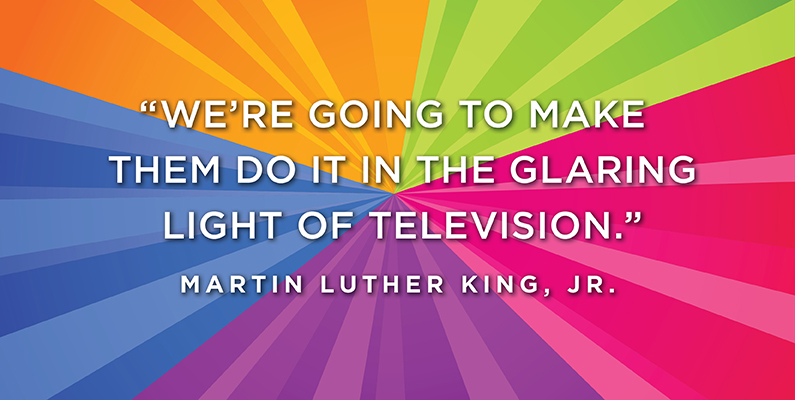 The monthlong celebration will take place at the Paley Center's locations in New York City and Beverly Hills and will feature an interactive exhibit, family activities, and special screenings highlighting significant African-American moments in television. The activities are free and open to the public. The experience also includes a celebration of Martin Luther King, Jr., in commemoration of his life on the anniversary of his assassination. Key moments of his public service are called out, accompanied by King: Legacy of a Dream, which are excerpts from the award-winning documentary King: A Filmed Record . . .Montgomery to Memphis. We invite you to also visit the Paley Center library to watch the full programs in our African-American Collection.

In the gallery you can watch exclusive Paley Center compilations of the television work of African-American actors, writers, producers, journalists, athletes, and musicians who had a powerful impact on American society and culture. We hope you will discover some inspiring facts about these artists that you did not know before.

In the interactive video display, test your knowledge about our featured African-American achievers, and experience the events of the watershed year 1968, the same year the Civil Rights Act was enacted, as well as TV coverage of the civil rights movement. Rounding out the exhibit will be a special Paley Center collage where visitors can write what about the exhibit inspired them most on a Post-it and place it on a wall to create a collage, some of which will be shared on Paley social media channels.


Please note: In NY, the exhibit will close early on these days: Thursday, 2/8—Closing at 2:00 pm; Thursday, 2/22—Closing at 5:00 pm. We apologize for any inconvenience.



In New York and Los Angeles, on Saturdays and Sundays in February, enjoy free screenings from the African-American Collection in the Paley Archive, including a tribute to Ella Fitzgerald, classic comedy programs, a Scandal marathon, and previews of two new documentaries. Also on Saturdays, we offer Black History Month programming for families.
Black History Month: Ella Fitzgerald Centennial Celebration
Saturday and Sunday
February 3 & 4 , 2018; Starting at 12:15 pm
The Paley Center celebrates the centennial of "The First Lady of Song," the beloved American jazz singer Ella Fitzgerald (who was born on April 25, 1917, and died on June 15, 1996) with screenings of rare television programs from the Paley Archive. At the First Annual Grammy Awards in 1959, which honored musical accomplishments for 1958, Fitzgerald became the first African-American woman to win a Grammy and the first woman to win multiple Grammys—receiving awards for Best Female Vocal Performance for Ella Fitzgerald Sings the Irving Berlin Song Book and Best Individual Jazz Performance for Ella Fitzgerald Sings the Duke Ellington Song Book.
Full Schedule
Black History Month: Comedy
Saturday and Sunday
February 10 & 11, 2018; Starting at 12:15 pm
A celebration of some of the great African-American pioneers in the field of comedy features a quartet of rarely seen programs, including two all-star specials and episodes from some 1970s variety shows, featuring Dick Gregory, Redd Foxx, Richard Pryor, and more.
Full Schedule
Black History Month: Scandal Marathon
Saturday and Sunday
February 17 & 18, 2018; Starting at 12:15 pm
Gladiators, rejoice: two days of Scandal screenings! Join us to celebrate "Olivia's Swan Song," as creator Shonda Rhimes has labeled this seventh and final season, with these ten episodes beloved by fans.
Full Schedule
Black History Month: News/Documentary
Saturday and Sunday
February 24 & 25, 2018; Starting at 2:00 pm
The Paley Center is pleased to preview two significant new documentaries that dramatically immerse the viewer into 1970 school life in Harlem and pivotal moments in Malcolm X's life.
Full Schedule
Black History Month: Family Screenings
Saturdays
February 3, 10, 17, and 24, 2018; Starting at 12:15 pm
We all know how powerful media portrayals can be for young audiences. In honor of Black History Month, join us for screenings that celebrate the African-American experience through the historical figures, characters, and performers who inspire us!  
Full Schedule

LA EVENT: They Run the Show: African-American Creators & Producers in Conversation
Tuesday, February 13, 2018; 7:00 pm
In Person:
Lee Daniels, Executive Producer, Empire and Star
Yvette Lee Bowser, Executive Producer, Dear White People
Janine Sherman Barrois, Executive Producer, Claws
Cheo Hodari Coker, Creator/Executive Producer/Showrunner, Luke Cage
Prentice Penny, Executive Producer/Showrunner, Insecure
Additional guests to be announced.
More Info and Tickets


NY EVENT: BET's The Rundown with Robin Thede: Anatomy of a Female-Driven Late Night Talk Show
Tuesday, February 27, 2018; 6:30 pm
In Person:
Robin Thede, Creator, Executive Producer, Host
Brittany Scott Smith, Coexecutive Producer
Kristen Everman, Coexecutive Producer
Jo Honig, Coexecutive Producer
Lauren Ashley Smith, Head Writer
Doug Abeles, Writer
Alex English, Writer
Ziwe Fumudoh, Writer
Cody Wilkins, Writer
More Info and Tickets


NY EVENT: Lester Holt: Anchoring News in the Digital Age
Wednesday, February 28, 2018; 8:00 pm
In Person:
Lester Holt
Moderator: Andrea Mitchell
More Info and Tickets

In New York and Los Angeles, families are welcome to enjoy drop-in activities that celebrate African-American history and pop culture. Kids will be able to create their own "Knowledge Trading Cards" to give recognition and credit to a civil rights movement hero they'd like to see honored during Black History Month. Kids can also use their creativity to create their own superheroes with "Hero Cards." And children will learn about the life of Martin Luther King, Jr., with engaging worksheets. 

In New York, the Paley Center's Education department will offer middle and high school groups the following two workshops free of charge during February's Black History Month Celebration:
The Civil Rights Movement & Television
Media and the Voting Rights Act of 1965
Please email eduny@paleycenter.org to schedule a class.