Brit Wits: Coogan vs. Gervais
Follow-up Series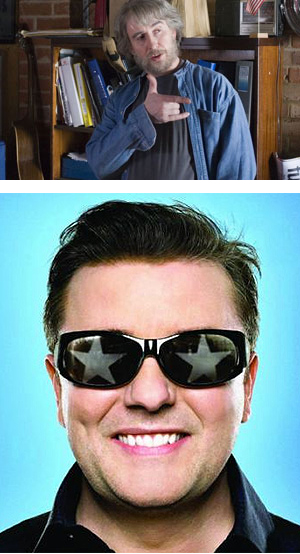 Coogan follow-up series: Saxondale
Coogan made a 180 degree turn with his next series, in which he portrays the title character, a gruff ex-roadie pest control worker with anger management problems. Working class, quirkily intelligent, passionate, and deeply soulful, Saxondale could not be more different from Partridge, but the character is equally funny and, ultimately, quite touching, as he navigates the compromises aging demands of an erstwhile hellion. Great theme song, too.
Gervais follow-up series: Extras
Gervais's post-Office outing casts him in the role of struggling actor Andy Millman, reduced to taking jobs as, essentially, set dressing, killing time with his underachieving and none-too-bright pal Maggie. Extras is solid-to-terrific entertainment, making excellent use of high-profile guest stars and taking an interesting risk in its second season, which finds Andy a success, though still miserable as ever. The final episode is surprisingly bleak and heartbreaking, and Gervais's writing and directing partner Stephen Merchant gives a performance for the ages as Andy's inept agent.
Advantage: Coogan
Extras is fine work, but we've seen the inside-showbiz satire many, many times before. Also, Andy Millman isn't worlds away from David Brent (he's a bit smarter and funnier, and more self-aware) while Coogan is unrecognizable as Saxondale, and the show presents a milieu derived from real people's lives. It's close—David Bowie's Extras cameo almost puts it over the top—but Coogan's astonishing versatility wins this round.
[Next: On Film]
Brit Wits: Coogan vs. Gervais CONTINUES...
"Brit Wits" pages: 1 | 2 | 3 | 4 | 5 | 6
Photo credits: Saxondale: Baby Cow Productions Ltd.; Extras: Universal Pictures (UK) Ltd