Brit Wits: Coogan vs. Gervais
On Film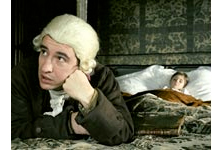 Coogan on Film
Coogan has continued to display his range in an intriguing selection of movies, including two excellent performances for director Michael Winterbottom: journalist and indie music godfather Tony Wilson in 24 Hour Party People and the title role in Tristram Shandy. Both films are self-referential, postmodern contraptions that require buckets of charisma and precise tonal control from Coogan to work, and he delivers in spades.
Coogan also scores big in his segment from Jim Jarmusch's Coffee and Cigarettes, playing an obnoxiously self-absorbed version of himself as he casually dismembers a hapless Alfred Molina over the course of an awkward meeting.
Around the World in 80 Days was a bust, and he failed to make much of an impression in minor roles in Night at the Museum, Hot Fuzz, and Marie Antoinette, but he was very effective in a small role in the mega-hit Tropic Thunder, and he transformed once again for Hamlet II, starring as a roundly pathetic American high school drama teacher in the funniest film of 2008 (and certainly the funniest movie ever to feature the phrase "raped in the face").
Coogan delivered a rare dramatic performance in the underappreciated comedy/drama Happy Endings, and his wounded, scheming Charlie is an intriguing look at what Coogan might do with a "serious" role.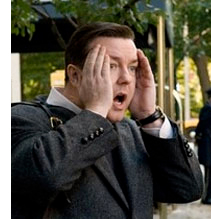 Gervais on Film
Gervais has made fewer films than Coogan, with a higher percentage of fluff. He is largely wasted in For Your Consideration, Stardust, and Night at the Museum (crossover!), but he is excellent in the lead role of Bert Pincus, misanthropic dentist, in the appealing romantic comedy Ghost Town. Unfortunately, that film's title could accurately be used to describe the theaters playing it, but Gervais's work establishes him as a compelling leading man—such is his charm that his lovely leading lady's (Tea Leoni) attraction to him is perfectly believable, despite Gervais's lack of conventional male beauty.
Advantage: Coogan 
No contest.
[Next: Extracurricular Work]
Brit Wits: Coogan vs. Gervais CONTINUES...
"Brit Wits" pages: 1 | 2 | 3 | 4 | 5 | 6
Photo credits: Tristram Shandy: BBC Films; Ghost Town: DreamWorks SKG