Brit Wits: Coogan vs. Gervais
Signature Series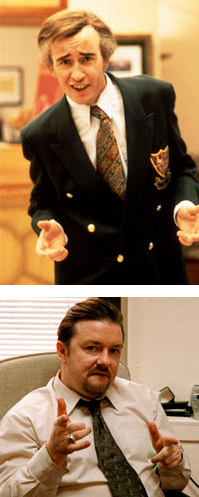 Coogan Signature Series:  Knowing Me, Knowing You...With Alan Partridge and I'm Alan Partridge
In which an Abba-loving monster of egocentric desperation raises humiliation to an art form. The Partridge character is interesting in that the two series featuring him have entirely different formats: the former is a simulated chat show, with no behind-the-scenes reality; the latter follows Alan's misadventures after he loses his job and finds himself working a sad early-morning DJ gig and living in a bland, underpopulated hotel. Both are painfully funny, and the installment in which Partridge hosts a corporate seminar after impaling his foot on a fence is maybe the most side-splittingly hilarious thing I have ever seen on television. [Watch a clip]
Gervais Signature Series:  The Office
A perfectly executed mockumentary exploring the quiet desperation of office work and featuring a towering performance of cringe-inducing cluelessness from its cocreator and star. The Office is a flawless piece of work, with its low-tech visual style, seamless ensemble work, and sweetly melancholy undertones combining in a paradoxically engrossing microcosm of contemporary workaday drudgery. Also, Brent delivering a motivational lecture to a room of nonplussed businessmen is maybe the other most side-splittingly hilarious thing I've ever seen on television. [Watch a clip]

Advantage: Gervais
KMKYWAP can be uneven, and I'm Alan Partridge suffers a bit from its extraneous laugh track. I think Coogan as Partridge is as funny as Gervais's Brent, but, on the whole; The Office is the richer work, boasting real emotional range and a cast of vivid supporting characters strong enough to sustain a series in their own right; Alan's entourage is certainly amusing (particularly his long-suffering assistant, Lynne), but Coogan's is essentially a one-man show.
[Next: Follow-up Series]
Brit Wits: Coogan vs. Gervais CONTINUES...
"Brit Wits" pages: 1 | 2 | 3 | 4 | 5 | 6
Photo credits: Knowing Me, Knowing You With Alan Partridge: TalkBack Productions; The Office: BBC Worldwide Ltd