CBS Daytime Celebrates 30 Years at #1
October 12 to November 27, 2016, in Los Angeles
Wednesdays to Sundays 12:00 to 5:00 pm
Closed Mondays and Tuesdays.
Come experience a fan-tastic, interactive exhibit of one-of-a kind memorabilia and original set pieces from some of the most popular daytime shows of the last thirty years.
 
This special exhibit honors CBS's five current shows—The Price Is Right, Let's Make a Deal, The Young and the Restless, The Bold and the Beautiful, and The Talk—as well as legacy programs, including As the World Turns and Guiding Light.
 
CBS daytime television has hit an impressive milestone: it kicked off the 2016–2017 broadcast year celebrating its anniversary of #1 for the 30th consecutive year, one of the longest winning streaks in TV history!
 
For fans, this exhibit is an amazing collection of memories of some of the shows that have been favorites for generations.

SPECIAL CBS PANELS
As part of their celebration of "#1 for 30 Years," CBS is bringing together the talent and creative teams from the CBS Daytime lineup in four lively and entertaining discussions. For information and to RSVP for free admission, please visit cbs.com.


TICKETS FOR THE EXHIBIT

FREE and open to the public. No advance ticketing.
The Paley Center for Media in Los Angeles
465 N. Beverly Drive, at S. Santa Monica Blvd.
More information about visiting the Paley Center in Los Angeles.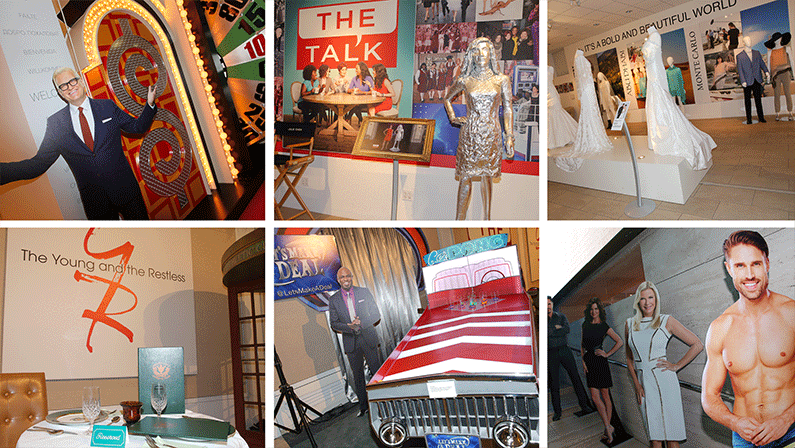 Here are some of the items on display at the Paley Center for Media.
October 12 to November 27, 2016
 
THE PRICE IS RIGHT
The Wheel!
Original podiums
Original Bob Barker microphone
 
LET'S MAKE A DEAL
Original #3 from the first stage door
The Car Pong Game
Mascot costumes: Zonko, Zurtle, and Zonkey
 
THE YOUNG AND THE RESTLESS
Set replica of Victor Newman's office
Chancellor Park set
Original scripts with show creator and head writer William J. Bell's handwritten notes

THE BOLD AND THE BEAUTIFUL
Fashion runway from the show open
Set costumes including memorable wedding gowns
A 24ft Family Tree
 
THE TALK
An original host table
The costumes each host wore for the 2015's Daytime Emmy-winning episode "Rocktober Halloween Spectacular."