Child's Play in the Kitchen
A Look Back at the Remarkable Career of Television's First Superstar Chef, Julia Child
By Rebecca Paller
Julia Child (1912–2004) was an American icon who forever changed the way we think about food. Once she came on the scene to enlighten us, it was "So long, Sloppy Joe. Hello, boeuf bourguignon!"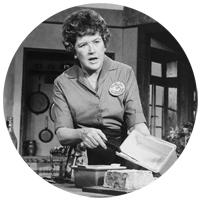 With her inimitable voice and oh-so-likable personality, she brought her PBS series The French Chef and several subsequent cooking programs into our living rooms for four decades—and made each and every one of us believe we could be a master chef in our personal kingdom. It made no difference, by the way, if our domicile was a 650-square-foot apartment in midtown Manhattan or a split-level house in the 'burbs.
This summer Julia Child will come alive again—not that she's ever far from our thoughts, with the continued proliferation of TV cooking shows—when Meryl Streep channels her in the movie Julie & Julia, opening August 7.
Child's Play in the Kitchen Continues...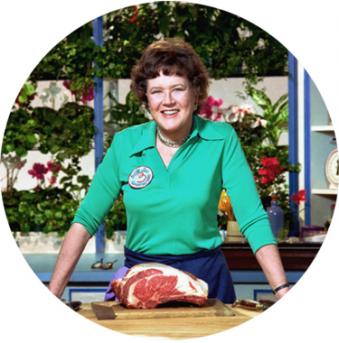 The film, written and directed by Nora Ephron, interweaves the true story of a thirty-year-old New York office temp named Julie Powell (played by Amy Adams)—who in 2002 embarked on a yearlong mission to cook and blog about all 524 recipes in Child's 1961 epicurean bible Mastering the Art of French Cooking—with Julia Child's personal experiences in France from 1948 to 1954, when she learned to cook at the famed Cordon Bleu. Though the two women never met—at the time when Julie was mastering French cuisine on the East Coast, Julia was in declining health in California—the parallels between their lives are uncanny. Julia herself had the perfect term for it: "Sisters under the skin."

The Paley Center has several dozen Julia Child programs in its permanent collection, beginning with an early black and white episode from her first season on the air (1963–64) and concluding with a 2000 "Conversation with Julia Child" at the Paley Center in Los Angeles (then The Museum of Television & Radio).
Lunchtime Screenings
July 18 to August 23, 2009
In NY: Wednesdays through Sundays at 12:15 pm
In LA: Saturdays and Sundays at 12:15 pm
Julia Child (1912–2004) brought haute cuisine to Americans—and forever changed the way we think about food—through some forty years of cooking shows and a shelf full of best-selling cookbooks. In honor of the new feature film Julie & Julia (starring Meryl Streep as Julia Child), the Paley Center is pleased to screen a sampler of "delicious morsels"—as Julia Child herself might say—from our collection. Included are a highlight tape of memorable moments from her shows; excerpts from Ms. Child's interview at The Paley Center for Media in 2000 (then called The Museum of Television & Radio); and one of her earliest programs—in which she prepares chicken with vegetables and risotto—from The French Chef, which debuted in 1963 on WGBH in Boston. (45 minutes)
Special thanks to Peter Lozito at Columbia Pictures, Paley Center curatorial intern Bridget Johnston for her help in organizing this "Perspectives on Media" feature, and Susan Mulcahy, who wrote the Julia Child essay in 2005 for the Paley Center's She Made It initiative, which honors 150 women who made significant contributions to radio and television.

Julia Child pages: 1 | 2 | 3 | 4 | 5