Rowan & Martin's Laugh-In
The "Right On" Dan Rowan and the Even "More On" Dick Martin
Dan Rowan and Dick Martin had been separately haunting the fringes of show business since World War II, the latter's tasks including writing for radio's Duffy's Tavern. They made their debut as a comedy team in 1953, performing at supper clubs with little success until they switched roles: Dan levelheadedly delivering the straight lines while Dick played it gleefully dumb for maximum audience response.
Rowan & Martin's Laugh-In CONTINUES...
– The "Right On" Dan Rowan and the Even "More On" Dick Martin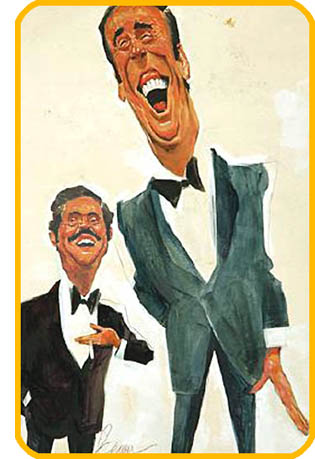 hanks to an endorsement by influential columnist Walter Winchell, the team ended up with better club bookings and a contract with NBC, starting with an appearance on Winchell's own short-lived weekly series in November of 1956. Soon they were popping up all over television, most frequently on The Chevy Show during 1958, which included among its behind-the-scenes staff talent coordinator George Schlatter, who would go on to produce Laugh-In. It was Rowan and Martin's intention, however, to break away from the rather routine presentation of television variety, so they proposed an idea to ABC for an unconventional late-night variety series that emphasized the comedy and dispensed with the music.

This pilot, The Rowan and Martin Show, eventually aired on ABC on September 13, 1964, in the 10:30–11:30 pm Sunday night slot in the metropolitan New York market. Despite the tepid response to it, seeds of what were to become Laugh-In were evident in its content, notably in a mock news report segment, which the duo then proposed could be spun into a weekly program of its own, to no avail. Instead it was some gigs on The Dean Martin Show (which gave them their first catchphrase of sorts, "I got the yo-yo," referring to a skit they did spoofing detective movies) that brought them back into the spotlight, being so well received that they were hired to serve as Martin's replacement hosts during his show's 1966 summer hiatus. Like The Chevy Show, this program would also bring them into the same orbit of a pivotal future Laugh-In contributor, in this instance head writer Paul W. Keyes. Encouraged by healthy ratings, NBC asked Rowan and Martin if they would like to have a series of their own and the team saw this as their chance to at last do things closer to what they had been envisioning all along.
Rowan & Martin's pages: 1 | 2 | 3 | 4 | 5 | 6 | 7 | 8 | 9