Dr. Horrible's Sing-Along Blog
Posterity is a B****: Schmucks, Lies, and Videotape
Before there were vlogs, there were video diaries. Here are a handful of examples from television that we recommend checking out.
Dr. Horrible's Sing-Along Blog CONTINUES...
– Posterity is a B****: Schmucks, Lies, and Videotape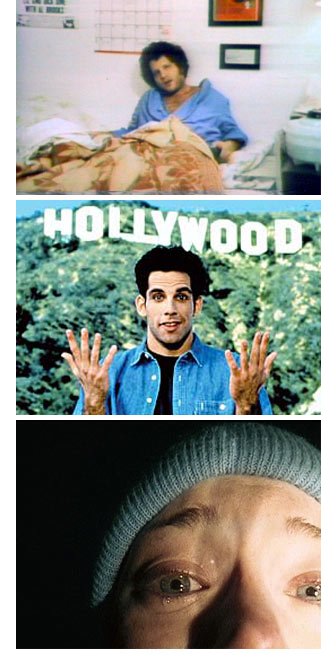 Albert Brooks on Saturday Night Live
Albert Brooks was Saturday Night Live's first in-house creator of short films, and this piece, featuring the comedian home sick in bed, is classic Brooks, brimming with toxic narcissism, smug self-importance, and neurotic, wheedling desperation for approval—qualities that defined his seventies persona and serve as a handy personality checklist for megalomaniacal villains (and maybe vloggers in general).

The Ben Stiller Show
Stiller's acutely embarrassing act of self-documentation, concerning a Van Halen concert experience gone awry, encapsulates the mercurial emotional reversals of adolescence in a tidy, humiliating package. In a gentler era, before YouTube and MySpace, such indiscreet uses of the video camera rarely made an impact beyond the perpetrator's immediate circle; today, of course, this epic unmanning would live forever in cyberspace.

The Blair Witch Project: Curse of the Blair Witch
Heather Donahue's terrified soliloquy to her video camera birthed a thousand parodies, and featured perhaps the most dramatically expressive strands of mucous in cinematic history.
"Dr. Horrible" pages: 1 | 2 | 3 | 4 | 5
Photo credits: all Dr. Horrible's Sing-Along Blog images: Amy Opoka; Saturday Night Live: NBC Universal; The Ben Stiller Show: Warner Bros.; The Blair Witch Project: Haxan Films