Classes & Workshops
Going Green
Grades 9–12
By examining the arguments and ideas put forth in a selection of environmentally focused documentaries and short films, students will discuss current environmental problems, their causes and consequences, and possible solutions to these problems. In addition to an emphasis on media literacy, this class will provoke students to become "environmentally literate" as they explore and debate the challenges of our changing planet. (90 minutes)

For more information or to schedule a class, call 212.621.6600 or e-mail eduny@paleycenter.org.
Paley Overview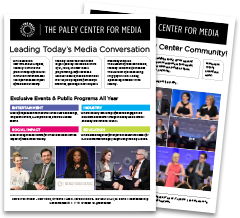 Schedule a Visit
Get scheduling and fee information as well as directions to the Paley Center.
Learn About the Paley Center's Class Programs!