Classes & Workshops
The Fine Art of Persuasion: Television and Advertising
Grades 5–12
Class Description
What is advertising, what is its goal, and what are its methods? How do images and sounds combine to make a point or sell a product, and how have these changed over time? Through careful analysis, students will discover the persuasive techniques developed to capture a viewer's attention in order to promote a product or idea.

All classes are interactive, with guided discussion designed to encourage active observation and critical thinking.


Vocabulary
As a group, provide definitions for the following words and concepts, which will be referenced during the class.

ADVERTISING: The communication of information through various media that is persuasive in nature, about products, services, or ideas, and is usually paid for by identified sponsors.
BRAND: A unique and identifiable symbol, association, name, or trademark that serves to differentiate competing products or services.
JINGLE: A short, catchy song, usually mentioning a brand or product benefit, used in a commercial.
LOGO: A design of characters and/or graphics used to identify a company.
MEDIA/MEDIUM: Forms of public communication (such as newspaper, radio, television, Internet, direct mail, and billboards) that are designed to reach large numbers of people.
SLOGAN: A memorable phrase that says something positive about a product or idea.
TARGET AUDIENCE: A specified audience or demographic for which an advertising message is designed. The members of a target audience often share certain characteristics, such as age, gender, ethnicity, values, or lifestyle.


Pre-Visit and Post-Visit Information
This section makes use of Acrobat Reader software. To see the content we've created, you need the Acrobat plug-in for your Web Browser. Download the Acrobat Reader now.



Pre-Visit Activity | Post-Visit Activity

Websites

For more information on advertising, visit this website:
http://pbskids.org/dontbuyit/advertisingtricks/
Paley Overview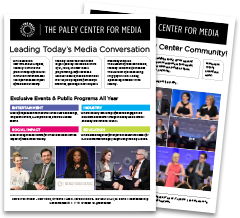 Schedule a Visit
Get scheduling and fee information as well as directions to the Paley Center.
Learn About the Paley Center's Class Programs!