Classes & Workshops
The 1970s: Age of Relevancy
College
From feminism, and the Vietnam conflict, to race relations and social struggle, 1970s television reflected a relevancy in its story telling and programming unique to that decade. In this class, students will view clips of shows from Norman Lear, MTM studios, and other significant programs to learn more about how this tumultuous time was reflected on television.
Learn About the Paley Center's Class Programs!
Paley Overview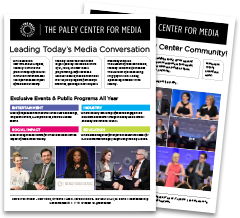 Schedule a Visit
Get scheduling and fee information as well as directions to the Paley Center.