Classes & Workshops
Muppets and Puppets
Grades K-3
Students will discuss what they see in clips from Jim Henson's television work and will discover just how the Muppets come to life by viewing behind-the-scenes footage and making their own puppets.
Paley Overview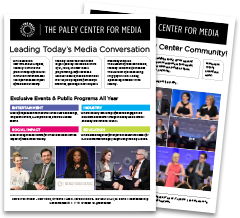 Schedule a Visit
Get scheduling and fee information as well as directions to the Paley Center.
Learn About the Paley Center's Class Programs!