2020 Culminating Projects
Teen Transmitters at The Paley Center for Media is a 100-hour summer internship for rising 11th and 12th grade students who attend New York City public high schools.
In response to the COVID-19 pandemic, Teen Transmitters shifted to a fully virtual internship experience this summer—something that the Paley Education team had never done before. During the planning stages, we didn't know exactly how it would run. But thanks to the incredible commitment and hard work of this year's cohort, it was an unequivocal success.
We are so proud to present the culminating project of our Teen Transmitters interns—a podcast series consisting of twelve different episodes, each one written, produced, and edited by a member of the cohort. We asked our interns to consider this series as a kind of 2020 time capsule. How are people feeling? What are they thinking about? What will they remember? We are so proud of the series and we hope you enjoy listening!
Support for Teen Transmitters is provided by the Pinkerton Foundation and ConEdison. Radio editing software generously donated by Hindenburg Systems.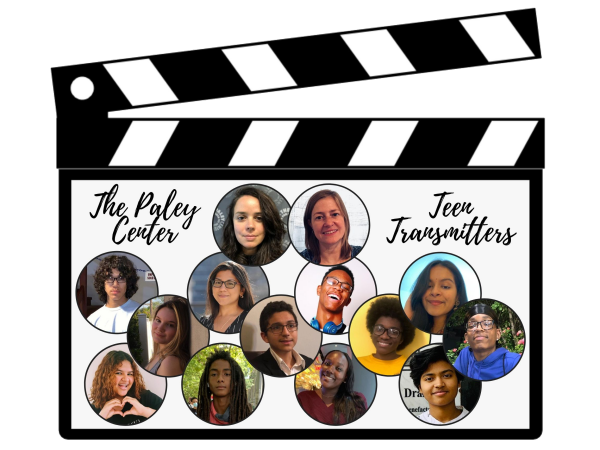 *Photo credit: Samama Moontaha, Teen Transmitters 2020 Intern
Top Row (L to R) Caroline Quigley, Senior Manager of School & Family Programs, Rebekah Fisk, Director of Education
2nd Row (L to R) Allendy Hiciano, Samama Moontaha, Ellington Fagan, Puspita Esha
3rd Row (L to R) Elizabeth Carlin, Matthew Garcia, Katijah Lavan, Markice Grant
Bottom Row (L to R) Samantha Rodriguez, Menelik Lee, Kadija Diaby,Jahin Rahman
Teen Transmitters 2020 Podcast Series
Allendy Hiciano
Rising Senior at University Heights High School
Double-Sided Picture
Gentrification is a topic that can be easily misunderstood and falsely portrayed. This podcast is informative as well as argumentative and contains the basic claims made by those who opposed and align with gentrification. As a teenager from the Bronx, gentrification is a social issue that I experience on a daily basis. For that reason, this podcast is personal to me and I intend to bring awareness about what's truly going on in lower-income neighborhoods.
Elizabeth Carlin
Rising Senior at Fort Hamilton High School
What's Your Favorite Song?
Have you ever really thought about what your favorite song is? For some, this is a tough question to answer. Your favorite song is often defined by a certain emotion you feel while listening to it or a certain lyric you connect to. Music is considered a universal language and a form of connecting people all around the world. So how can music serve us in a therapeutic way? This podcast is a look into music therapy and its benefits, while seeing how real people benefit from an experience with music. This is best listened to with headphones. Enjoy!
Ellington Fagan
Rising Junior at Bronx High School of Science
Wheels on Streets
Host Ellington Fagan retells his experience of an unconventional Black Lives Matter protest: the Justice Rides of New York City. The movement has grown larger and larger over its ten-week existence, with the thousands of people riding through the streets of New York. Hear the chants, jives, and sounds of a protest that will go down in history.
Jahin Rahman
Rising Senior at Academy of American Studies
Youth - We Can Do More Than We Think
Given the current situation, a lot of us are stuck at home with a lot of free time. For many of us teenagers who are not working, we are struggling to maintain a productive routine. However, my podcast covers a topic that has definitely not been highlighted enough in the media: how some teens are working hard day and night to combat the disastrous effects of the pandemic as youth activists.
Kadija Diaby
Rising Junior at Urban Assembly School for Global Commerce
2020
This podcast takes a look at the big picture of 2020—Covid-19 and the Black Lives Matter movement. The pandemic caused damage all around the world, to people and economies. The Black Lives Matter movement has been around for a long time but recent protests feel different. So is there a chance for hope?
Katijah Lavan
Rising Senior at Bronx Academy of Letters
How to Get Away With Murder
When George Floyd was murdered, the outcry was immense. So was the outcry for Ahmaud Arbery and Breonna Taylor. So was the outcry for Eric Garner and Trayvon Martin. So was the outcry for Emmet Till. After every one of these murders and subsequent uprisings, there followed a "return to normal"; a quelling of the initial anger or, at the very least, a decreased sense of urgency. With my podcast, I want to examine why that happens and connect it to society's wider understanding and treatment of race as a topic.
Markice Grant
Rising Junior at H.E.R.O High School
Black Lives Matter, Through the Ages
My podcast is essentially about the Black Lives Matter movement, but it has a twist to it. It's not one generalized opinion. It is the different opinions of people from multiple age groups. My goal was to see how age can affect one's opinion, either positively or negatively, of the Black Lives Matter movement.
Matthew Garcia
Rising Senior at Brooklyn Technical High School
Why Is New York Housing So Crowded?
Coronavirus devastated the US, and especially New York, but not everyone was affected equally. Overcrowding in NYC was particularly conducive to the spread of the virus, especially because people living in overcrowded units are more likely to be essential workers. So why is there so much overcrowding in the New York City? What policies have affected it? Most importantly, how can we improve these conditions so this doesn't happen again? I sat down with Charles McNallly from the NYU Furman Center to figure it out.
Menelik Lee
Rising Junior at Institute for Collaborative Education
Artists on the Air
Menelik is joined by Brooklyn-based artist Delphine Diallo to discuss her up-and-coming career as an artist originally from France. Delphine talks about the work she specializes in and how she got to where she is today, specifically how she mixes activism within her art in order to empower women, teach the youth, and support cultural minorities. Delphine then explains her process of creating a piece, shining a light on her recent pieces Shiva and Divine Convention.
Puspita Esha
Rising Senior at Maspeth High School
Desi Representation in Media
This podcast deals with issues such as representation and colorism for Desi-Americans. It dives into the Desi representation provided by the Netflix hit show, Never Have I Ever as well as colorism in the Desi community portrayed by Netflix's Indian Matchmaking. Join two Bengali-American teenagers as they discuss these issues that many other Desi people, like them, face often.
Samama Moontaha
Rising Senior at the Bronx High School of Science
Newly Bizarre
At the beginning of quarantine, a whiff of sorrow flowed through the air as people all around the world were suddenly forced to halt their plans to appropriately respond to the global pandemic. Though, soon enough, the whiff was replaced by a heavy dose of despair as we increasingly realize that we do not know when the pandemic will end, the world will return to normal. Lockdown procedures were surely something foreign to many people, which inevitably led to a shift in mentality and routines to adapt to the new experience. For people locked indoors with family members all day, their day-to-day lives are nothing short of pure craziness, which is exactly what this podcast will hone in on!
Samantha Rodriguez
Rising Senior at All City Leadership Secondary School
Social Media - A Lesson in Attention Span
This podcast delves into social media's short attention span, and the impact that comes with it. In exploring this topic, I shine a light on detention centers in America as an example of the impact. Special guests include: Marquise Francis, National Reporter/Producer for Yahoo News; Rebecca Popuch, Staff Attorney with the Immigrants' Rights Project at Public Counsel; and Iggy Nah.
Teen Transmitters 2020 "What We're Watching" Takeover