2022 Culminating Projects
Teen Transmitters at The Paley Center for Media is a 100-hour summer internship for rising 11th and 12th grade students who attend New York City public high schools.
We are proud to present the culminating projects of our cohort - seven podcasts and one film. From documentary-style stories to fictional narratives, each piece was researched, written, produced, and edited by members of the group. All of the projects explore topics that resonate deeply with the young producers. We hope you enjoy them as much as we do!
Support for Teen Transmitters is provided by the Pinkerton Foundation, Con Edison, and the National Endowment for the Arts.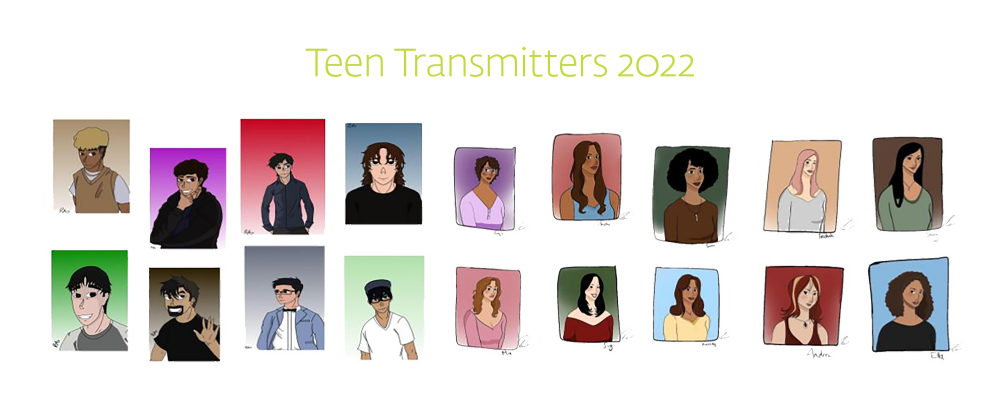 From left top row: Zion Irvine, Ruben Almash, Oscar Darmawan, Micah Parnass, SIndy Medina, Anisha Singhal, Sasha Bailey, Bekah Fisk (staff), Shay Ahmed. From left bottom row: Gustavo Morales-Salgado, Carlos Pareja (Staff), Elkin Mantilla, Kenneth Gao, Mia Pacelli, Ivy Liu, Kassidy De Nobrega, Andrea Guartan, Ella Smith
*Art credit: Sindy Medina and Ruben Almash
Teen Transmitters 2022 Podcast Series
Andrea Guartan
Senior at the High School for Environmental Studies
Mi Lindo Ecuador
This podcast discusses the economic issues in Ecuador that has led thousands of Ecuadorians to immigrate to the United States through an interview with my mom where she shares her immigration experience. From planning and borrowing money to afford coming to this country, to crossing through a dangerous river to get to U.S. land, my mother discusses her regrets and the adjustments that had to be made to make life in the U.S. easier for herself. She also shares her visions for the future for herself, her family, and for immigrants.
Anisha Singhal
Senior at Stuyvesant High School
Mia Pacelli
Senior at NYC iSchool
Do You Know Aunt Flo?
Did you know that the average menstruator spends 10 years of their life on their period? Yet we barely talk about it. In this episode, we talk about the period taboo, the history of periods in religions and cultures, our own period stories, and interview a menstrual artist. It's been difficult even for us to talk about periods without getting a little embarrassed, but through this journey we hope we can help normalize period talk. So next cycle, ride that cotton pony with pride!
Kassidy De Nobrega
First Year at Fordham University
Unfortunately, We Wish you the Best
The 2021-22 College Admissions Cycle was the most competitive one in history. Schools offering a measly 8% acceptance rate dropped to a record-breaking, and even more brutal, <4% acceptance rate. While the pool of applicants grew, however, the percentage of overachievers and deserving students within that pool hasn't. So how does this growing population of worthy rejects cope with this crushing disappointment? If the pattern continues, will society's perception of the value of average colleges become a healthier, less-prejudiced one? In this podcast, recent high-school graduates Sarah Hardeo, Mena Labib, Ivy Liu and I discuss our experiences surviving and healing from the "most competitive year in college admissions," chatting about all the heartbreak, growth, and clarity that rejection brought us over the past five months.
Gustavo Morales Salgado
Junior at Brooklyn Technical High School
Ruben Almash
Senior at Fort Hamilton High School
Sindy Medina
Junior at the Young Women's Leadership School of the Bronx
He Has my Face
What would you do if there was someone in the world that looked just like you... walking around? What if they found you? What if they were always watching you? Always lurking... ever approaching. What if the world wasn't big enough for both of you?
Kenneth Gao
Junior at Stuyvesant High School
Micah Parnass
Senior at Edward R. Murrow High School
Shayera Ahmed
Senior at Bayside High School
So We Have a Problem
A comedy podcast where hosts Shay Ahmed, Micah Parnass, and Kenneth Gao explore the 5-step process of creative problem solving through a very particular problem of their own...
*Content Warning - this podcast contains material not suitable for all ages and may offend sensitive listeners. Expect to hear swearing, mentions of deceased bodies and gore. If any of these things offend or trigger you please do not listen.
Kassidy De Nobrega
First year at Fordham University
Oscar Darmawan
Senior at Aviation High School
Take Your Pick
Liz, George, Marie, and Ozzie are high-school aged friends from California spending their summer vacation in the cool, shaded comfort of the indoors. One day, old Hollywood-obsessed Liz purchases a 1957 guitar pick that supposedly belonged to her icon Elvis Presley. However, when she leaves it in the care of her three friends one July afternoon, George, Marie, and Ozzie find themselves in a predicament so dire they turn to time-travel. In 1957, the three pals spot stars Desi Arnaz, Audrey Hepburn, Frank Sinatra, Perry Como, and Elvis Presley as they stroll through Hollywood on their top-secret quest in this I Love Lucy & Twilight Zone-inspired radio play.
Ella Smith
Senior at the High School for Math, Science and Engineering at City College
Sasha Bailey
Senior at LaGuardia High School
Zion Irvine
Senior at City College Academy of the Arts
A Series of Murderous Events
Gwenyth and Axel are an unlikely couple of high Seniors spending their weekend in the woods, when they witness a murder and get caught up in a series of deadly situations.
Teen Transmitters 2022 "A Series of Floors" Short Film
Roth Paley has always dreamt of obtaining a job at Partially Constructed Media (PCM Solutions so when he finally gets an interview, he stops at nothing to attend it. While making his way to the interview he unwillingly explores the seemingly endless number of floors of the PCM building, and runs into the many wacky and sometimes unsettling characters that inhabit the building.