2023 Culminating Projects
Teen Transmitters at The Paley Center for Media is a 100-hour summer internship for rising 11th and 12th grade students who attend New York City public high schools.
We are proud to present the culminating projects of our cohort—eight podcasts and one short film. Using documentary and nonfiction narrative to explore personal stories, each audio piece was researched, written, produced, and edited by members of the group. All of the projects explore topics that resonate deeply with the young producers. We hope you enjoy them as much as we do!
Teen Transmitters is made possible by support from Con Edison, the National Endowment for the Arts, and the Nielsen Foundation.
The Paley Center for Media graciously thanks The Pinkerton Foundation for its inaugural support of the Teen Transmitters program.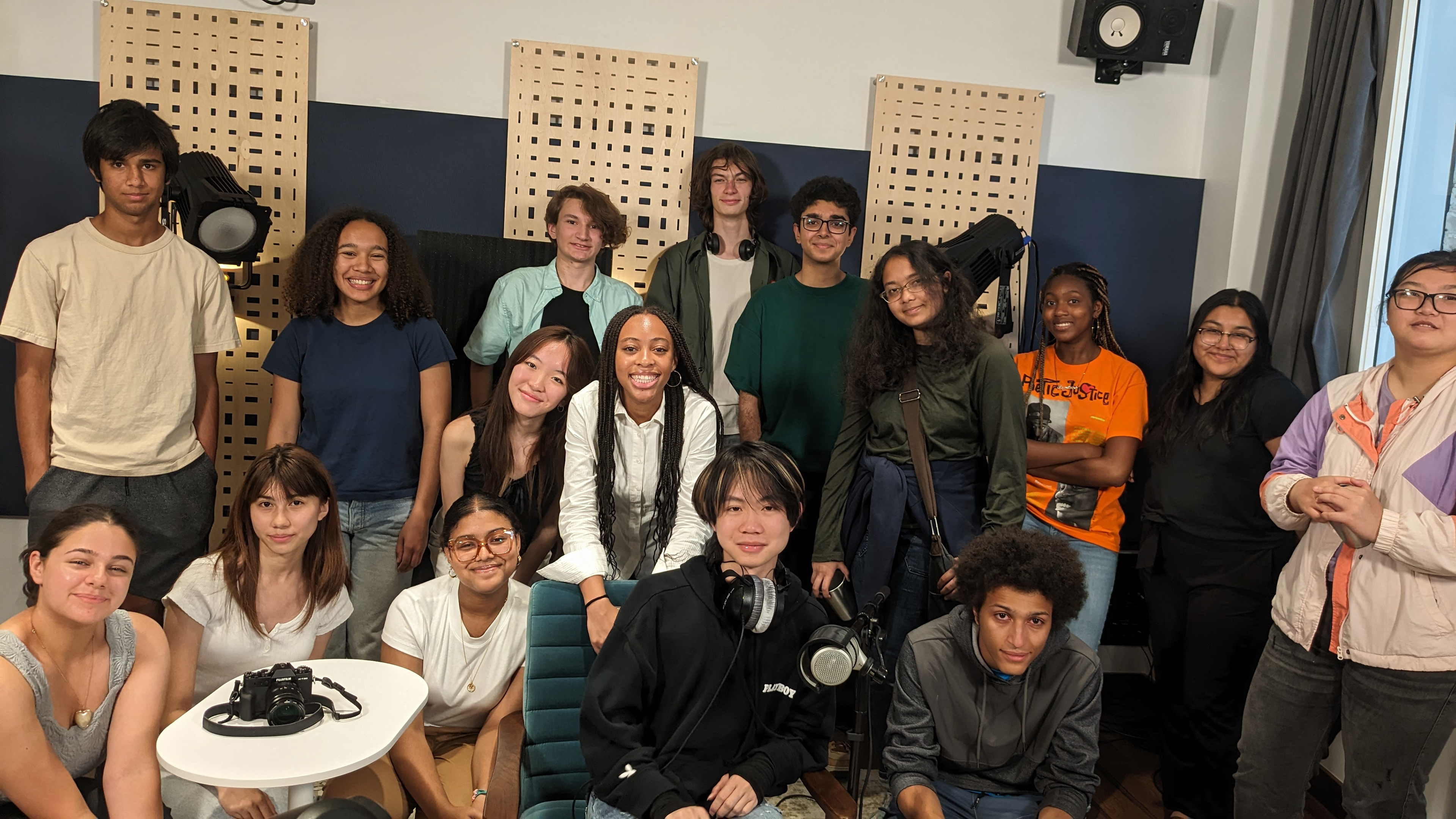 From left top row: Ravin Parkh, Ella Smith, Owen Carlin, Wilson Rumble, Aaqib Gondal, Intia Ibnah, Jordan Armstead, Leslie Cruz-Lobato, Eileen Zheng. Center: Dorothy Ha and Sanaa Stokes. Bottom row: Ava Canade, Katherine Lian, Sindy Medina, Kenneth Gao, Ruben Almash
Teen Transmitters 2023 Podcast Series
Aaqib Gondal, senior at Bronx High School of Science
Ravin Parikh, junior at The Brooklyn Latin School
Wilson Rumble, senior at Bard High School Early College-Manhattan
Sanaa Stokes, junior at Professional Performing Arts School
Faithful Youth
As young people living in NYC raised in a culture of various religious beliefs and practices, we explore the question: what is the younger generation's relationship and experience with religion today?
Ava Canade, senior at Fort Hamilton High School
Dorothy Ha, senior at Stuyvesant High School
Death: Letting It Happen
Looking at the human side of death, this podcast interviews young people and those intimately connected to death through profession and experience. Seeing death as an integral part of life, a story of acceptance can be a reassuring message.
Owen Carlin, junior at College of Staten Island High School for International Studies
Intia Ibnah, senior at Stuyvesant High School
How Did We Get Here?
We use the Internet for communication, creation, education, entertainment and so many other reasons. But how did we arrive at this stage of mass adoption and use? What are the origins of this powerful and dynamic means of communication that is so central to our lives that we can't imagine a world without it?
Kenneth Gao, senior at Stuyvesant High School
Katherine Lian, senior at Townsend Harris High School
Ella Smith, first year Northwestern University

The Next Stop Is…
Acknowledging that learning is not exclusive to time spent in the classroom, this podcast investigates the relationship between a student's social life and their commute to and from school.
Jordan Armstead, senior at NYC Museum School
Ruby Bridges Is Still Alive
A personal narrative examining the recent Supreme Court decision that ended affirmative action. Jordan, a young black woman and high school senior applying to colleges will be directly impacted by this conservative court's ruling.
Leslie Cruz-Lobato, senior at Manhattan Village Academy
Sindy Medina, senior at the Young Women's Leadership School of the Bronx
The Forgotten Story of Street Vendors
A pressing concern of our young Latine and immigrant youth is the resentment and harassment that street vendors of color face everyday. Why are these industrious, steadfast and often undocumented workers so persecuted and what are the origins of this style of food, cuisine and trade that is essential to street and city life?
Ruben Almash, first year at School of Visual Arts
Knockout
An exploration of boxing's rise in popularity among high school peers in Ruben's community and a personal journey into how the sport has impacted his life and the life of his family.
Eileen Zheng, senior at Queens High School for the Sciences at York College
Mind Matters: Exploring Mental Health in Media- Episode 1
Understanding that stigma and misinformation about mental health arise from ignorance, this first part of a two episode podcast looks at how television has represented mental health and those afflicted by mental disabilities.
Mind Matters: Exploring Mental Health in Media- Episode 2
Part two of this podcast includes peer discussion around mental health and how young people view different portrayals of mental health conditions.
Teen Transmitters 2023 "Came of Age: Analyzing Teen Media" Short Film
A short film by Katherine Lian, Ella Smith, and Kenneth Gao

Hosts Kenneth Gao and Ella Smith interview students at the Paley Center to unpack what kinds of coming-of-age media they watched growing up and how it has engendered their experiences now.
More Teen Transmitters content from our previous cohorts!
Summer 2022:
Summer 2021:
Summer 2020:
Summer 2019:
Summer 2018: