PALEY DIALOGUE
A Conversation with Ted Sarandos
May 29, 2018
12:00 – 2:00 PM
New York
Ted Sarandos
Chief Content Officer, Netflix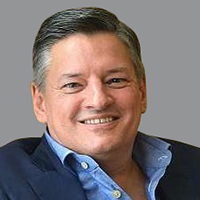 Ted Sarandos is Chief Content Officer at Netflix. One of Time Magazine's 100 Most Influential People of 2013, Ted has led content acquisition for Netflix since 2000. In 2013, he led the company's transition into original streaming content with the launch of House of Cards, Arrested Development and Orange is the New Black, among numerous other series. In his role, Sarandos oversees the teams responsible for the acquisition and creation of both original series and original films, globally.
With more than 20 years' experience in home entertainment, Ted is recognized in the industry as an innovator in film acquisition and distribution. Before Netflix, he was an executive at video distributor ETD and Video City / West Coast Video. Ted also has produced or executive produced several award-winning and critically acclaimed documentaries and independent films, including the Emmy-nominated Outrage and Tony Bennett: The Music Never Ends. He is a Henry Crown Fellow at the Aspen Institute and serves on the board of Exploring The Arts, a nonprofit focused on arts in schools. He also serves on the Film Advisory Board for the Tribeca and Los Angeles Film Festivals, is an American Cinematheque board member, an Executive Committee Member of the Academy of Television Arts & Sciences and is a trustee of the American Film Institute. Ted is married to U.S. Ambassador Nicole Avant (ret.) and has two children, Sarah and Tony Sarandos.
Ken Auletta
Author, Frenemies: The Epic Disruption of the Ad Business (And Everything Else)
Writer, The New Yorker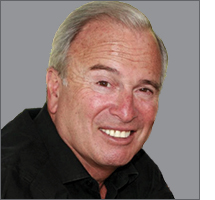 Ken Auletta has written Annals of Communications columns and profiles for The New Yorker magazine since 1992. He is the author of eleven books, including five national bestsellers: Three Blind Mice: How the TV Networks Lost Their Way; Greed And Glory On Wall Street: The Fall of The House of Lehman; The Highwaymen: Warriors of the Information Super Highway; World War 3.0: Microsoft and Its Enemies; and Googled, The End of the World As We Know It, which was published in November of 2009. His other books include: Backstory: Inside the Business of News; Media Man: Ted Turner's Improbable Empire; The Streets Were Paved with Gold; and The Underclass. His twelfth book, Frenemies: The Epic Disruption of the Ad Business (And Everything Else), will be published in June 2018.
Media Council Members can livestream this event at 1:00 pm EST on Tuesday, May 29.
---
This event is exclusive to Media Council Members and other invited guests. To find out more about Media Council Membership, contact mediacouncil@paleycenter.org
Media Council
Featuring candid conversations with the best minds in the industry, the Paley Media Council offers events covering the full spectrum of media businesses for an exclusive membership audience.
International Council Summit
Co-chaired by Frank A. Bennack, Jr. and Henry A. Kissinger, this is an invitation-only membership community comprised of the world's most important entertainment, media, and technology executives.