Hitchcock by Hitchcock
Special Event: The Cast of Broadway's Hit Play, The 39 Steps
Presents... Alfred Hitchcock Presents
Thursday, September 18, 2008
at 6:00 pm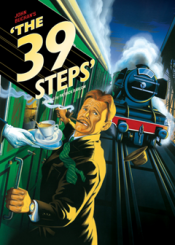 As the ringmaster of his own weekly anthology series in the 1950s and 60s, Alfred Hitchcock parlayed a successful film career into global fame, forever linking his name and likeness to tales of mystery, suspense, and intrigue. Over the years, his iconic works and mischievous persona have been endlessly referenced and parodied, most recently with the Tony Award–winning Broadway play The 39 Steps, a cheeky, freewheeling adaptation of Hitch's 1935 masterpiece.
In this special event, the cast of the production will bring their riotous interpretation of the master's oeuvre to the Paley Center to introduce three classic episodes of Alfred Hitchcock Presents: "Lamb to the Slaughter" (with Vertigo's Barbara Bel Geddes), "Man From the South" (with Peter Lorre and Steve McQueen), and "The Glass Eye" (with Jessica Tandy, William Shatner, and Pat Hitchcock).

In person: Arnie Burton, Jennifer Ferrin, Sam Robards, Cliff Saunders, cast, The 39 Steps.
Tickets: FREE for Paley Center and BAM Members. RSVPs required. Email membership@paleycenter.org or call (212) 621-6780
General Public: Included with general Paley Center admission.
Hitchcock by Hitchcock CONTINUES...
– Special Event: The Cast of Broadway's Hit Play, The 39 Steps
Click here for information on all The 39 Steps events happening this month.