Leonard Bernstein
A Rare Glimpse of a Gala Tribute, 1985
In 1985 The Paley Center for Media (then known as The Museum of Broadcasting) hosted a comprehensive screening series of sixty hours of Bernstein's television work along with a gala celebration at the St. Regis Hotel attended by Maestro Bernstein and his children—along with a host of family friends, including Adolph Green, Victor Borge, and William Schuman. An abridged version of the screening series then traveled to the Barbican Centre in London the following year.
Leonard Bernstein CONTINUES...
– A Rare Glimpse of a Gala Tribute, 1985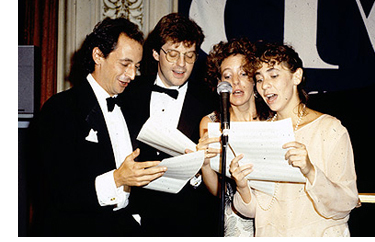 It's hard to believe that Bernstein has been gone for nearly twenty years—gone, yet still very much alive on the hundreds of television programs and audio recordings that are his legacy. From November 8 to November 23, as part of a citywide celebration honoring the ninetieth birthday of the legendary musician, the Paley Center will screen television adaptations of four of Bernstein's Broadway musicals (or, to be more precise, three shows and a one-act opera that defied standard characterizations and played briefly on Broadway in 1955). The highlight of the Paley Center salute will be a seminar, "Bernstein's Broadway" (November 17), which will include rare television footage from our archives and personal recollections from two of Bernstein's close friends—actress Phyllis Newman and orchestrator Sid Ramin—plus guest appearances from others who worked with "Lenny," as he was known the world over.
From right to left: Nina Bernstein, Jamie Bernstein, David Thomas (Jamie's then husband) and Alexander Bernstein sing a special song to their father at The Museum of Broadcasting dinner.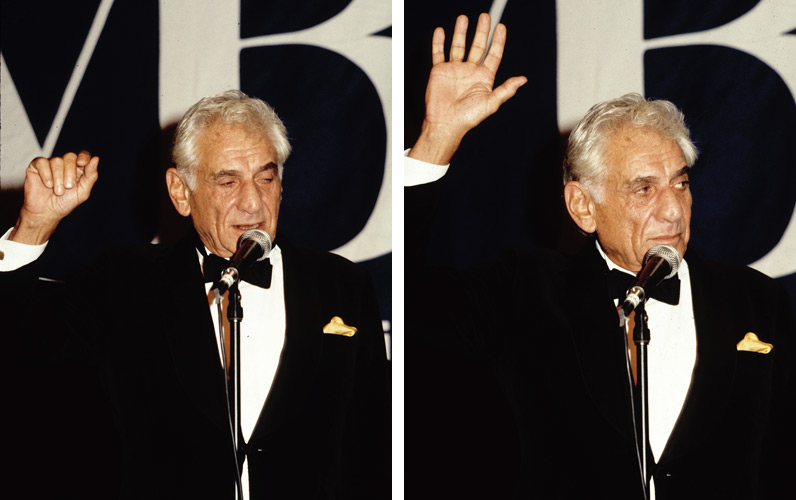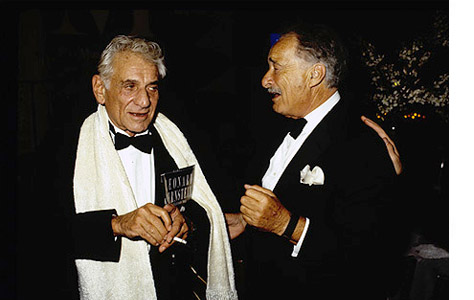 Leonard Bernstein's genius and his incredible generosity of character, warmth, and love come across in every one of his broadcasts. His career was a testament to the power of the media to bring the arts to everyone.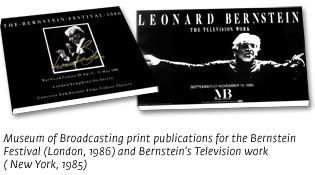 "Leonard Bernstein" pages: 1 | 2 | 3 | 4 | 5

Above: Bernstein with Victor Borge