LA Gala Evening 2008
Thursday, December 11, 2008
Hyatt Regency Century Plaza
Pat Mitchell, president & CEO, The Paley Center for Media, and Frank A. Bennack, Jr., chairman of the board, were pleased to present the 2008 Los Angeles Gala Evening in honor of Showtime Networks, Inc. & Carl Reiner, hosted by Bonnie Hunt.
"Showtime under the direction of Matthew Blank and Robert Greenblatt continues to push premium networks in new directions by presenting daring programming and innovative entertainment," commented Pat Mitchell, president and chief executive officer of The Paley Center for Media. "Carl Reiner, known for his creative vision behind as well as in front of the camera, combined with the savvy business acumen of an executive, continues to be one of today's most respected talents in the industry."
Proceeds from the event benefit the Paley Center's ongoing efforts to increase the public's understanding of the media and its growing significance in today's society through various public and industry programs.
LA Gala Evening 2008 Continues...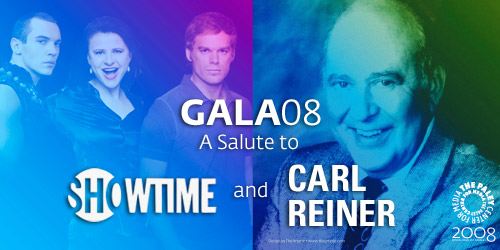 Gala Committee
GALA CHAIRS
Frank A. Bennack, Jr.
Peter Chernin
Gordy Crawford
Leslie Moonves
GALA COCHAIRS
Peter Benedek
Bob Broder
Ernie Del
Mark Itkin
Nancy Josephson
Monica Karo
Warren Lieberfarb
Greg Meidel
Jim Packer
Michael Rosenfeld
Nancy Tellem
Los Angeles Board of Governors


COCHAIRS
Peter Chernin
Gordon Crawford
Leslie Moonves

MEMBERS

William J. Bell
Peter Benedek
Bob Broder
E. Blake Byrne
Ernest Del
Robert Dowling
Sam Fischer
Jeff Gaspin
Marc Graboff
Jim Griffiths
Ted Harbert
Doug Herzog
Andy Heyward

David Hill
Mark Itkin
Nancy Josephson
Monica Karo
Warren Lieberfarb
Richard Lippin
Michael Lombardo
Greg Meidel
Eric Mika
Stephen Mosko
Gary Newman
Jim Packer
Rick Rosen


Bruce Rosenblum
Michael Rosenfeld
Phil Rosenthal
Harry Sloan
Kiefer Sutherland
Anne Sweeney
Nancy Tellem
Alex Wallau
Larry Wilmore
Dick Wolf
Andrea Wong
Jeff Zucker
Board of Trustees

CHAIRMAN
Frank A. Bennack, Jr.

VICE CHAIRS
Gordon Crawford

Gustave M. Hauser
Mel Karmazin
Robert F.X. Sillerman
PRESIDENT & CEO
Pat Mitchell

TRUSTEES

Alan Alda*
Wallis Annenberg
Loreen Arbus
Glenn Britt
Christopher H. Browne
Peter Chernin
Gustavo A. Cisneros
Joan Ganz Cooney
Philippe Dauman
Ronald R. Davenport, Sr.
Patricia Fili-Krushel
George J. Gillespie, III, Esq.*
James L. Greenwald
Ralph Guild
Leo Hindery, Jr.
Robert A. Iger
Henry A. Kissinger
Kay Koplovitz

Scott Kurnit
Norman Lear*
Debra Lee
Ted Leonsis
Ken Lowe
John W. Madigan
Burt Manning
Edward F. McLaughlin*
Barry M. Meyer
Leslie Moonves
Daniel L. Mosley
Thomas S. Murphy*
Edward N. Ney*
William C. Paley
Dan Rather
Sumner Redstone
Geoffrey K. Sands
Eric Schmidt



Ivan Seidenberg
Terry Semel
Sid Sheinberg*
Stanley S. Shuman
David J. Stern
Howard Stringer
Marlo Thomas
Grant A. Tinker*
Rosalind P. Walter
Barbara Walters
Lou Weiss*
Jim Wiatt
Dick Wolf
Bob Wright
David Zaslav
Jeff Zucker

*Trustee Emeritus
William S. Paley Founder
Lists current as of October 2008