PALEY DIALOGUE
A Conversation with Adriana Cisneros, CEO, Cisneros
Monday, April 29, 2019
12:30 pm to 2:00 pm ET
New York
Adriana Cisneros
CEO
Cisneros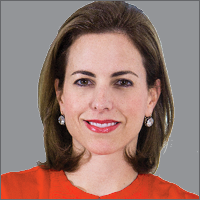 Adriana Cisneros is CEO of Cisneros, a privately held company with over 90 years' experience operating businesses globally. The company today has three divisions. Cisneros Media, Cisneros Interactive and Cisneros Real Estate.
Cisneros Media encompasses all of the Cisneros Media and Entertainment businesses. Cisneros Media produces content through Cisneros Media Distribution, which is distributed in over 100 countries and in 12 languages. Mobius.Labs Productions is Cisneros Media's newest content business division that anticipates market trends and delivers tailor-made, cutting-edge creative imagery programming formats. Cisneros Studios is our one-stop creative facility that provides an unparalleled array of services: impressive sound stages, state-of-the-art post-production facilities and world-class support services. Venevision, Venezuela's leading TV network, as well as a variety of cable channels with 25 million subscribers in Latin America (Venevision Plus + VePlus) and the U.S. (Venevision USA). Miss Venezuela is a multiplatform female oriented production house and one of the most prestigious and successful beauty pageants in the world.
Cisneros Interactive is a leading digital ad network for mobile, online and audio serving the US Hispanic market and Latin America through Adsmovil, Redmas and AudioAd and most recently the representation for Facebook in 16 Latin and Central American Countries.
Cisneros Real Estate develops high-end, sustainable resorts with a flagship development, Tropicalia in the Dominican Republic.
AST&Science, Cisneros latest investment aims at bringing worldwide connectivity though LEO satellites. Adriana is President of the Fundación Cisneros, a not-for-profit organization, dedicated to improving access to education in Latin America.
Adriana is Co-chair of Endeavor Miami, an organization that promotes high impact entrepreneurship. She is a Director and Executive Committee Board Member of the International Academy of Television Arts & Sciences (International Emmy's) and a Trustee of the Paley Center for Media. Adriana is on the board of MoMA's Latin American acquisitions committee. She recently joined the boards of Mattel, Inc., Parrot Analytics, the Knight Foundation and University of Miami. Adriana is a member of the Citibank Private Bank Latin American Advisory Board as well as an Advisory Board Member of Wyncode and TheVentureCity.
Adriana holds a BA from Columbia University (2002) and a Master's Degree in journalism from New York University (2005). Adriana is a Henry Crown Fellow, a Term Member at the Council of Foreign Relations and is a graduate of Harvard Business School's Program for Leadership Development (PLD – 2010).
Adriana was born in Caracas, Venezuela. She lived in New York for 15 years and currently resides in Miami Beach, Florida with her husband and two children. She enjoys long distance sports such as swimming, trekking, backcountry skiing and cycling.
Aryeh Bourkoff
Founder & CEO
LionTree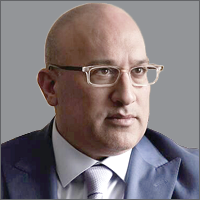 Aryeh B. Bourkoff is the Founder and CEO of LionTree LLC, a differentiated global technology, media and telecommunications investment and merchant banking firm.  A trusted strategic partner, LionTree provides unmatched creativity, clarity and connectivity to help clients flourish in a rapidly evolving sector.

Since its formation in 2012, LionTree has applied its deep sector expertise, thematic approach and unyielding execution to advise clients on over $300 billion of industry shaping transactions, including Verizon on its $4.83 billion purchase of Yahoo; Suddenlink on its $9.1 billion sale to Altice; Charter Communications on its $78.7 billion merger with Time Warner Cable as well as its $10.4 billion acquisition of Bright House Networks; and Liberty Global on its $24 billion acquisition of Virgin Media.  
 
Prior to launching LionTree, Mr. Bourkoff served as Vice Chairman and Head of Americas Investment Banking at UBS and on the UBS Investment Banking Executive Committee. During his 13-year tenure at UBS, Mr. Bourkoff also held the positions of Joint Global Head of Telecom, Media and Technology Investment Banking; Head of the Media and Communications Research Group; and as a fixed income research analyst. He also served as a high-yield research analyst at CIBC World Markets and Smith Barney. Mr. Bourkoff was named the number-one ranked cable & satellite Fixed Income analyst by Institutional Investor for seven consecutive years, and in 2005 was the first analyst to achieve the number-one ranking across equity, fixed income and hedge fund surveys in the same year. Mr. Bourkoff has also been recognized as the top broadcasting & entertainment analyst on the Wall Street Journal's annual "Best on The Street" ranking, and by Fortune Magazine on their "40 under 40" list.

Mr. Bourkoff is a director on the boards of select private companies.  He serves as a trustee of the Foundation for Fighting Blindness, and is a member of the Council on Foreign Relations.  Additionally, Mr. Bourkoff is a member of the Board of Trustees of The Paley Center for Media, the New York Philanthropic Advisory Board of UNICEF, the Royal Academy of Arts America Board, and Lincoln Center's Business Advisory Council as well as the Lincoln Center Media & Entertainment Council.
 
Mr. Bourkoff has provided commentary on the financial markets and TMT sector on CNBC, Bloomberg, and to other media outlets.  He is also the producer of two documentary films, Out of Print and The Last Jews of Libya, both of which had their premieres at the Tribeca Film Festival.  
Media Council Members can view the livestream of this event beginning at 1:00 pm ET on Monday, April 29.
---
This event is exclusive to Media Council Members and other invited guests. To find out more about Media Council Membership, contact mediacouncil@paleycenter.org