The Paley Center's Countdown to the 70th Anniversary of Television:
TV Facts You Will Want to Know!
Join the TV Countdown conversation
| | | |
| --- | --- | --- |
| Despite its importance in the history of television, July 1, 1941, is an unheralded date. Did you know that it's TV's own birthday! It was on July 1, 1941, that commercial television became a reality when the first two transmitters were licensed in New York. W2XBS changed its call to WNBT (which became WNBC-TV) while the CBS station became WCBW (and later WCBS-TV), each offering four hours of programming for those few able to see it.* | | |
TV is looking pretty good for 70 years young. To celebrate its birthday, our Curatorial team has unearthed a dizzying array of firsts, oddities, strange coincidences, and thought-provoking tidbits across all genres going back 70 years to 1941. Come back each day to learn something new, see some interesting clips, and join in the conversation with the curators on Twitter #TV70.
And come to the Paley Center in New York or Los Angeles on July 1 for some birthday cake.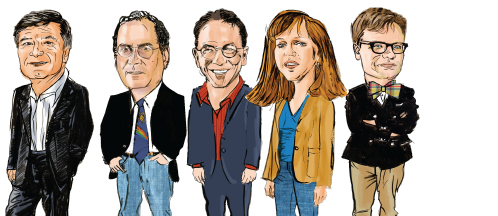 *Were You Watching? The Paley Center is looking for anyone who was watching TV on that historic July 1, 1941 day. Our curators would love to talk to him or her. Help us get the word out to friends and family. Or if you have a family story from someone who watched, we want to hear from you too. Email TV70@paleycenter.org to contact us.







MAY 13, 1973: Tennis player Bobby Riggs, who made a cottage industry of boasting about male players' superiority over females, defeats challenger Margaret Smith Court before a worldwide television audience. Later that year, he was defeated by Billie Jean King, so . . . ha ha.

Do you remember this match? Should men and women play each other in pro tennis? Discuss…







MAY 12, 1960: When Frank Sinatra welcomed Elvis Presley back from the Army with this television special (The Frank Sinatra Timex Show: Welcome Home Elvis), the gesture was freighted with significance; traditional show business at the time was being rudely shoved aside by the revolutionary youth movement's insistence on entertainment that held significance for them: namely, rock 'n' roll. Presley is polite and deferential to elder statesman Sinatra, and their performances of each other's songs (Frank assayed "Love Me Tender" while Elvis crooned "Witchcraft") were charming…but the writing was on the wall: anarchic, iconoclastic rock music would prove to be the only possible soundtrack for the tumultuous decade just beginning.

In this duet, who gives the better performance, Frank or Elvis? Discuss…







MAY 11, 1972: John Lennon appears on The Dick Cavett Show to discuss the deportation case against him and claims that his phone has been tapped by the FBI. Lennon's deportation case was eventually overturned by the New York Supreme Court in 1975.

Do you think John Lennon was unjustly persecuted in the '70s? Discuss…







MAY 10, 1982: After making some thirty films, iconoclastic movie star Elliott Gould—who redefined notions of the Hollywood leading man playing signature bleary hipsters and muzzy neurotics—makes his dramatic television debut, starring in The Rules of Marriage on CBS. Fellow Robert Altman alumnus Michael Murphy costarred. We assume Barbra Streisand was not consulted.

Who are your favorite film stars that have made the transition to TV? Discuss…







MAY 9, 1958: Richard Burton makes his U.S. network television debut in The DuPont Show of the Month presentation of Wuthering Heights on CBS, playing the tormented Heathcliff. Burton would soon become a major film star as his soulful intensity, his resonant Welsh brogue, and his famously fractious love affair with Elizabeth Taylor fascinated American audiences.

What is your favorite Richard Burton role? Discuss…







MAY 8, 1984: The nostalgic hit sitcom Happy Days airs what was intended to be its final episode, titled "Passages": Joanie marries Chachi, Richie pursues his writing dreams in Los Angeles, and the Fonz, like Alexander, weeps, as he has no more sharks to jump. A handful of episodes would air after this epochal two-parter, but the thrill was gone.

Who was your favorite character on Happy Days? Did the show REALLY jump the shark? Discuss…







MAY 7, 1998: Friends airs "The One With Ross's Wedding." Big wedding episodes are a staple TV trope, and fans were on tenterhooks wondering whether Ross would really forsake Rachel for some English lady . . . but this supersized episode is best remembered as the one in which fusspot Chandler and retentive Monica shockingly—though in retrospect, fittingly—wind up in bed together, wresting the "Best Friends Couple" title from Mopey and The Haircut.

Did you see this episode? Who is your favorite character on Friends? Discuss…







MAY 6, 1960: The Twilight Zone airs the classic episode "A Stop at Willoughby," in which embattled businessman James Daly makes an unexpected stop on his regular commute. The installment epitomizes a certain strain of Twilight Zone episodes: an empathetic, melancholy look at a "regular" man in a strange situation, with an unforgettably poignant and faintly chilling twist at the end. Thirty-one years later, thirtysomething paid tribute in an identically named episode, which found stressed ad man Michael Steadman questioning his priorities . . . and hallucinating.

Did you ever make the connection between these two episodes? Discuss…







MAY 5, 1977: Outspoken comedian Richard Pryor appears on his first network special, entitled The Richard Pryor Special? Within satirical sketches on Idi Amin and phony evangelists, Pryor was able to slip in some commentary on the need for racial equality, as emphasized by a dramatic monologue by poet Maya Angelou. So pleased was NBC with the response to the special that they signed the comedian to do a weekly series that fall. Pryor's edgy, often foul-mouthed style of comedy was hardly an ideal match for prime-time television, however, and the constant battles between the performer and the powers-that-be brought the series to an end after only four episodes.

Did you watch Pryor's short-lived series? What are your favorite Richard Pryor characters and/or jokes? Discuss…








MAY 4, 1964: Another World, the latest creation by the queen of the daytime serial, Irna Phillips, premieres. Set in the fictional town of Bay City with the Matthews family serving as the initial focus, the show's goal, according to its opening lines, was to explore "the world of events we live in and the world of feelings and dreams that we strive for." It became the first soap to give birth to a spin-off (Somerset), the first to expand to a full hour (in January of 1975), and even the first to go to ninety minutes (in March 1979), albeit for a brief period of time. It came to an end in June of 1999 after a thirty-five-year run.

What are your favorite Another World moments? Discuss…




Join the TV Countdown conversation