24: Redemption
Captured in Africa

An Exhibit of Photography by:
Jon Cassar
Rodney Charters  
Michael Klick
Kelsey McNeal  
Kiefer Sutherland
At the Paley Center in New York February 6 through March 31, 2009 Extended through Sunday, May 3, 2009!
Included with general admission
Presented by


24: Redemption: Captured in Africa offers a rare inside look at the making of the show composed of candid moments between cast and crew, including Emmy Award-winner Kiefer Sutherland; dramatic stills from the spectacular action sequences; and vivid photographic captures of the scenic South African locations.
Curated by Entertainment Weekly deputy photo director Michael Kochman and custom printed at DigitalFusion's fine art printing facility, the exhibit features works by executive producer/director Jon Cassar, director of photography Rodney Charters, producer Michael Klick, unit photographer Kelsey McNeal, and star/executive producer Kiefer Sutherland.
"I was so impressed with the quality of the photography, and it was exciting to see a production photographed from five different perspectives," said Kochman. "Each photographer captured something very special and poetic--sometimes intimate, sometimes epic, sometimes documentary-like and raw. It all adds up to a fascinating photographic experience."
"Shooting 24: Redemption in South Africa was the highlight of my six years on the show," said 24 executive producer and Emmy Award-winning director Jon Cassar. "It was nothing short of exhilarating. Africa also became a wonderful canvas for the still photography enthusiasts among our crew. Every day put us in places and situations that were new and exciting to us, and our cameras clicked constantly. This exhibit chronicles the seven weeks that were spent in Cape Town and the surrounding regions from moments captured during a hectic shooting schedule to the faces and places that represent not only the making of 24 but the Africa of today."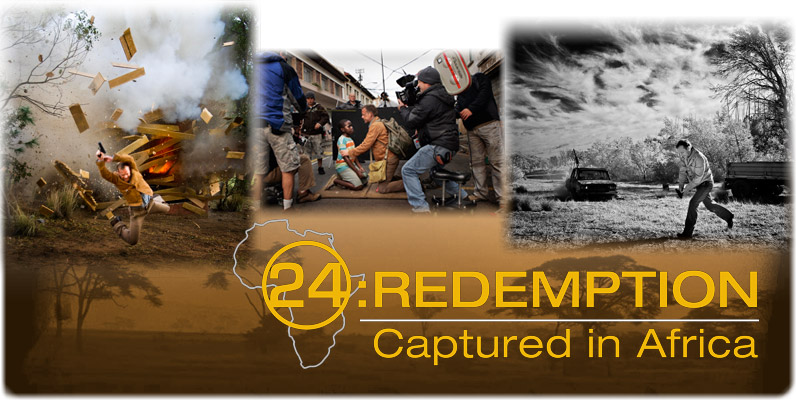 Beginning February 6, Sprint users can download select shots from the exhibit to Web-enabled Sprint phones. The photos will be available on Sprint's 24 mobile website at no additional charge to Sprint data subscribers. Standard data rates may apply. To access the photos, Sprint customers should open the Web on their phone and type http://gospv.com/24pics in the address bar.