The Paley Center Watches the Watchmen
A Look at the Graphic Novel Across Media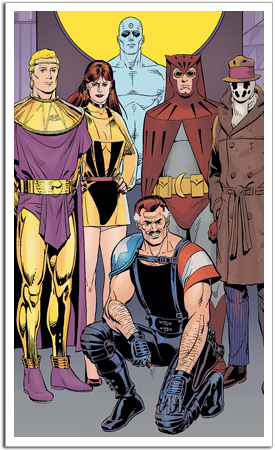 By Arthur Smith
Watchmen, the 1986 comic book series commonly held to be the medium's highest achievement, is often referred to as "the Citizen Kane of comic books"; it is the only comic book on Time magazine's list of the hundred best "English-language novels from 1923 to the present."

The story concerns a moribund group of costumed adventurers, decommissioned by the US government and adrift in a broken world heading determinedly into apocalypse. When the Comedian, one of the "watchmen," is murdered, the heroes are reluctantly (at first) drawn back into the fray, reclaiming their vitality and purpose as they strive to uncover the conspiracy behind the Comedian's death and, possibly, save the world.

But what distinguishes Watchmen is not its engrossing plot (which, to be fair, bears a striking similarity to the Outer Limits episode "The Architects of Fear"), but its revisionist insights into the superhero genre and the innovative manner in which it tells its story.

Writer Alan Moore and artist Dave Gibbons constructed an intricate, multilevel narrative that employed a complex, shifting chronological structure, subdued color palette, rigorously developed graphic motifs, and ingeniously deployed "supplementary materials," including faux news articles, book excerpts, and passages from pirate-themed comics (superhero comics rendered passé in a world containing them in the flesh) to explore a provocative theme: what would the presence of costumed superheroes actually do to the real world—culturally, socially, and politically?

Moore's and Gibbons's answer is a pessimistic one: in the alternate-reality 1985 of Watchmen, Nixon is still president, gangs of violent thugs rule the streets, and the world teeters on the brink of nuclear war.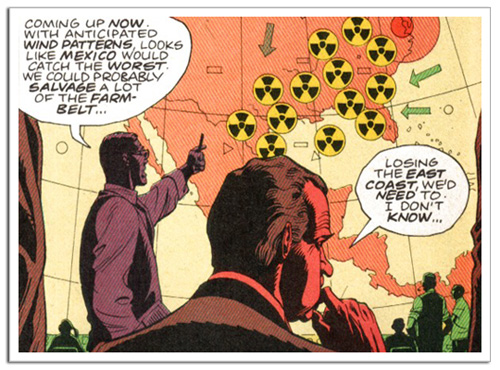 "The Paley Center Watches the Watchmen" pages: 1 | 2 | 3 | 4 | 5 | 6
Watchmen and all related characters and elements are trademarks of and © DC Comics.
Smiley Logo: ™ The Smiley Company.
© 2009 Warner Bros. Entertainment Inc. All rights reserved.
Watching the Watchmen Continues...
Comic Book Characters on TV
In conjunction with the release of the blockbuster film adaptation of the graphic novel series Watchmen, The Paley Center for Media in Los Angeles will screen a variety of television adaptations of comic book heroes during the month of March including Superman, the Incredible Hulk, Batman, Fantastic Four, Wonder Woman, X-Men, and Justice League. Screenings start at 3:00 pm daily March 1 to 29.