PALEY100: An Intimate Conversation with Glenn Close and Pat Mitchell
Monday, June 27, 2011
6:30 pm ET
New York
One of the most acclaimed actresses of the past three decades, Glenn Close is also the rare star to divide her time equally among television, motion pictures, and the theater. An Emmy winner for the film Serving in Silence: The Margarethe Cammermeyer Story, Glenn has also been honored with two Emmys for her most recent role, which ranks as one of her best: the high-stakes litigator Patty Hewes on the series Damages. Glenn will talk about her career, including her upcoming film Albert Nobbs, as well as her involvement with BringChange2Mind.org, an organization dedicated to confronting the stigma associated with mental illness. This event will be followed by a private reception.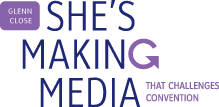 This event is for Paley100 Patrons only.
To attend this private event with Glenn Close, join us for PALEY100.
Please contact Jennifer Juzaitis at 212.621.6753 or email JJuzaitis@paleycenter.org.

Paley Overview