Rowan & Martin's Laugh-In
The Fickle Finger of Fate
The precise origins of Rowan & Martin's Laugh-In proved a bone of contention among its participants from the time the series first came to television in the form of a special (officially called "Dan Rowan and Dick Martin's Laugh-In" in the opening voiceover but shown as simply Laugh-In on the preceding title card), which aired prior to the Miss America broadcast in September of 1967.
Rowan & Martin's Laugh-In CONTINUES...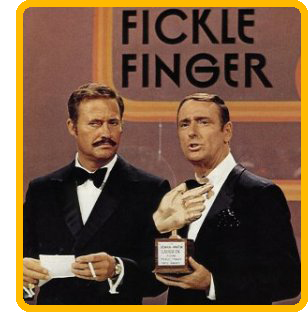 hile Dan Rowan and Dick Martin were insistent that their long quest for a variety series devoid of formulaic sketches and musical numbers set the seeds of Laugh-In sowing, writer Digby Wolfe and George Schlatter always contended that it was they who conceived of a sensory assault, a mixture of burlesque and political humor, and then merely hired the two comedians to serve as their hosts. Whoever were the actual guiding forces behind the show, the talents gelled into a vision that was nothing if not off-the-wall and fearless in its efforts to give viewers something they'd never seen before.

If the series had any precedents, the two most frequently mentioned were the various programs of comedian Ernie Kovacs that ran during the fifties and the satirical That Was the Week That Was, an American spin-off of a popular British show. Schlatter would often cite Kovacs as a favorite of his, because of the cigar-chomping comedian's fondness for surreal sight gags that often required some degree of "special effects" in order to execute them correctly, as opposed to visualizing television strictly as an extension of vaudeville and radio, as did so many other entertainers during that period. There was often no connecting thread between the lunatic, deliberately nonsensical humor Kovacs offered his viewers, and this anything-goes assault provided more than its share of inspiration for Laugh-In's creators. That Was the Week That Was was the polar opposite of Kovacs in terms of presentation, being more restricted technically because of its live presentation, the half-hour bearing more of a resemblance to the off-Broadway comedy-sketch reviews popular in the fifties and sixties. TW3, as it was affectionately known, consisted completely and entirely of political humor with a heavy liberal slant. While its often stinging satire made it an intellectual favorite, the fact that it never steered off the political course might have also been one of its shortcomings where reaching a wider demographic was concerned. Rowan & Martin's Laugh-In would take TW3's formula one step further, offering political barbs within a whole kaleidoscope of nonpolitical gags and jokes, allowing the show to be enjoyed by those not in the mood for seeing government officials skewered.
Rowan & Martin's pages: 1 | 2 | 3 | 4 | 5 | 6 | 7 | 8 | 9
Photo credits: George Schlatter Productions