Rowan & Martin's Laugh-In
The Joke Wall Is Closed
Having captured lightning in a bottle, Rowan & Martin's Laugh-In had few options but to pass into cultural history. It became impossible to revive in full episodes in syndication, hence certain channels playing only truncated versions of the program. Dan Rowan and Dick Martin kept their professional partnership going off and on during the seventies, appearing in a handful of network specials and hosting one-shot deals like HBO's Double Bananas, which presented a somewhat naughtier version of their bantering than audiences remembered.
Rowan & Martin's Laugh-In CONTINUES...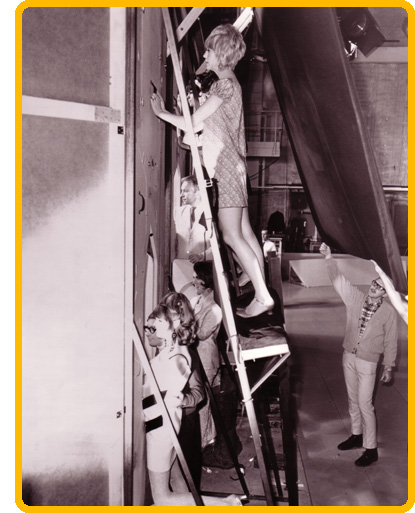 ventually they parted ways for good in the early eighties, Rowan choosing to retire, while Martin found a second career as a television director, notably on The Bob Newhart Show. George Schlatter was so certain Laugh-In was timeless that he attempted to revive it with a series of all-new episodes (minus anyone serving as host) that played as specials during the 1977–78 television season. The spirit was there but nobody noticed anything unique or groundbreaking this time out. The revival dropped into television's black hole until it was remembered that Schlatter had made one prescient choice in assembling his cast, giving Robin Williams his first big television gig prior to his breakthrough on ABC's Mork and Mindy. As a result, the seventies Laugh-In was rerun during the summer of 1979 to cash in on Mork's success.

In September of 1987 Dan Rowan passed away (Dick Martin would outlive his former partner by twenty-one years, dying on May 24, 2008), which meant he was sorely missed during the 1993 reunion special, Rowan & Martin's Laugh-In 25th Anniversary Special, which wisely did not attempt to create new material but simply gathered the principals to reminisce, then let the clips from the vault unfold in rapid fashion, in the tradition fans had loved about the series in the first place. While the ratings were encouraging enough for Schlatter to piece together two more nostalgic retrospectives later that same season, it was clear that the innocence of the era that had produced a show that somehow combined hoary old vaudeville hijinks, Manhattan nightclub savvy, hints of traditional musical comedy staging, stand-up comedy, knockabout slapstick, technologically innovated visuals, political barbs, silliness for the sake of being silly, and witty commentary on its era, and somehow clicked against all odds, was something to appreciate as a cultural phenomenon best not studied too seriously nor resuscitated but cherished for the way it reflected and socked it to an important period of upheaval in American history.
Laugh-In pages: 1 | 2 | 3 | 4 | 5 | 6 | 7 | 8 | 9
Photo credits: George Schlatter Productions