Rowan & Martin's Laugh-In
The Jokers
So indelible was the impact of Rowan & Martin's Laugh-In that most of its ensemble will be first and foremost remembered for their contributions to the show. While some may have assumed that these talented people merely showed up out of nowhere behind one of the doors in the joke wall, they all, in fact, had been plying their trade elsewhere, some for more than a decade, in clubs, theater, films, and on other television shows, prior to being cast in the landmark series. Here's a guide to what the Laugh-In bunch was doing before their careers got ver-r-r-y interesting.
Rowan & Martin's Laugh-In CONTINUES...
The Sixties Cast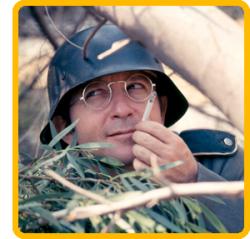 Arte Johnson (Pilot; 1968–71) could be seen more than a decade prior to his media fame, as a cast member of the off-Broadway Shoestring Revue (1955; at one point spoofing Hamlet on skates, opposite Beatrice Arthur) and replacing Roddy McDowall in the original Broadway run of No Time for Sergeants. Shortly afterward, he was hired for his first weekly television show, playing a nebbish named Stanley Schreiber, in Janis Paige's short-lived sitcom, It's Always Jan (1955–56). He had better luck, landing a three-year run, as a member of Jackie Cooper's naval crew, Seaman Shatz, on Hennessey (1959–62). He became just another actor for hire during the decade and was seen in the midsixties on such shows as The Andy Griffith Show, as a hotel clerk during Andy's visit to Raleigh, and Bewitched, as Samantha's elf cousin, as well as an episode of Lost in Space, aired two weeks before Laugh-In debuted.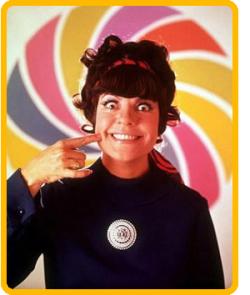 Jo Anne Worley (Pilot; 1968–70) was a staple of the New York theater musical revue scene, having appeared in The Billy Barnes People (1961; Barnes would become Laugh-In's creator of special musical material and its on-screen pianist); That Thing at the Cherry Lane (1965); Hotel Passionato (1965); and The Mad Show (1966), an off-Broadway revue based on Mad magazine. She had done a few acting bits on television as well, including appearing on The Many Loves of Dobie Gillis as the mother of an abandoned baby.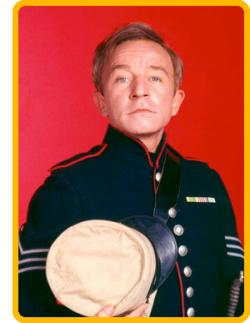 Henry Gibson (Pilot; 1968–71) guest starred on many popular sixties series, including The Beverly Hillbillies, as an unlikely movie star named Quirt Manly, and F Troop, as a bumbling soldier named Wrongo Starr. He could also be seen on movie screens as one of Jerry Lewis's students in The Nutty Professor; patronizing Kim Novak's sleazy roadhouse in Kiss Me, Stupid; and portraying a jive-talking Indian in the final Three Stooges feature, The Outlaws IS Coming! The soft-spoken Southern poet routine he'd make famous on Laugh-In was something well rehearsed, Gibson having done such bits in nightclubs and on television, including The Dick Van Dyke Show.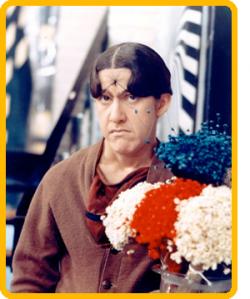 Ruth Buzzi (Pilot; 1968–73) had already gone the variety show route, having been one of The Entertainers on the 1964–65 show of the same name. Shortly before the airing of the Laugh-In pilot she was part of Steve Allen's ensemble on his 1967 summer replacement series The Steve Allen Comedy Hour (June 14–August 16, 1967), and could be seen in a recurring role on the second season of That Girl, as Marlo Thomas's friend Pete. This meant she had an overlap between Laugh-In and her other series, being seen on the That Girl episodes "Great Guy" (March 7, 1968) and "The Beard" (April 11, 1968) while the former was creating its greatest impact in its first season.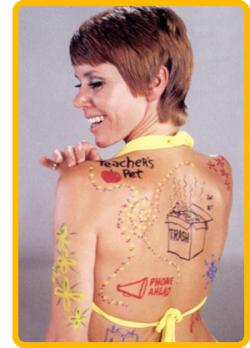 Judy Carne (Pilot; 1968–70) was probably the most familiar face to television viewers when she joined Laugh-In, having been a supporting cast regular on Fair Exchange, as a London teenager living in New York, and The Baileys of Balboa (1964–65), as the love interest of Les Brown, Jr., before carrying her own series, Love on a Rooftop (1966–67; which put her on the October 15, 1966, cover of TV Guide). At the time the first two shows aired, she was married to Gunsmoke actor and future movie star Burt Reynolds. Moviegoers saw her in a discreet state of undress as one of James Coburn's girlfriends (or "Nameless Broad," per her billing) in The Americanization of Emily (1964)—a scene that caused a bit of controversy at the time.

Larry Hovis (Pilot; 1968; 1971–72) being on the show was a direct result of his previous connection with Rowan and Martin, having been one of the cast members on their unsuccessful 1964 pilot. Being a writer as well, he had also provided the comedy team with some material during their stint on The Dean Martin Summer Show. Like fellow cast members Goldie Hawn and Ruth Buzzi, one job was not enough, and he continued to play the role for which audiences knew him best, Sgt. Carter, on Hogan's Heroes, at the same time he was seen on his first stint on Laugh-In. He actually had the distinction of being the only Laugh-In cast member to return to the series as a regular after already having left. Departing after the first season, he returned for the 1971–72 season, Hogan's Heroes having been cancelled.

Pamela Austin (Pilot; 1968) made her splash on television in the midsixties as the "Dodge Girl," selling Dodge trucks while being shot from cannons, hung from cliffs, etc., all the while enthusiastically telling audiences "The Dodge Rebellion wants you!" Although she appeared in the pilot as a cast member, once Laugh-In debuted on the regular schedule, she was suddenly billed as a "guest star" for her first several appearances. Once Goldie Hawn came along, the "ditsy" girl character Austin also excelled at was no longer needed and she departed after episode #9.

Monty Landis (Pilot) had appeared in guest spots on Get Smart and The Girl from U.N.C.L.E. and multiple roles on The Monkees, as well as several films, the most familiar to Americans being Charade, where he was emcee at the nightclub where Cary Grant and Audrey Hepburn indulged in a game of passing fruit between customers. He had the dubious distinction of being the only member of the ensemble in the pilot who did not return to Laugh-In when it became a weekly series, being replaced by another Brit, Roddy Maude-Roxby.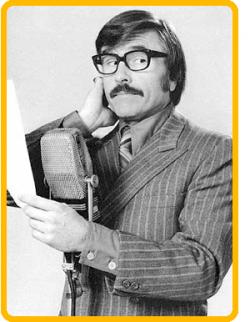 Gary Owens (1968–73) was known in the Los Angeles area for his combination deadpan delivery and deliberately nonsensical word play in bits heard on his own KMPC radio show since 1961. It was there that Angelinos first heard him speak of "Beautiful Downtown Burbank" and "Morgul, the Friendly Drelb," which would become nationwide catchphrases when he brought them to Laugh-In. In addition to being heard on such shows as Batman and The Green Hornet, he provided the title characters with their voices for the Saturday morning cartoon series Roger Ramjet and Hanna-Barbera's Space Ghost, the latter still playing at the time of Laugh-In's January 1968 premiere.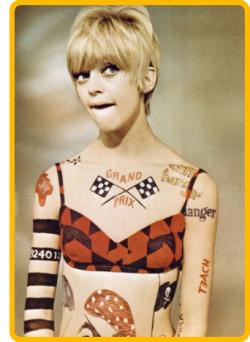 Goldie Hawn (1968–70) was not featured in the pilot, nor did she show up for the premiere of Laugh-In's regular run, instead making her debut on episode #3. She was actually appearing on another weekly series the very same season Laugh-In debuted, Good Morning World (CBS), playing disc jockey Joby Baker's perky neighbor Sandy. In fact, the TV Guide entry announcing her February 5, 1968, debut on Laugh-In referred to her as "Goldie Hawn of Good Morning World." The following evening, Goldie could be seen on that show, making her a series regular on two concurrent programs until the latter was cancelled by the season's end. In the spring, as Laugh-In was making her very famous, she could also be spotted in her first motion picture, the Disney musical The One and Only Genuine Original Family Band, billed as "Goldie Jeanne Hawn," and sharing a sequence with fifteen-year-old Kurt Russell, who would later become her off-screen companion.

Eileen Brennan (1968) had the title role in the 1959 off-Broadway hit Little Mary Sunshine, played Irene Molloy in the original cast of the long-running Broadway smash Hello, Dolly! (1964) and popped up at the end of the movie Divorce American Style (1967) as Jason Robards's date.

Roddy-Maude Roxby (1968) was a veteran of such U.K. stage revues as Here Is the News and Three at Nine and a member of Britain's "The Establishment" comedy troupe when he was asked to become the series's resident male Brit for its debut season.

Chelsea Brown (1968–69) was one cast member who could lay claim to having been in Vietnam, having toured the Army nightclub circuit in Southeast Asia prior to being hired to dance as part of Ray Charles's nightclub act. This led to more terpsichorean work, on The Jonathan Winters Show, and, more importantly, the special Soul!, produced by George Schlatter and Ed Friendly, who thereafter invited her to become Laugh-In's first black cast regular.

Dave Madden (1968–69) was a nightclub comedian who got his break when Frank Sinatra recommended him for a spot on The Ed Sullivan Show. This led to a role on NBC's sitcom Camp Runamuck (1965–66) as a counselor, guest spots on Bewitched and Accidental Family, and most importantly, joining Rowan and Martin when they toured during Laugh-In's first summer hiatus. He would only stick around to do his milk-sipping, confetti-tossing character on the show for a single season (1968–69) before landing the role for which he'd become best known, frustrated manager Reuben Kincaid on The Partridge Family, in the fall of 1969.

"Sweet Brother" Dick Whittington (1968–69) had been a radio personality in both Los Angeles and San Francisco. At the time he was hired for Laugh-In, he was doing his monologues and harangues for L.A. listeners on his own hour-long daily talk show on KABC 790 AM.

Dewey "Pigmeat" Markham (1968–69) was uncharacteristically old for a Laugh-In cast member, being sixty-four when he joined the series at the start of its second season, a direct result of the tumultuous response to Sammy Davis, Jr.'s "Here Come de Judge!" routine from the March 25, 1968, episode. As it was Markham himself who had made the bit famous on the black vaudeville circuit, it seemed only right that he be invited to repeat it on a regular basis, since Davis had other things to do. Markham had, in fact, done the "judge" bit on television only the year before, when he showed up in the ABC Stage 67 special A Time for Laughter, a look at black humor in America.

Mitzi McCall and Charlie Brill (1968–69) were unique for being an actual comedy team asked to appear in the ensemble on Laugh-In. While their credits include separate acting gigs—she on the famed "The Hitchhiker" episode of The Twilight Zone and in Jack Nicholson's film debut, The Cry Baby Killer (1959), and he on the equally known "Trouble with Tribbles" episode of Star Trek—perhaps their lasting place in television history is a most unfortunate one, being the act that was met with a tepid response because they were obliged to perform immediately after the Beatles first, landmark appearance on The Ed Sullivan Show on February 9, 1964.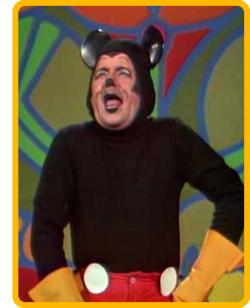 Alan Sues's (1968–72) career dated back to the early fifties when he was seen as one of John Kerr's classmates in the original Broadway production of Tea and Sympathy. Long before his fame on Laugh-In, he actually rated an article in the June 6, 1959, issue of TV Guide, showing off the hats he designed to supplement his acting salary. Over the years he did bits in movies, including The Americanization of Emily, which also had Judy Carne in its cast, and on "The Masks" episode of The Twilight Zone. He could also be seen in Jay Ward's 1963 pilot, The Nuthouse!! (at one point playing Rodin's "The Thinker") and performing off-Broadway in the same revue that had featured his future Laugh-In costar Jo Anne Worley, The Mad Show, as one of the cast replacements. Briefly, he teamed with Paul Mazursky and Larry Tucker to do improv, and it was George Schlatter who hired the trio to be a part of Edie Adams's nightclub act, which, in turn, led to Sues becoming a Laugh-In regular.

Pamela Rodgers (1969–70) had been a showgirl and fashion model before becoming a series regular on Hey, Landlord, as a weather girl named "Timothy," and The Jonathan Winters Show, as the "Information Lady." A tiny role as a porno actress in Rowan and Martin's movie, The Maltese Bippy, led to her casting on Laugh-In.

Jeremy Lloyd (1969–70) had the distinction of appearing in both of the Beatles' starring films, A Hard Day's Night, clowning on the dance floor with Ringo Starr in a nightclub, and playing a befuddled diner at an Indian restaurant in Help! He was also among the many fliers in the 1965 hit Those Magnificent Men in Their Flying Machines. On British television, his contributions prior to Laugh-In were mainly behind the scenes, having been a writer of BBC's long-running The Dickie Henderson Show.

Teresa Graves (1969–70) being asked to become a Laugh-In regular must have been penance on producer George Schlatter's part, the actress having survived his one-episode disaster, Turn On. Prior to this she had been one of the original members of a wholesome singing group who called themselves the Doodletown Pipers. The Pipers were a staple of late sixties variety shows, with appearances on The Ed Sullivan Show and The Beautiful Phyllis Diller Show; semiregular gigs on the short-lived The Roger Miller Show; a 1967 summer replacement series, Our Place; and six of their own specials.

Bryon Gilliam (1969–70) was actually seen on Laugh-In from the start, being a background dancer in the party scenes until he was promoted to doing sketches and dialogue during the 1969–70 season. He'd also served as the show's assistant choreographer and did similar duties on the Saturday morning children's show The Banana Splits Adventure Hour.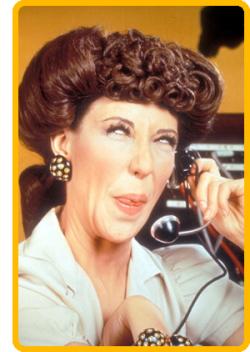 Lily Tomlin (1969–73) had been perfecting her act in nightclubs in both her native Detroit and in New York, where she introduced such characters as Mrs. Earborne, the "Tasteful Lady," and snippy telephone operator Ernestine. Invited to appear on the September 11, 1966, premiere of the new The Garry Moore Show, she did a barefoot tap dance but was denied permission to use her own material, which soured her on the whole experience. Around this time television viewers could see her in a handful of commercials, mostly notably in a memorably bizarre ad for All laundry detergent in which the screen filled with water as Tomlin poured in the cleaner and washed her soiled shirt while still wearing it. Invited to be a cast regular on the ABC variety program Music Scene, she found herself spending this short-lived gig opposite a portion of Rowan & Martin's Laugh-In, as her series ran on Monday nights from 7:30 to 8:15, thereby overlapping with NBC's mighty hit by fifteen minutes. She was launched on Laugh-In on its very last show to air in 1969 and proved the fresh breath of life the program was looking for at the time.
From the Seventies
Dennis Allen (1970–73) had come from ABC's short-lived (January-May 1969) attempt to cash in on Laugh-In, entitled What's It All About World?, and the ensemble cast of The Leslie Uggams Show (September-December 1969).

Ann Elder (1970–72) was a cast regular on The Smothers Brothers Show, the comedy team's one-season (1965–66) attempt at situation comedy, and had written for Rowan and Martin when they hosted The Dean Martin Summer Show.

Johnny Brown (1970–72) supported Sammy Davis, Jr. in the Broadway musical Golden Boy; appeared in Sidney Poitier's New York stage directorial debut, Carry Me Back to Morning Side Heights; and, like Dennis Allen, was part of the ensemble of Leslie Uggams's short-lived 1969 variety series.

Barbara Sharma (1970–72), a regular New York stage presence during the sixties, she was seen in That Hat; Sweet Charity, which also featured Ruth Buzzi in the cast; Hallelujah, Baby!; and as Bernadette Peters's replacement in Dames at Sea.

Nancie Phillips (1970–71) came from Broadway's New Faces of 1968, a music and comedy revue.

Harvey Jason (1970–71) had guest starred on That Girl and The Girl from U.N.C.L.E. as well as having played Will Scarlett in the 1968 TV musical The Legend of Robin Hood opposite Arte Johnson.

Richard Dawson (1971–73), like Larry Hovis, was already known to viewers from Hogan's Heroes, on which he played Cpl. Newkirk. He'd done comedy on television in his native England since the fifties.

Moosie Drier (1971–73) was the show's youngest cast member and a genuine newcomer when he began popping up on the show in the fall of 1971.
Final Season (1972–73) only
Patti Deutsch, former member of the Ace Trucking Company sketch group.

Jud Strunk, comic monologist who'd gotten roles on Bewitched and his own ABC special, The Jud Strunk Show, which had aired on August 17, 1972.

Brian Bressler, a Canadian stand-up comedian who cohosted the 1969 CBC series Town 'n' Country.

Sarah Kennedy, the star of the low-budget, X-rated independent film The Telephone Book, also did guest spots on O'Hara, U.S. Treasury, and Banyon.

Donna Jean Young, a singer-comedienne who had been Rowan and Martin's opening act during an engagement in 1969 Miami.

Tod Bass, an eight-year-old newcomer hired to replace Moosie Drier.

Lisa Farringer made her television debut on Laugh-In.

Willie Tyler & Lester, a black ventriloquist and his dummy who had made many appearances on The Ed Sullivan Show.
Laugh-In pages: 1 | 2 | 3 | 4 | 5 | 6 | 7 | 8 | 9
Photo credits—George Schlatter Productions; NBC/Photofest