The Def Jam Generation
The Arrival of Def Comedy Jam
Hip-hop music has never been one thing—it includes Dr. Dre and Queen Latifah, after all. But if you didn't listen to hip-hop—and in the early '90s, most people didn't—then all you knew was what you saw on the news—images of angry black men wielding weapons and defiance. So when hip-hop came to network television, then, is it surprising that NBC embraced the safest rapper they could find?
The Def Jam Generation CONTINUES...
– The Arrival of Def Comedy Jam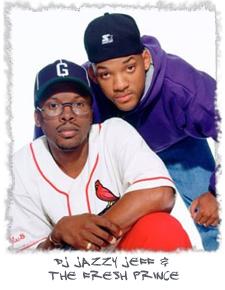 Hip-hop and comedy first came together in the 1990–96 run of The Fresh Prince of Bel-Air. It was the first acting gig for Will Smith, then known as one-half of the rap duo DJ Jazzy Jeff and the Fresh Prince. Producer Quincy Jones, at the time of the show's premiere, promised that the show would bring "the purest street awareness"—but the fish-out-of-water sitcom didn't take place in the hood. Rather, it was set in the clean, brightly lit interiors of a nouveau riche mansion in the suburbs of Los Angeles, where a boy from the inner city goes to live with his upper-crust relatives. "Street awareness" is present only in the corpus of Will Smith, who plays a version of himself—that is, a version of his rap persona, "The Fresh Prince," which was a version of himself. And neither DJ Jazzy Jeff nor the Fresh Prince had presumed to represent the mean streets in their rap act. Their music was decidedly nonagressive, even a little silly—which is not to say unskilled—and epitomized by hits songs like the teen-male complaint "Girls Ain't Nothing But Trouble" and the universal grievance "Parents Just Don't Understand." The show was built around this innocuousness; colorful, exaggerated visual style of the duo's music videos as was replicated in the sitcom's opening theme.
Purer street awareness through comedy came through other shows that premiered in the early '90s. These shows exhibited aspects of the more abrasive side of hip-hop, and they proved to be abrasive to some viewers. One was the Wayans family vehicle In Living Color (1990–94), the sketch comedy show produced by Keenan Ivory Wayans and costarring his siblings (Damon, Kim, and Marlon) and a young Jim Carrey. Two others were stand-up showcases: Def Comedy Jam and Black Entertainment Television's (BET) Comic View. Of the cohort, Def Comedy Jam most explicitly tied comedy into the new youth culture. The link was one man: Russell Simmons.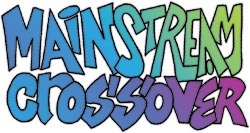 By 1992, Russell Simmons was already an elder within the hip-hop generation. A Queens, New York, native, Simmons got his start promoting hip-hop shows in the '70s, while still a college student. Simmons eventually met another student, Rick Rubin, and together they created Def Jam Records, hip-hop's most formative record label. Simmons and Rubin produced and managed a group of artists who would become seminal acts of this new style: Kurtis Blow, the first rapper to sign with a major label; LL Cool J, whose international success proved that hip-hop could go global; the Beastie Boys, who showed that white boys were b-boys, too, narrowing the distance between rap and rock; and Public Enemy, the prototype for politically aware hip-hop. But the most important of Def Jam's early groups was the one anchored by Russell's little brother Joey: Run-DMC. Run-DMC was the first hip-hop group to achieve mainstream, crossover success, beginning with the 1986 collaboration with Aerosmith, "Walk This Way." And with their iconic black jackets, black hats, heavy gold chains, and Adidas sneakers, Run-DMC came onto the scene with a look as important as their sound.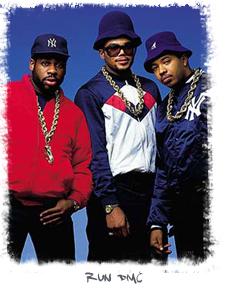 http://www.youtube.com/watch?v=TBOGqaiVLUs
Embed disabled.
Joey's big brother, too, understood that hip-hop was about more than the music, and Russell Simmons launched business ventures that spread hip-hop culture beyond radios and concert venues. Very quickly, Def Jam Records became just one of many business interests under the umbrella of Simmons' Rush Communications. Among Simmons's ventures over the past three decades: fashion labels (Phat Farm and Baby Phat), film production (The Nutty Professor), theatrical production (Def Poetry Jam), magazine publishing (Vibe), and philanthropy (Rush Philanthropic Arts Foundation). Simmons's name is now seldom written without being accompanied by the words "mogul," "impresario," or "empire."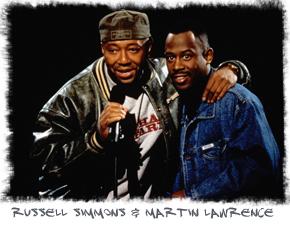 When Simmons had the idea to venture into television producing and bring together stand-up comedy and hip-hop, he used the same approach that he had brought to Def Jam Records. Simmons believes in the power of what he calls "the first audience." He writes in his autobiography, "What I realized in the early '80s was that the people on line outside the club the second day don't mean shit. They'd buy a pet rock. They were on line because they'd heard it was cool from someone who'd been there the first day… My whole career has been about cultivating, understanding, and expanding this core audience for hip-hop culture and then watching the impact ripple out to the mainstream." Simmons identified a potential first audience in black comedy clubs, and decided to bring the underground comedy aboveground in a new Rush Communications project. Simmons and his partners pitched the idea to HBO, a subscription cable channel unfettered by the content and language restrictions of the broadcast networks. On HBO, comics could let loose with all of the foul language and blue material that brought the first audience to the show.
And boy, did the comics let loose. [watch video clip 3, Def Comedy Jam: Chris Tucker stand-up]
Soon after its premiere, Def Comedy Jam became the target of criticism for the style of black humor that it showcased. It received much more coverage in the press than its cousin on basic cable, BET's Comic View, which debuted a few months later. Def Comedy Jam got more attention because it was first, but also because HBO's audience was more racially mixed than BET's was presumed to be. This put Def Comedy Jam in a difficult position for a lot of black viewers. In direct opposition to the intentionally dignified Cosby Show, Def Comedy Jam was intentionally undignified. It wasn't a problem for this kind of humor to stay in the community; jokes like these had circulated for an eternity in all-black venues. But Simmons and his crew were bringing that mess to television, where anyone could watch. Would Def Comedy Jam do damage to the entire black community?
Some thought it might. Bill Cosby was, unsurprisingly, among those who were not amused. His groundbreaking sitcom The Cosby Show (1984–92) had brought a middle-class black family, with respectable middle-class values, to television. It was the number-one show on television for four seasons, and its unprecedented crossover success proved that black comedians didn't have to rely on the racist comic caricatures of the past, caricatures that Cosby saw embodied in the humor of Def Comedy Jam. He spoke publicly against host Martin Lawrence and the series, calling it a "minstrel show."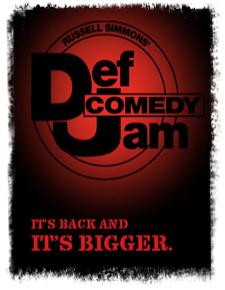 Ordinary Americans, too, were upset. One African-American viewer told a reporter, "We need to get above this shuffle along stuff, thinking that we have to make people laugh all the time, any way we can. The way things are going now, we're going to laugh ourselves into oblivion." When Cosby and others tuned into Def Comedy Jam, they saw black performers playing the fool for white television audiences, a relationship that Cosby and his generation of comedians had spent their lifetimes trying to destroy.
The younger generation of comics who appeared on the show wholly rejected these accusations and dire predictions: They were nobody's fools, and they weren't hurting anybody. In an interview, Lawrence took personal offense to Cosby's words: "Cosby needs to do a reality check and remember where he comes from… He might not [use foul language], but somewhere in his roots, he has people in his family who did it. Cosby can't throw that to me. Cuss words to me are just words. Where I come from, they're just words." Later, Russell Simmons remembered, "You know, the show got criticized and accused of a lot of shit by journalists and some blacks, who claimed it promoted negative images of black people… The truth is, the comedians used their own real language. That's how they talk. Those were their jokes. It was their opportunity to do their routines, tell their jokes, and use their language just as they did in a club, except now they were on camera." Like hip-hop artists, the comics were being real to the life that they and their audiences knew.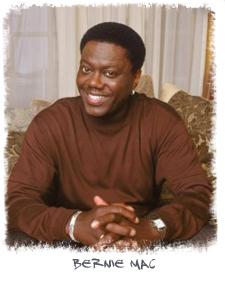 Though not all of the comics who appeared on Def Comedy Jam had a strong hip-hop sensibility, there was no question who was running the show. The audience was always filled with members dressed in the current fashions—the most distinctive outfits in the crowd were consistently good material for the comedians onstage. And the comedians were hip-hop, too—take Bernie Mac. In addition to wearing a graffitied denim ensemble in a 1992 appearance, Mac weaves the show's sensibility into his act: In a take-off from the old-school comic bit of using the drummer to punctuate the punchline, Mac has the DJ drop a beat in place of a cymbal crash. [watch video clip 2, Bernie Mac on Def Comedy Jam]
Whether or not it was Simmons's intention, Def Comedy Jam did change, for a time at least, audiences' expectation of black comics and, in turn, black comedians' expectation of what audiences wanted to hear. A club owner in Washington, DC complained, "Now guys walk out onstage looking for someone in the audience to mess with, and that's what they do for thirty minutes. They attack. Now everyone thinks that's what black comedy is." In a 1993 seminar held at The Paley Center for Media (then called The Museum of Television & Radio), young performers expressed frustration that audiences expected them to do the same kind of humor that they saw on HBO. [watch video clip 1, of the event]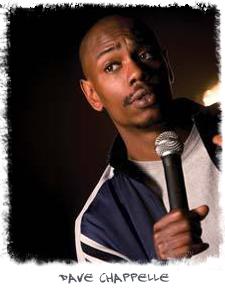 Many in the business predicted, rightly, that the trend of profanity-, sex-, and insult-based humor would eventually burn itself out. There just weren't enough comics who were good enough; insult humor takes intelligence, and a string of curse words isn't a joke. The DC club owner saw a lot of comedians who "get over by bustin' on people…because they don't have an act." The more experienced comedians saw, too, that the quality of the comedy on the show was uneven. Bernie Mac said at the time, "Def Jam gives black comics a lot of opportunities we'd never get anywhere else, but some of them just aren't ready."
The comics who were ready, though, make up the real legacy of Def Comedy Jam. Most of the major black comics of the past decade were discovered through, or passed through, the show: Martin Lawrence, Chris Rock, Dave Chappelle, Chris Tucker, Bill Bellamy, Eddie Griffin, Tracy Morgan, and the self-proclaimed "Kings of Comedy": Steve Harvey, Cedric the Entertainer, D. L. Hughley, and Bernie Mac.
Most importantly, these comedians have not been forced to stick with the same kind of raw humor that got them noticed. Lawrence soon jumped from Def Comedy Jam to his own sitcom on Fox, Martin (1992–97). Martin's comic sensibility was similar to Def Comedy Jam's, but Lawrence's film career has included a range of roles: He was an action star in Bad Boys (1995),  assumed a Madea-esque fat suit for Big Momma's House (2000), and played Raven-Symoné's overprotective father in Disney's College Road Trip (2008). Other comedians have made parallel leaps. Chris Tucker parlayed his Michael Jackson impersonation into above-the-title status in a major film franchise, Rush Hour and its sequels (and later, a costarring role in a Michael Jackson music video). Before his untimely death in 2008, Bernie Mac produced and starred in an uncommonly smart and quirky family sitcom, The Bernie Mac Show (2001–06), in addition to starring alongside George Clooney, Brad Pitt, and Matt Damon in Steven Soderbergh's massive hits Ocean's 11, 12, and 13. An entire generation of black comedians can thank Def Comedy Jam for the exposure that the show—and its attendant controversy—provided.
A remarkable change has happened during Def Comedy Jam's decade-long hiatus: hip-hop has evolved from an attitude cultivated on the segregated streets of urban ghettos into perhaps the defining cultural force of the last thirty years, its presence felt across all of popular culture: music, television, movies, books and magazines, fashion, sports. More than that, hip-hop has grown into a global phenomenon, embraced by and incorporated into youth cultures in communities across the world. So Def Comedy Jam comedians should thank, too, the cultural movement so compelling that it couldn't be repressed, denied, or ignored—it's hip-hop and, it don't stop.