Art Exhibit, Screenings, Events, and Photo Ops
September 16 to 25, 2016, in New York
Wednesdays to Sundays 12:00 to 6:00 pm
Closed Mondays and Tuesdays.
On the occasion of the fiftieth anniversary of Star Trek—one of the most honored, influential, and beloved science-fiction franchises of all time, and one that shows no signs of slowing down—The Paley Center for Media joins the worldwide celebration with special screenings, exclusive events, online activities, and the stunning original art exhibit Star Trek: 50 Artists. 50 Years. Join us to explore strange new worlds, to seek out new life and new civilizations, and to bask in the community of your fellow Trekkers while besting them in trivia and arguing over favorite episodes. Klingons welcome. No Tribbles, please.


TICKETS
Exhibit, Screenings, and Activities are FREE. No advance ticketing.
*Opening Night Party has separate ticket.
The Paley Center for Media in New York
25 West 52 Street, between 5th and 6th Avenues.
More information about visiting the Paley Center in New York.
The deadline for this contest has passed. The winner and our favorite entries will be screened at the Paley Center on Saturday, September 17, 2016, and later posted here.
Attention Starfleet personnel! On the occasion of our multipart celebration of Star Trek's fiftieth anniversary, the Paley Center is calling for your best Captain James Tiberius Kirk impression, submitted via online video, to be evaluated (and let's face it, mocked) by a panel of expert judges, including comedy star and noted Shatner impersonator Samm Levine and Rod Roddenberry, son of Star Trek creator Gene Roddenberry and CEO of Roddenberry Entertainment. The winner will receive a fabulous prize, and we'll be screening our favorite entries on Saturday, September 17 as part of that day's activities. Choose from one of the three Original Series monologues in the submission information below, remove any scenery you don't want chewed, and beam us up some fine intergalactic ham.
Mission New York, Sept. 2 to 4: You can film your impersonation at the Paley Center booth, with a Paley Center backdrop & a Kirk standing cutout!
Submission Information 
By uploading my entry into the contest, I agree to the Official Rules.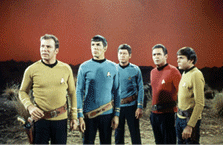 Come Sit in the MEGA BLOKS Captain's Chair on the Bridge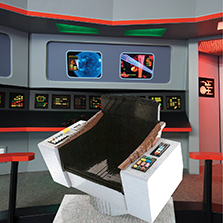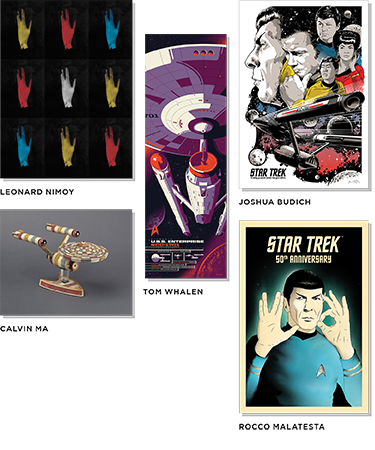 September 16 to 25, 2016
The Paley Center is delighted to present the East Coast premiere of Star Trek: 50 Artists. 50 Years, an original art exhibition celebrating the legendary sci-fi franchise with Star Trek–inspired works by fifty different artists from around the world—including a piece with celebrity fan Mayim Bialik (The Big Bang Theory) and Mr. Spock himself, with the last piece of art created by Leonard Nimoy.
The exhibition includes a dazzling variety of 2-D and 3-D works, including images, illustrations, photographs, paintings, sculptures, and more...all paying homage to the visionary optimism of Gene Roddenberry's enduring classic and its many children. Come explore even stranger new worlds and civilizations as we celebrate the legacy of Star Trek—and look forward to the next fifty years.
Special Paley Members-Only Preview: Thursday, September 15
6:30 to 7:30 pm:  Members-Only Exclusive Gallery Viewing
7:30 to 8:30 pm:  Members-Only Special Paley Archive Screening: rare Star Trek–related programming including: William Shatner at PaleyFest, parodies, other surprises!
Beat the crowds, and be the first on the East Coast to see this extraordinary salute to
Star Trek
.

Not a Member? Join today to take advantage of this special preview, plus early tix sales & discounts to PaleyFest NY and more all year.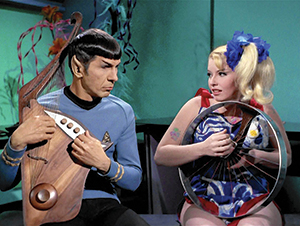 "The Way to Eden": Bingo! Trivia! Happy Hour!
Friday, September 16, 2016; 6:30 to 8:30 pm
• Star Trek–themed Cocktails (2 drinks per ticket)
• Trek Trivia: Calling all Star Trek mavens! When you play the game of Trek Trivia, you win or you die. OK, hyperbolic. You win or go home empty-handed. But either way, you'll have fun! Prizes for the winners.
• Musical improv performance by Redshirts: The only all-women Star Trek: The Next Generation–inspired musical improv comedy team in the known universe!
• Live Theremin Performance: by Master Thereminist Rob Schwimmer
• Screening of "Spock's Brain" + Bingo: "What have you done with Spock's brain?" —Captain James. T. Kirk.
We supply the cards and prize; all you do is show up and play along as we screen the episode that William Shatner once called an allegorical slap at network execs for slashing the show's budget and juggling its timeslot.

$10 Paley Members, $15 General Public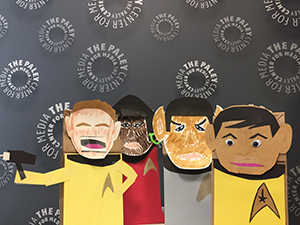 FREE Activities with admission.
Saturday, September 17, 2016
12:15 to 4:00 pm
Drop-in Art Activities for Kids
Star Trek: The Animated Series Screening + Art and Crafts in Lobby
Set phasers to FUN! Kids big and small are invited to make it so… crafty! Join the education staff for Star Trek–inspired art activities including Enterprise crew member puppet building and alien mask making.
3:00 to 4:00 pm
Klingon Lesson: by Klingon Language Expert Elizabeth Lawrence Faber

4:30 to 5:30 pm
Captain's Panel + Captain Kirk Impersonation Contest!
"It's my ship!" Chill, Jim. Yes, you were the original TV Star Trek captain (excluding Christopher Pike), but the best? Such temerity! How many redshirts died under your command? Such libido! How many aliens did you hop into bed with? Such ego! You bet we remember the Internet meme "Sorry, Spock, can't hear you over the sound of my own awesomeness." On the other hand, you did knock that Gorn flat on his back (so cool you refused to stake him) and rewrote Starfleet Academy history by acing the Kobayashi Maru (cheating or not, and we're not going to solve that here). Plus, you know...Shatner! Dig those marmalade skies, Bill. Was James T. Kirk really the greatest Star Trek leader in history? That we will solve, thanks to our panel of experts, who will argue the relative merits and demerits of Kirk, Picard, Sisko, Janeway, and yes, even Archer. So set your coordinates for the Paley Center and come join the fun.
Captain's Panel of Experts:
Wade Bowen (Sisko) Host, The Rules of Acquisition
Sue Kisenwether (Janeway) Host, Women at Warp
Alex McCown-Levy (Picard) Staff Writer, The A.V. Club
Meg Sweeney Lawless (Kirk) Comedy Writer, Dramaturge
Alasdair Wilkins (Archer) Writer, The A.V. Club

Kirk Impersonation Contest Results:
The winning impression (and runners-up), as determined by our esteemed judges, will be screened after the panel. 



Star Trek Screenings
All-day screenings from Sunday, September 18 to Sunday, September 25 (Closed Monday and Tuesday).
Sunday, September 18
12:15 pm: Star Trek: The Animated Series
3:00 pm: TOS: "The Man Trap"
4:00 pm: TOS: "Turnabout Intruder" 

Wednesday, September 21
2:00 pm: TNG: "Encounter at Farpoint" Part 1 & 2
3:45 pm: TNG: "All Good Things" Part 1 & 2

Thursday, September 22
1:00 pm: Enterprise: "Broken Bow" Part 1 & 2
2:45 pm: Enterprise: "These Are the Voyages"
3:45 pm: DS9: "Emissary" Part 1 & 2
5:30 pm: DS9: "What You Leave Behind" Part 1 & 2

Friday, September 23
2:00 pm: Voyager: "Caretaker" Part 1 & 2
3:30 pm: Voyager: "Endgame" Part 1 & 2

Saturday, September 24
12:15 pm: Star Trek: The Animated Series
2:00 pm: Best Villain: Khan (TOS: Space Seed)
3:00 pm: Best Star Trek Story: City on the Edge of Forever (TOS)
4:00 pm: Best Star Fleet Captain: Captain James T. Kirk (TOS: The Enterprise Incident)

Sunday, September 25
12:15 pm: Star Trek: The Animated Series
2:00 pm: Best Crew Member (Other Than Spock): Doctor Leonard "Bones" McCoy (TOS: Mirror, Mirror)
3:00 pm: Best Time Travel Episode: All Our Yesterdays (TOS)
4:00 pm: Best Spock Episode: Amok Time: Pon farr??


THIS POLL IS NOW CLOSED. WINNERS ARE LISTED ABOVE.

Lt. Bailey: "We have phasers, I vote we blast 'em!"
Kirk: "Thank you, Mr. Bailey, I'll consider that . . . when this becomes a democracy."
from "The Carbomite Manuever"
Since our ego's approximately one-millionth the size of Kirk's, we're perfectly comfortable living in an environment where decisions are made by popular vote. As part and parcel of our Star Trek celebration, commemorating the fiftieth anniversary of the original series's premiere on September 8, 1966, we'll be screening episodes of all six series (five live-action, plus the animated show) from September 17 to 25 (with the exception of 9/19 & 9/20, when we're closed).

Even better, during the weekend of September 24 & 25, we'll be screening six episodes—three on Saturday and three on Sunday—specifically selected by you, our voters, through our special fiftieth anniversary Star Trek poll, which appears below.

You vote; we screen; you come watch. It's that simple. Because despite what Kirk says, this is a democracy, and Gene Roddenberry wouldn't want it any other way.
Photos: TM & © 2016 CBS Studios Inc. All Rights Reserved.